Images of a prototype version of the next-gen Aston Martin Vantage have been handed out, giving us some clues of the new-look design and proportions.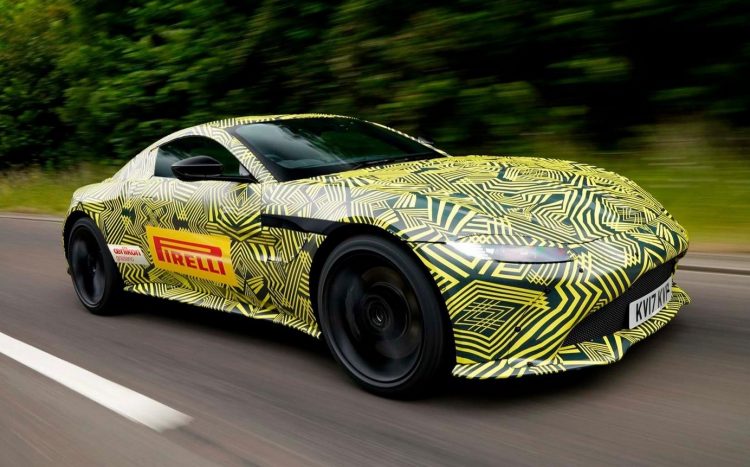 We recently spotted a prototype hurling around the Nurburgring, and at first we thought it was a DB11. Aston Martin has said that it will have more separation between its models in terms of design but it just doesn't look like that's the case.
Here we see a very similar silhouette to the DB11, with a long pouncing bonnet, angled and squinted headlights, along with cutaways in the front guards that feature a unique scoring toward the door.
Around at the back is where it looks like things will be different for the DB11. You can see a slight rise in the middle of the boot line creating an integrated spoiler, along with a smaller rear windscreen, and a squared-off rear end compared with the DB11's rounded approach.
The taillights also appear different to the DB11. Whereas the DB11 features a thin LED strip for the taillights, the items on the new Vantage seem more conventional and thicker. A bespoke rear diffuser section sits beneath.
As far as we know the next Vantage will use a twin-turbo V8 borrowed from Mercedes-AMG. Power is expected to sit somewhere around the 400kW mark, offering a slightly different tune to AMG via a unique exhaust and engine computer mapping. Let's hope the new Vantage actually goes pretty fast unlike the outgoing V8 model that merely cracks 14 seconds across the quarter mile.
Given that the body on this prototype looks almost complete, apart from the dazzling yellow disguise, we'd anticipate a full debut at the Frankfurt motor show next month. Aston Martin boss Andy Palmer said earlier this year the new Vantage will debut at the end of 2017. The showroom model will obviously come with Pirelli tyres.