Tesla is categorically denying claims from the driver of a Tesla Model S that ploughed through the glass wall of a gym, who said the car accelerated itself.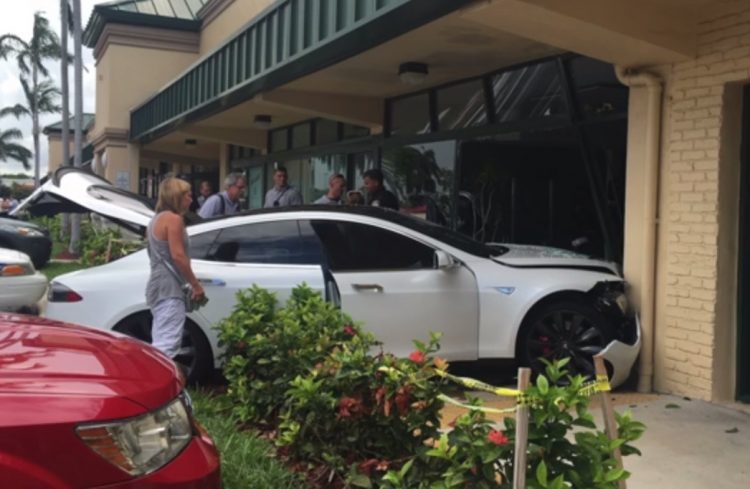 As you can see from the video below, the Model S slowly crawls through the parking lot before turning right, then it rapidly accelerates through the wall in the Floridian city of Lighthouse Point.
The driver, whose husband owns two Teslas, claimed that the vehicle accelerated itself, denying allegations she had hit the accelerator rather than the brake pedal. This was contradicted by the manufacturer. After analysing the Model S' logs, the company has evidence the accelerator pedal was pressed down.
According to figures gathered by the US National Highway Transport Safety Administration (NHTS), there are around 16,000 incidents caused each year by the driver mistaking the accelerator for the brake pedal.
The husband then took to a Tesla forum to express his frustration at the situation, and at Tesla for placing the onus of blame on the female driver. He wrote:
"I am amazed and wildly disappointed by the way Tesla has handled this and their complete unwillingness to even talk to me about it. Of course, they immediately blamed it on the driver and claimed their online computer tells them that."
He and his wife maintain that the vehicle was at fault for the incident. "We do not feel that [mistaking the accelerator for the brake] is what has occurred and wanted to have it looked further into."
The post has since been deleted.
Tesla has since issued a statement to Electrek in response to the claims made by the driver and her husband, stating that:
"Tesla's cars do not accelerate without the driver instructing it to do so. In every situation where we have received a customer claim about this, the vehicle's diagnostic logs have confirmed that the acceleration was the result of the driver pressing the accelerator pedal."