Always loved Group B rally? Here's a chance to own a slice of the legendary sport. A mint 1986 MG Metro 6R4 is going up for auction in the UK, and is perhaps one of the best-kept examples in the world.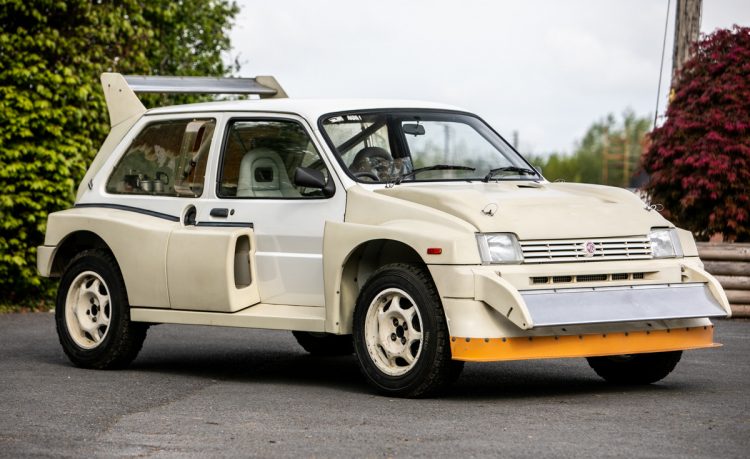 The MG Metro 6R4 was a bit of an oddball in the Group B field. Actually, most vehicles were a bit crazy. But the Metro focused in sheer agility with its tiny wheelbase and short front and rear overhangs, and a mid-mounted V6 engine powering all four wheels.
Developed by Williams Grand Prix Engineering, the MG Metro 6R4 was made in two specifications. There was one type designed for the road, known as the Clubman, of which 200 were made, and another 20 were made to 'international' spec.
In standard trim the 6R4 was powered by a 3.0-litre V6 petrol engine featuring twin overhead cams and four valves per cylinder. It was based on the Cosworth DFV unit found in Formula 1 of its day. Output was somewhere around the 186kW mark (250hp), while the international spec versions produced more like 300kW.
In the sport of Group B rally, the Metro didn't really get a chance to shine. It entered the sport quite late, in 1985, and managed a third place at the Wales Rally of that year. During the 1986 season many of the Metros suffered mechanical problems, including engine failures. These were put down to teething issues. But due to safety concerns the sport was cancelled halfway through that season.
This example going up for auction is number 189 of the 200 made. According to the available historical details it was originally bought by an enthusiast and not a competitor, direct from Austin Rover Group in December 1986. From there it was apparently kept in a shed for years, still with the factory wax on the exterior and plastic covers over the seats.
It has since spent time at the Donington Museum and was eventually sold in 2002 with just 5 miles on the clock (8km). The current owner is now ready to sell. The odometer has only an additional 2 miles added to it, and this was only to keep the car running on stands.
Interested? It'll go up for auction at the Silverstone Classic Auction taking place on July 27 and 28. The condition of the car is described as "brand new" which makes it perfect for collectors, although it could be used for racing as well. It's expected to go for around £200,000-240,000 (about AU$364,000-437,000 ). Head over to the Silverstone Classic website for more info.