For 2017, Isuzu's D-Max range has received a facelift and powertrain update to keep it fresh, with a new limited edition X-Runner model added to the lineup to celebrate the 100th anniversary of the company.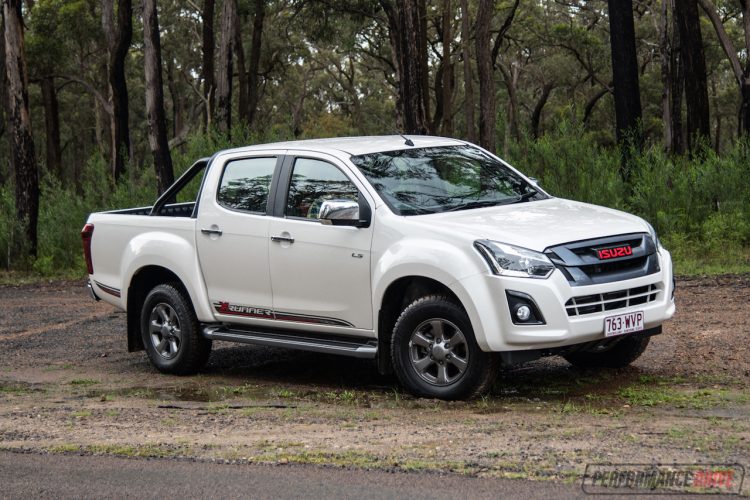 Australians have taken quite a shining to the Isuzu D-Max, with the ute consistently performing well in the monthly sales stas, which is quite a feat when you consider what it's up against. Most of its rivals have been refreshed or redesigned in the last 12-18 months, so this update is timely.
This also marks a divergence from the closely related Holden Colorado, which takes a separate development path with interior and exterior styling influenced by the U.S version.
Isuzu has taken a more utilitarian approach, updating the engine for more torque and better economy, updating the infotainment system, and adding styling enhancements. This update will tide things over until the redesigned model arrives, due around 2019, which is set to be the result of a collaboration with Mazda – more here.
Has Isuzu gone far enough with these updates? Or are you better suited to one of its nemeses?
2017 Isuzu D-Max X-Runner – THE SPECS
Engine: 3.0-litre turbo-diesel four-cylinder
Output: 130kW@3600rpm / 430Nm@2000-2200rpm
Transmission: Six-speed auto
Drive type: Part-time four-wheel drive
Wheels: F & R: 16×7.0, 245/70
ANCAP: Five stars (scored 33.58 out of 37)
Tare weight: 1945kg
Power-to-weight: 14.96:1 (kg:kW)
Official fuel economy: 7.7L/100km
Economy during test: 9L/100km
Fuel capacity/Type: 76L/Diesel
Power efficiency: 16.88kW:L/100km
0-60km/h: 4.45 seconds*
0-100km/h: 10.62 seconds*
1/8 mile: 11.23 seconds at 103.8km/h*
1/4 mile: 17.55 seconds at 125.8km/h*
100-0km/h braking: 3.52 seconds at 44.67 metres*
Decibel at idle: 52*
Peak decibel at 60-100km/h: 80*
Priced from: $46,990
* Figures as tested by PerformanceDrive on the day. Factory claims may be different

2017 Isuzu D-Max X-Runner – THE PACKAGE
As before, the D-Max is a spacious dual-cab, with modern styling, a generous five-year/130,000km warranty and 3.5-tonne towing capacity. Compared with the higher-priced rivals such as Amarok, Ranger and HiLux, D-Max is somewhat more value-oriented, similar to Mitsubishi's Triton in terms of positioning. Our $46,990 D-Max X-Runner here, for example, significantly undercuts rivals by up to $10,000.
No fancy-pants leather here, the D-Max is all about getting you hands dirty. Either on the job or tackling tough terrain. The interior has come in for some light revisions, focusing primarily on a new touch-screen infotainment system that replaces simple buttons and an old-fashion head unit. It features Bluetooth and USB, with neat buttons, but the touch-screen itself features small icons and can be fiddly to operate. The rubber USB covers require fingernails, with the lowest one impossible to pull off without them. A reversing camera is a welcome addition, and audio sound quality is rather impressive for a work-oriented vehicle.
The climate control dial is simple to operate with its central knob and red digital temp display, while both fan and air-con operate quickly and effectively. The inclusion of two capacious gloveboxes is very handy, but the bin at the top of the dash is difficult to open and would, in our opinion, be better re-purposed as a proper smartphone holder for navigation duties.
New graphics in the instrument screen are welcome, but a digital speedometer would be handy since the steering wheel can obscure the analog item at times. The X-Runner's red-stitched steering wheel, seat accents and piano black appointments do lift what is otherwise a rather austere and outdated interior. The steering wheel in particular is a bit of a head-shaker, especially the nasty volume buttons reminiscent of a TEAC television.
It doesn't compete with the presentation of its main rivals here but rest assured the D-Max more than compensates with its heart of gold, and robust and work-ready nature.

2017 Isuzu D-Max X-Runner – THE DRIVE
For 2017, the D-Max has been upgraded where it counts; the engine. The 3.0-litre turbo-diesel benefits from revisions to the fuel system, new pistons and EGR system. A diesel particular diffuser makes it cleaner but the headline act is the new variable geometry turbocharger. Power stays at 130kW but torque swells from 380Nm to 430Nm. The old maximum of 380 was generated from as low as 1700rpm and continued all the way to 3500, but now peak torque is spread across a narrower 2000-2200rpm rev range. However, the new engine can offer 380Nm from as low as 1750rpm.
Turbo-lag is non-existent with the new unit, thankfully free of the hesitation that afflicts plenty of other rivals such as Colorado, Triton and Ranger 2.2. While not stupidly quick, power is always there when you want it and is delivered smoothly and quietly. Six well-chosen ratios for the automatic gearbox help no-end too. Improved economy is quoted at 7.7L/100km but we achieved 9.0 during our week-long test – still better than some of the competition, probably because it doesn't have to be worked as hard as the smaller-capacity rivals.
Even cruising on the freeway the D-Max is surprisingly quiet and refined for a work ute. Overtaking power is there on command and the suspension doesn't chuck a wobbly when you seize that power. In fact, it is firm but forgiving, with no undue bobbing, pitching or boat impressions. This is probably due to a very strong chassis that shrugs off mountain climbing and towing duties with that Isuzu work ethic. Standard hill descent control and selectable 4×4 back this up.
Operating the steering feels easy and progressive on the move, but can be tiresome and heavy at parking speeds. A variable assistance pump wouldn't go astray here. Braking is par-for-the-course, albeit slightly hampered by off-road-oriented tyres. Stability control intervention is unobtrusive and feels like a guardian angel as opposed to an overzealous nanny on crack. Unsurprisingly, the D-Max gets a full five star ANCAP safety rating, albeit without some of the active safety features you'll find in others, like the Ranger, such as forward collision braking, blind-spot monitoring and active cruise.
2017 Isuzu D-Max X-Runner – THE VIDEO
2017 Isuzu D-Max X-Runner – THE VERDICT
The D-Max gets the job done with an attractive price, no-nonsense tough looks and effective functionality both on and off the road. It is surprisingly responsive, refined and more economical than before, with a superior powertrain than its lion-badged relation. The five year/ 130,000km warranty is another feather in its cap and the ute feels solid and well-built enough to back that up.
Only the somewhat dour interior lets it down, but the X-Runner pack lifts things to an acceptable standard. If you're interested in one of these, you better get in quick as there is only 600 allocated to Australia.
PROS:
– Responsive, refined engine and transmission update
– Good real-world fuel economy
– Comfortable for cruising long distances
– Tight body control with firm but compliant ride
– Sporty X-Runner pack
– Five-star safety
– Five-year/130,000km warranty

CONS:
– Interior starting to age, some unpleasant plastics
– Not as 'sexy' as some of its rivals
– No active safety features
– Braking suffers due to off-road tyres
As always, if you're thinking about buying a new car don't forget to click here to speak with our car buying specialists.