McLaren has released more preliminary details of the new McLaren P1 hypercar which will make its international debut at next month's Geneva Motor Show. This time we get a decent glimpse of the interior.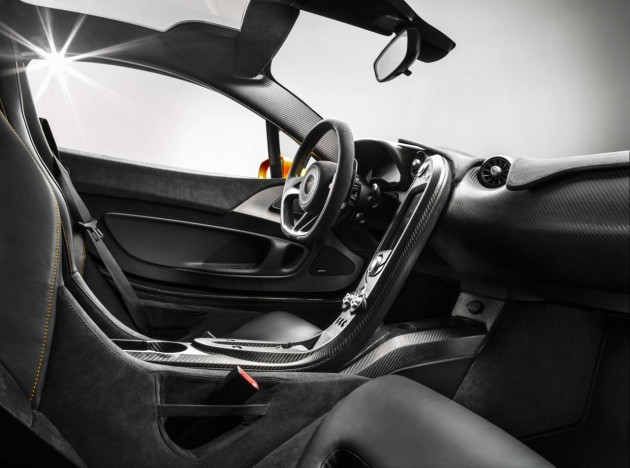 McLaren describes the P1 interior as a 'cockpit of a fighter jet'. You can see where the company is coming from upon first inspection too. There's a glass canopy and a very deep windscreen, as well as an overall dark colour scheme going on with a minimalist approach to controls and functions.
Despite the stripped back nature, the P1 comes with plenty of modern conveniences such as satellite navigation, climate control, and a decent sound system. These systems are operated through a single panel touch screen which 'floats' on the centre dash fascia.
Most of the cabin is made from carbon fibre, and McLaren says trimmings were kept to a minimum, so much of the carbon is exposed simply to save weight. The dashboard, floor, headlining, doors, and rockers are all formed from carbon. The seats are also made with carbon shells and weigh in at just 10.5kg each.
Behind the small, slim and lightweight steering wheel is a complex digital instrument cluster. The panel is capable of displaying various different layouts and live readouts.
McLaren says more details on the P1 production car will be released in the coming weeks, before the full unveiling takes place in Geneva on March 5.