The Isuzu D-Max and MU-X have come in for a pretty significant update, bringing in an Australia-exclusive engine overhaul, along with introducing more technology and a revised design.
Chief among the update, which applies in the form of the MY17 D-Max and MY16.5 MU-X, is a vastly improved and enhanced diesel engine. We'll go into deeper detail in the drive section below, but essentially the same 3.0-litre turbo-diesel four-cylinder carries over but it has been given various all-new components including a diesel particulate diffuser (also known as filter) and a new turbo, all in the name of helping it pass Euro 5 emissions standards. There's also a new six-speed manual transmission on offer and a six-speed auto.
Prices have increased slightly, understandably, with the D-Max kicking off from $28,500 and topping out at $54,200. The MU-X starts from $41,800 and tops out at $54,800 (all excluding on-road costs). Check out our news story here for all prices.

2017 Isuzu D-Max & MU-X – THE PACKAGE
Most of the interior is carried over from the respective outgoing models. Those looking for a robust and rugged setting will continue to warm to the D-Max, with lots of hard-wearing plastic for the dash and door trims. There's also big manly buttons and switchgear, and four cup holders and two bottle holders in the front alone to suit every man's thirsts.
To give this cabin personality and modern character, Isuzu has fit a touch-screen interface for the first time. Most other utes in the segment, and certainly most SUVs against the MU-X, already have a touch-screen of some description, so this is a welcomed addition to the Isuzu pair.
Operation and functionality of the touch-screen itself kind of reminds us of the old Toyota system, with a lineup of menu options down the left side. Those with big fingers won't be as frustrated though as the in-screen buttons are a bit bigger than those in the fiddly Toyota system. For the upper variants there's a more comprehensive screen (pictured above) with in-built apps and satellite navigation as standard. A rear-view camera is not standard on all models of the D-Max, but it is standard on every variant of the MU-X.
Seating space and comfort is pretty good in the D-Max, with decent legroom even in the rear of the dual-cab models. Sitting the back of the MU-X you'll notice there is a lot more room, making it ideal for growing (and grown) families. A third row in MU-X is suitable for kiddies but not really for adults on longer journeys.
Isuzu has handily fit two USB ports in the front of the D-Max, and an extra one in the back of the MU-X (at least in the LST spec that we drove).

2017 Isuzu D-Max & MU-X – THE DRIVE
As part of the drive program Isuzu Ute Australia took media around a decent route up in the hills west of Gold Coast, and down through the hinterlands to Evans Head beach. We were also given an opportunity to test the off-road performance on a short but challenging track in an abandoned quarry.
Starting on the tarmac. Both the D-Max and MU-X receive no change to the suspension. This leaves the D-Max with independent front suspension and a live axle rear end with leaf springs for heavy duty duties, while the MU-X gets a unique multi-link rear end with coil springs for improved comfort particularly for rear passengers. As mentioned though, this is untouched for the updated model.
The D-Max ride is a little jittery but acceptable, especially for the ute segment. We must remember the D-Max is certified a 3500kg towing capacity, while payload ranges from 924kg to 1214kg, depending on the cab and tray style. The MU-X continues with a 3000kg towing capacity as well (braked).
Steering the D-Max down quite a lovely road in the mountains, it's actually pretty solid and surefooted. We found the steering to be a little on the heavy side in the slower speed stuff, however, the Isuzu team ran the tyres on all vehicles at 28psi to suit the off-road sections. In the MU-X you can immediately feel the ride is smoother and more comfortable, with slightly improved turn-in, and better composure over bumps.
So, what about that engine? Well, Isuzu has fit a variable geometry turbocharger, new pistons, new injectors, a large exhaust gas recirculation cooler, ceramic glow plugs, and a diesel particulate filter which is mounted right up next to the engine. A gauge in the instrument cluster shows the status of the filter, but drivers don't have to worry about anything as the engine will flush the filter automatically. It is recommended that owners go for a decent drive about once a week to allow the filter system to operate properly; it likes higher engine temps.
As a result of the revisions power remains at 130kW at 3600rpm, but torque is increased from 380Nm to 430Nm. Torque is also spread from 2000-2200rpm, instead of 1800-2800rpm. Isuzu says that around 380Nm is now available from about 1750rpm.
Paired with the new six-speed manual and auto, the engine offers noticeably more grunt, a decent tweak in refinement, and it is a touch quieter than the previous unit. Traditional buyers will be happy that Isuzu has stuck with a 3.0-litre capacity instead of going with the new overseas-only 1.9-litre, despite not providing the economy of such engine. These larger capacity engines are becoming a rare breed, but they are the preferred choice for those towing and carrying heavy loads. The sheer compression of moving bigger pistons helps when making descents as you get effective engine braking.
The transmissions do help to provide an improvement in economy, with the official average improved by around five per cent. In sixth gear with the Aisin-sourced 'AWR6B45II' six-speed auto, 100km/h only requires about 1650rpm. With the Isuzu-developed 'MVL-6N' manual you need only spin the engine to around 1750rpm in sixth. There's a slight difference due to a different sixth gear ratio (0.634:1 manual, 0.580:1 auto) all the while sharing the same 3.727:1 final drive ratio (4×4 models).
With such a long sixth gear and low revs, there is a potential to see big fuel economy benefits with plenty of highway driving. During our day-long drive we saw figures of around 9.5L/100km to about 10.5L/100km, but of course this is in varied conditions and in various vehicles.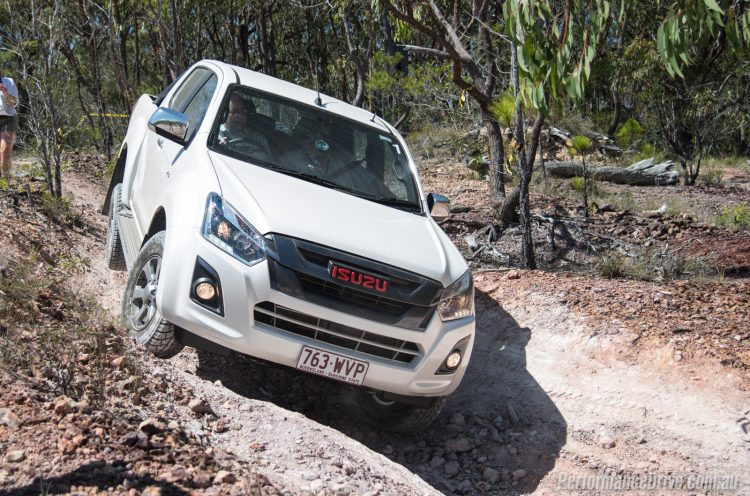 As for the off-road performance, both the D-Max and MU-X 4×4 models continue to present excellent ground clearance (up to 230mm on upper variants), and decent approach and departure angles. A water wading depth of 600mm is about as much as you could possibly need, and there is an optional snorkel available as a genuine accessory.
About our only complaint is the fact Isuzu is refusing to fit a limited-slip differential (or locking diff) for the rear axle. The company, as we found out earlier in the week, says the traction control system is able to provide similar benefits. But, it just doesn't. For off-road enthusiasts you will find it a little frustrating getting through tougher conditions, waiting for the traction control to step in and eventually help with progress.
On the sand, where you need to turn the traction control off, it could become a bigger problem. During our sand-driving stint we must give credit as both models had no trouble getting through, even with the tyres at 28psi, although the sand was pretty firmly-packed on the day.

2017 Isuzu D-Max & MU-X – THE VERDICT
The new D-Max and MU-X continue to be one of the most trustworthy packages around. A tried and proved diesel is now more economical and supplies more torque. It's also quieter and more refined, while the new transmissions do wonders to slice up and make better use of the engine's outputs.
Passengers, including the driver, will be happy to see there is finally a touch-screen interface inside too, replacing the very dated and clunky system previously used. Fortunately, the rest of the interior remains tough and durable, and relatively simplistic, which will keep the traditionalists very happy.
Overall, these updated models are a comprehensive step forward without ruining the go-anywhere attitude that Isuzu is best-known for. Traditional buyers will be happy, while others in the market, including rival ute buyers, will probably start snooping around to see what's new over the fence, like nosy neighbours.
We are aiming to put together more in-depth reviews for each model in the near future, including doing our usual video. Stay tuned.
As always, if you're thinking about buying a new car don't forget to click here to speak with our car buying specialists.