In the green world of electric vehicles, the Nissan LEAF was one of the first mass-produced cars to lay out the foundation. First launched in 2010, it is now in its second generation. For 2019, we see technology additions, more power, and greater travelling distances than the previous generation. Only now, there are many more EVs that have joined the market. Let's find out if the new model measures up.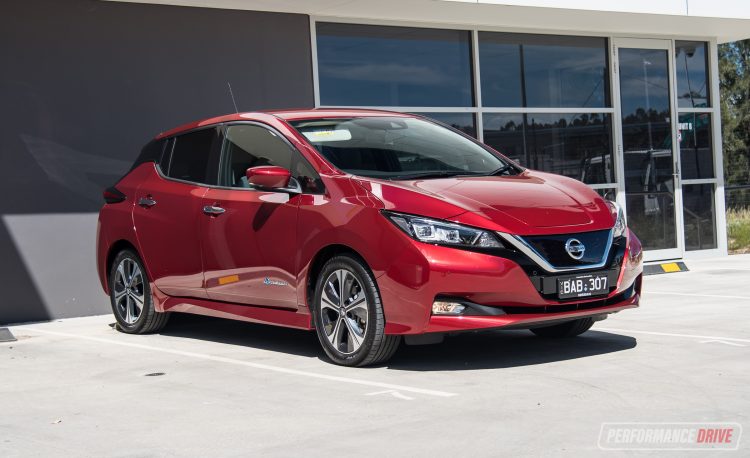 The LEAF is built in the UK, and for Australia there is only one variant to choose from. It will set you back at least $49,990 (plus on-road costs), with power coming from a 40kWh lithium-ion battery. Via a single-speed reduction gear, the electric motor outputs 110kW and 320Nm. These figures are up from 24kWh, and 80kW/280Nm from the predecessor.
The all-important travelling range measured by the WLTP (Worldwide Harmonised Light Vehicle Test Procedure) standard is 270km, or 315km under NEDC. That's up from 170km (NEDC) in the old model. As you can see, there are a number of decent progressions here.
2019 Nissan LEAF – THE SPECS
Battery: 350-volt, 40kWh lithium-ion
Output: 110kW / 320Nm
Transmission: Single-speed auto
Drive type: Front-wheel drive
Wheels: F &R: 17×6.5, 215/50
ANCAP: Five stars
Tare weight: 1594kg
Power-to-weight: 14.49:1 (kg:kW)
Official range (WLTP): 270km
0-60km/h: 3.75 seconds*
0-100km/h: 8.03 seconds*
60-110km/h: 5.67 seconds*
1/8 mile: 10.47 seconds at 116.2km/h*
1/4 mile: 16.03 seconds at 143.2km/h*
Max acceleration: 0.708g
100-0km/h braking: 3.04 seconds at 39.92 metres*
Max deceleration: -1.104g
Priced from: $49,990
* Figures as tested by PerformanceDrive on the day. Factory claims may be different

2019 Nissan LEAF – THE PACKAGE
Now that EVs are becoming more popular and designs have evolved, the Nissan LEAF looks less like a concept car than it once did. It still takes on an aerodynamic and smooth design, but now looks more conventional and also offers more cabin space than before.
In the front row, the space around you is airy and roomy. However, the seats don't offer much shape and support. The interior design and plastics don't quite feel as premium-level as the price tag, but the fancy gear shifter looks and feels cool to operate.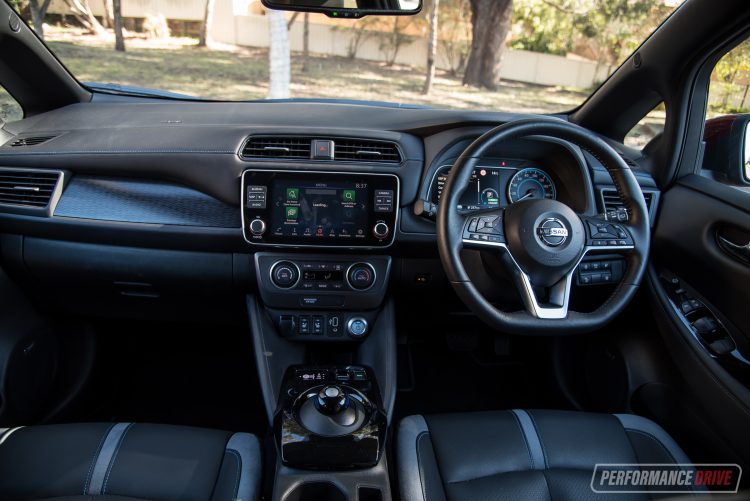 The centre console between the seats is quite small, and the storage hole under the dash is made smaller than it could be as it narrows as you go deeper. In the back, there is a notable amount of headroom thanks to a high ceiling, and the legroom is impressive considering the car's overall size. Unfortunately, a centre rear armrest has been excluded.
Engineers have cleverly packed the lithium-ion batteries underneath the back seat, and boot space is not at all compromised. In fact, it measures in at 405 litres. That's 218L more than the Toyota Corolla hatch, 140L more than the Mazda3 hatch, 103L more the Hyundai Kona Electric, and 85L more than the Hyundai IONIQ EV. You can fold the rear seats down but it does leave a big step.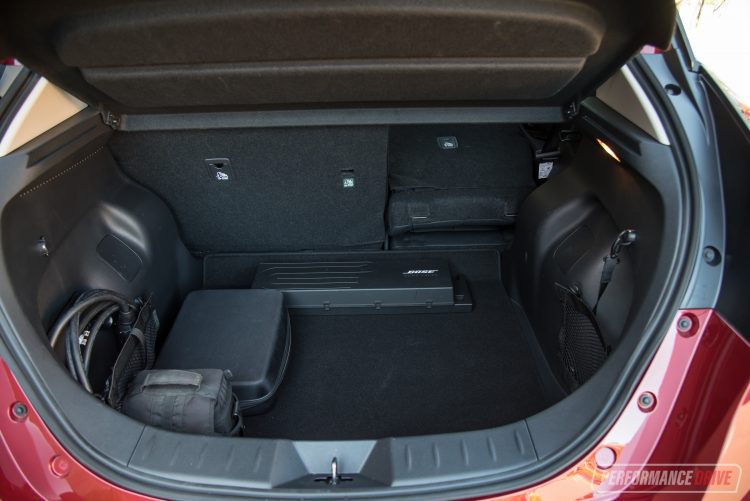 Safety-wise, the LEAF comes standard with what Nissan calls a 'Safety Shield'. This includes lane changing intervention, lane departure warning, autonomous front and rear emergency braking with pedestrian avoidance, blind-spot monitoring, traffic sign recognition, rear cross-traffic alert, and a 360-degree camera.
You also get a Bose seven-speaker "energy efficient" sound system with digital radio, Android Auto and Apple CarPlay, single-zone climate control, proximity key, distance-controlled cruise control, tyre pressure monitoring, auto wipers, heated front and rear seats, and a heated steering wheel. It misses out on a wireless charging pad and dual-zone climate control.

2019 Nissan LEAF – THE DRIVE
Like we found in other EVs (like the Hyundai Kona Electric and Tesla Model 3) the delivery of power feels very different to what you might be used to. Acceleration is more immediate than from a combustion engine, and there are no gear change delays or turbo lag. Instead, the power and torque arrive instantly.
When tackling hills, the high level of torque is wonderfully handy. On swift take offs, it feels like it has more than 110kW, provided you don't have it in ECO mode. Driving around in ECO mode is just too sluggish. Take offs in the city are nerving because you feel like you are holding up the traffic behind you. Which is a shame, because that's the only way you can achieve the 270km range. The official 0-100km/h sprint is timed at 7.9 seconds. That is 0.3 seconds slower than the Kona Electric. We timed the LEAF in a respectable 8.03 seconds.
The LEAF would make practical sense for more drivers if it had a greater driving range we think. 270km is just not enough, unless you live in the city and only do short trips. The Kona Electric travels 400km on a charge, but it is $10k more expensive. The Hyundai IONIQ can travel 311km, but it is also roughly $3k more expensive.
If you do lots of highway speeds, you won't achieve 270km on a recharge. There is a sweet speed with the LEAF that seems to be around 70-80km/h. At this speed, you can add a few extra kilometres during regenerative deceleration. Then it drops off the faster you go. We also notice that the driving range drops quicker than some EV rivals when travelling up hills. In other words, it seems to be more affected by hills than other EVs.
Like with other EVs, the LEAF offers regenerative braking. Nissan calls it an ePedal, and you can turn it on or off. The ePedal allows you to operate the car without using the brakes as much. When you back off the accelerator, the regenerative force that charges the batteries slows you down like a brake. It's not as effective in practice in our opinion because as you're coasting less, which means you end up needing to accelerate more. We found there were no significant range increases when using it.
To recharge, it obviously takes much longer than fossil refuels. You can plug it into a standard household power point, which will take about 24 hours to charge from empty. Or, you can plug it into a Type 2 charging station. Unfortunately, there are a few different types so you need plan ahead and make allowances. There are also charging apps that map out station locations, but from experience they are not always accurate.
We think it's best if you have somewhere you can charge it at home or at work. And ideally, your regular commute needs to be relatively short. If you live in a shared complex, you also need to check if your strata plan allows charging of electric cars. We learnt that the hard way as a nasty letter was left under our wiper blade.
Also, you need to consider the current infrastructure in Australia as it will not support carelessly driving where ever you like without a plan. Some of your freedom is lost, in that sense. During our test we performed a return trip from Sydney to Wollongong. We mapped out our plan to top up the juice at the University of Wollongong. Unfortunately, it was occupied. There was one more set of charge stations at the local shopping centre. They were also occupied.
Having more range on the clock than needed, we decided to take the risk and head back to Sydney. Things went swimmingly until we hit road works. Mount Ousley Road and Picton Road was closed, and the only way to get back to Sydney was to proceed all the way back down Mount Keira and detour up Bulli Pass, which added about 20km to our trip. There are many steep hills along the way, which also worked against us. We only just made it back to base with 8km of power left. It was a close call.
Back to the LEAF specifically, the steering is light and sensitive, which makes it very easy to navigate around the city and tight carparks. But the handling is lacklustre. Travelling through corners with haste causes sag and lean. It's one of the less thrilling EV cars to drive when it comes to handling. Small bumps are absorbed effectively, but bigger holes will cause the LEAF to bounce off track slightly.

2019 Nissan LEAF – THE VIDEO
2019 Nissan LEAF – THE VERDICT
You don't have to be a greenie to be interested in an all-electric vehicle. Petrol and diesel prices alone should be enough to spark your interest. However, with the current immature infrastructure and regulations in Australia, you will need to have very specific circumstances for an EV to work for you.
If you're lucky enough for this to be the case, the Nissan LEAF is worth considering for its price (for an EV). It's also very spacious and practical, if that's of high importance.
Thankfully, Nissan offers an unlimited kilometre warranty for five years. This is especially important to have in a technology that is still relatively new in the industry.
PROS:
– Zero carbon emissions and zero petrol prices
– Extremely easy to drive
– Instant torque
– Practical and spacious inside
– One of the most affordable EVs on sale (although still quite expensive)
CONS:
– 270km range not ideal for Australia's spread-out cities
– Boring handling
– No rear centre armrest or climate vents
– Archaic manual foot handbrake
As always, if you're thinking about buying a new car don't forget to click here to speak with our car buying specialists.