There are so many sports cars and hot hatches on the market at the moment that it's almost too difficult to figure out which one you should go for. Audi has refreshed its offering for the class, with the introduction of the 2017 S3 sedan and Sportback hatch. And boy are they tempting.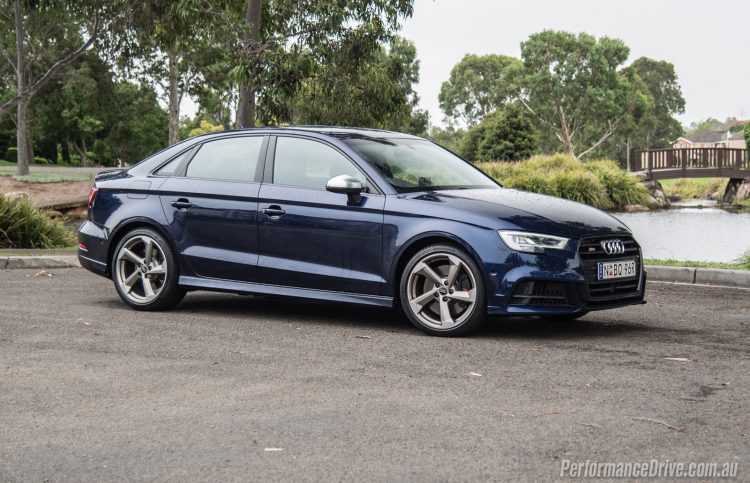 Okay, so it's based on a Volkswagen Golf and is almost mechanically identical to the much-loved Golf R hot hatch. But, Audi is only asking around $10,000 more for the S3 over the Golf R's starting price. And on first impressions, it seems like a great value proposition considering the extra lux, brand cache and technology Audi has packed in.
Prices start at $64,500 for the sedan and $62,900 for the Sportback (excluding on-roads), and there's no additional charges for the auto versus the six-speed manual.
2017 Audi S3 Sedan – THE SPECS
Engine: 2.0-litre turbo four-cylinder
Output: 213kW@6500rpm / 380Nm@1800-5100rpm
Transmission: Seven-speed dual-clutch auto
Drive type: All-wheel drive, locking differential
Wheels: F & R: 18×7.5, 225/40
ANCAP: Five stars (scored 36.41 out of 37)
Tare weight: 1530kg
Power-to-weight: 7.18:1 (kg:kW)
Official fuel economy: 6.5L/100km
Economy during test: 8L/100km
Fuel capacity/Type: 55L/95 RON
Power efficiency: 32.76kW:L/100km
0-60km/h: 2.23 seconds*
0-100km/h: 4.79 seconds*
1/8 mile: 8.50 seconds at 138.4km/h*
1/4 mile: 13.14 seconds at 171.0km/h*
100-0km/h braking: 2.92 seconds at 38.32 metres*
Decibel at idle: 48*
Peak decibel at 60-100km/h: 86*
Priced from: $64,500
* Figures as tested by PerformanceDrive on the day. Factory claims may be different

2017 Audi S3 Sedan – THE PACKAGE
The S3 is essentially the flagship variant of the new A3 range, aside from the more serious, rip-snorting RS 3 hypo hatch (updated model yet to arrive in Australia). This, by default, means luxury conveniences and standard features are aplenty. And the highlight of which for the S3 is Audi's latest interior showpiece; Virtual Cockpit, as standard. It might be a fancy way of saying it uses a fully digital instrument cluster, but it is one of the best digital setups we've seen and is certainly the best in this market space.
We love the clear and concise graphics displayed by the TFT technology, and the available layout configurations are diverse yet manageable. Some digital layouts on the market at the moment can be very confusing to configure. In here you can select between three main layouts, including two that can show map and navigation information, and digital speed and tacho readouts. There's also a turbo boost gauge although with no measurements it's kind of pointless in our view, and various trip data to display.
The driver can play with various driving modes, including setting up a custom mode. Each mode selection brings a noticeable albeit minor change to the drive characteristics, and in the sportiest Dynamic mode the transmission and throttle response are in their sharpest setting, and some of the engine sound is amplified through the speakers. Sound enhancers are not usually our thing but fortunately the exhaust is loud already so the mild amplification isn't really noticeable at higher revs.
We can't quite put our finger on what it is exactly but the driving position is so natural and prefect it makes it almost impossible to become uncomfortable. The sporty seats are generously bolstered without going over the top as to reduce their human-cradling capacity, and the cushioning is supportive in all the right places. This allows you to get on with the job of driving without becoming distracted by potential positioning or comfort issues.
Underpinned by Volkswagen Group's fairly new MQB platform, which actually debuted under this generation A3 in 2013, the cabin is very space-efficient and uncluttered in a typical Volkswagen/Audi way. Seating for five adults is possible but probably too squishy to expect a lineup of volunteers. With four on board it is a more relaxed environment. Headroom and legroom in the back is okay but shoulder space is more confined due to the car's relatively narrow stance. Seating space in the front sees no such complaint. Boot space is rated at 390 litres in the sedan and 340L in the Sportback, however, the Sportback has the added benefit of folding rear seats that open up 1180L.
Everything you touch has a high quality feel to it, with the circular air vents being the highlight for us. They feature intricate fin detailing and spokes in the middle, with a cool push-pull adjustment function that either concentrates or diffuses the climate air spray. There's also plenty of metallic-like buttons and knobs which feel as crisp and as precise as a Hublot watch, and most surfaces are covered in either leather or a soft rubbery material.

2017 Audi S3 Sedan – THE DRIVE
Starting the engine sounds like you've just started up a rally car. It's great. The engine lets off a spicy, crackling exhaust note that makes it unmistakably a proper Audi 'S' product. The noise is fired out a quad-outlet muffler, which has become a tradition for German performance cars.
Audi has revised the powertrain for the 2017 model year, so the 2.0-litre turbo engine now produces 213kW and 380Nm. Power is increased from 210kW and torque from 360Nm. These figures might not seem like much, but when they are sent through a very direct drive system including a new S tronic seven-speed dual-clutch auto transmission, the on-road performance is phenomenal. A six-speed manual is optional as mentioned but is slightly slower in terms of acceleration.
We timed 0-100km/h in just 4.79 seconds in this S tronic sedan. This is ridiculously quick for a mainstream small car, putting it on par with a number of high-end sports cars and even supercars from not that long ago. Cars that offer similar performance that we've timed using the same strip of tarmac and with the same VBOX include the 400kW HSV Clubsport LSA automatic (4.82), the 351kW Lexus GS F (5.08), and the 405kW Range Rover Sport SVR (4.76). It even edges close to the Tesla Model S 90D (4.60).
Audi says it has tuned the quattro all-wheel drive system for the 2017 model to make better use of that performance, and to make it a more enjoyable and interactive drive. In short, more torque is distributed to the rear wheels. Out on our usual mountain road test route we were able to feel the rear end helping to push the car around corners, and in particular squatting down to set the car up for optimum corner exit.
This doesn't mean it'll perform all-wheel drifting or kick the tail out under power, but you can appreciate the reduced tendency to understeer. Turn-in is super sharp, with no real understeer at all to contend with, especially under some power where the older setup might have been prone to push wide. Once you're past the apex the S3 just rockets off using its incredible acceleration to hunt down the next corner. It's seriously exhilarating.
Despite being quite a firm ride, which is lowered 25mm over the regular A3, the S3 isn't disturbed by mid-corner bumps. Instead, it remains committed and focused in all areas of the corner. We were lucky enough to put this all to the test in wet conditions as well; we've never driven a car so confidently in such weather. There really is no letup in grip or forward momentum at all. You can apply full throttle from the apex of a corner and the engine's power is sent seamlessly and accordingly to each wheel, with no loss in acceleration. The level of lateral g-force you can achieve in the corners, even in the wet, is just mind-blowing.
Around town you can switch back to the normal driving mode and the car quietens down and becomes a more civilised tool, ideal for commuting. Not that it's not ideal for the daily grind in the sporty mode. Remember, this is a Golf underneath, so you're getting almost all of the practical benefits tied in.
About the only area that might spike some complaint for some users is the firmness of the suspension. Being a dedicated sports model we see no issue with this, but some might find it too harsh. The S tronic dual-clutch transmission is improved over the old six-speed, with less delay going from reverse to drive and less jerkiness at very slow speeds, but there are still going to be some who will continue to dislike this style of transmission. Using the paddle shifters is very rewarding and this is where you'll really appreciate the sheer shift speed of this technology – a human being simply cannot change gear this quickly and consistently.

2017 Audi S3 Sedan – THE VIDEO
2017 Audi S3 Sedan – THE VERDICT
We love the VW Golf R as mentioned but we think you are getting at least $10,000 worth of extras in the S3, in terms of additional technology, luxury, and a step into the Audi experience and the after-sales benefits.
What a cracking machine overall. It would be very difficult to find a more capable and/or quicker all-weather sports car in this price range that offers this level of luxury. If you're in the market for a high-end hot hatch, the new S3 is definitely worth a look.
If it were our choice we'd probably go for the Sportback with the S tronic as you get the practicality of a small wagon/hatch but with the same performance as the sedan. This would be a shame though as we do like the exterior of the sedan better, especially with these awesome five-spoke 'Turbine' alloy wheels on this test car ($1755 option).
PROS:
– Mind-blowing all-wheel drive grip
– Super sports car acceleration and in-gear punch
– Audi build quality
– Luxury interior touches
– 'Virtual cockpit' digital instrument display
– Neat yet muscular exterior

CONS:
– Ride might be too firm for some
– Sedan sacrifices potential boot space (390L) over Sportback (340L/1180L)
As always, if you're thinking about buying a new car don't forget to click here to speak with our car buying specialists.