It has a face only a mother could love. But once you get past that ghastly front grille you'll quickly come to realise the 2017 Suzuki S-Cross Turbo is one of the least-flawed vehicles in the small SUV market segment.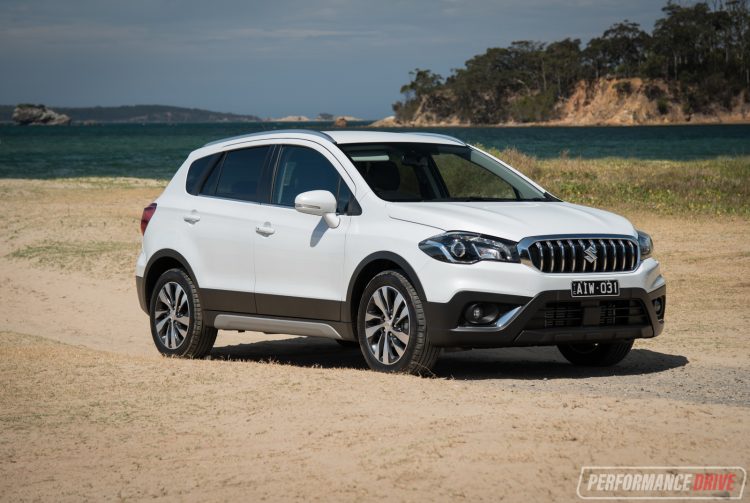 Suzuki Australia introduced a facelift for the S-Cross (also known as the SX4) in November, bringing a fresh turbocharged engine to the humble crossover, and an updated exterior and interior. It comes in just two variants – Turbo and Turbo Prestige – and both use a fuel-efficient front-wheel drive system with a six-speed automatic transmission (not a CVT).
Prices start at $27,990 for the base Turbo and top out at $29,990 for the Prestige as tested here (excluding on-roads).
2017 Suzuki S-Cross Turbo – THE SPECS
Engine: 1.4-litre turbo four-cylinder
Output: 103kW@5500rpm / 220Nm@1500-4000rpm
Transmission: Six-speed auto
Drive type: Front-wheel drive
Wheels: F&R: 17×6.5, 215/55
ANCAP: Five stars (scored 35.30 out of 37)
Tare weight: 1170kg
Power-to-weight: 11.25:1 (kg:kW)
Official fuel economy: 5.9L/100km
Economy during test: 6.0L/100km
Fuel capacity/Type: 47L/95 RON
Power efficiency: 17.62kW:L/100km
0-60km/h: 3.84 seconds*
0-100km/h: 8.71 seconds*
1/8 mile: 10.60 seconds at 106.9km/h*
1/4 mile: 16.38 seconds at 138.7km/h*
100-0km/h braking: 3.04 seconds at 40.04 metres*
Decibel at idle: 40*
Peak decibel at 60-100km/h: 74*
Priced from: $29,990
* Figures as tested by PerformanceDrive on the day. Factory claims may be different

2017 Suzuki S-Cross Turbo Prestige – THE PACKAGE
Even the base model is one of the best-packaged small SUVs out there. It comes with a comprehensive 7.0-inch touch-screen interface with sat-nav and a rear-view camera as standard. This is the same likeable unit found in the latest Vitara. There are four main sections with each quarter providing an easy-to-understand set of menus and functionality. Not only is full Bluetooth connectivity on offer, the unit also comes with Apple CarPlay as standard.
Going for the Prestige adds auto wipers and headlights, and a part-leather upholstery which is perfect if you're carting around messy kiddies on a regular basis. There's also polished 17-inch alloy wheels (same design as base model, only polished).
We really like the simplicity of the cabin. And that's not to mean that it's basic or crude. Every area seems put together really well, with no creaks or rattles, and most surfaces feel robust and sturdy. The sporty three-spoke steering wheel is nice to grasp, and the cruise control and other wheel-mounted controls are extremely intuitive and clear.
The cabin has a certain airiness to it, with a greater sense of space than what might actually be on offer. Wide and comfy seats are ideal for all shapes and sizes, and they remain very comfortable even on long journeys. There's also convenient cup-holders in the centre console and bottle holders in the doors, and a relatively large centre console box for more precious items.
Headroom and legroom are among the best in the class in our opinion, especially in the back where the roofline doesn't swoop down and intrude on headroom, like it does in most modern-day small SUVs that are taking on the fashionable coupe-like shape. Getting in and out is also a breeze thanks to the S-Cross's slightly raised ride height. It's not too high as to require a climb up to get in, but it's not too low that you have to bend down. Instead, you simply slide straight across and in.
Boot space is rated at 430 litres, which is a bit more than what you get in some of the popular small hatchbacks such as the Hyundai i30 (378L) and the Volkswagen Golf (380L). You can fold the rear seats down, almost completely flat, to open up 1269L. In modern Suzuki fashion, the boot floor is collapsible for extra storage, and you can leave this removable floor piece at home if required. The idea behind it is – we think – the loading height is ideally placed at hip level for general shopping with the floor piece in place, or it can go deeper if you need more room. The side pockets are also collapsible for additional width when the floor board is removed.

2017 Suzuki S-Cross Turbo – THE DRIVE
The drive experience takes a similar philosophy as the packaging; this is all about relaxed and practical motoring. It does everything you would expect it to do, and quite well might we add.
For general duties the S-Cross Turbo exhibits a taut yet forgiving ride quality. There are no shockwaves sent through the cabin, and the platform remains compliant and solid. Hitting those pesky speed-bumps won't require a booking with the chiropractor, yet the handling doesn't turn to mush when the road gets twisty.
Along a mountain road the S-Cross possesses a reassuring confidence, perhaps because it is so light in weight tipping the scales at just 1170kg. This makes it feel nimble and fun without becoming fidgety or overly busy like some compact cars. The steering seems perfectly matched to the platform and suspension as well, being not too quick but not tiresome.
Fortunately, the turbocharged petrol engine is matched up to a six-speed automatic transmission. It's not a CVT unit, which would have ruined the happy-go-lucky nature of the car. Developing 103kW at 5500rpm means you don't need to rev the engine right out to earn its rewards. In fact, peak torque of 220Nm is available from just 1500rpm and holds until 4000rpm. This means you can use the engine to surge up to gear speeds with very little complaint – complaint that you might get from some non-turbo rivals that offer less torque.
With such a low kerb weight this little engine performs more than adequately. It's not exactly quick, recording a 0-100km/h time of 8.71 seconds, but it is certainly acceptable and even enjoyable for this style of vehicle. It's surprisingly effortless scaling up long steep hills too. And as another benefit of that low weight and effortless engine comes outstanding fuel economy.
During our week-long test this test vehicle recorded an average consumption of just 6.0L/100km. This was achieved in mixed driving conditions, including lots of touring on the highway and equally as much driving having fun in the bends and testing the performance numbers. The official average is 5.9L/100km.
2017 Suzuki S-Cross Turbo – THE VIDEO
2017 Suzuki S-Cross Turbo – THE VERDICT
If you're thinking of buying a small car but you're tempted to jump onto the SUV bandwagon, the S-Cross Turbo is a superb little stepping stone. It offers more cargo space than most small hatchbacks and more ground clearance yet it drives with the light-footed nature of a compact car thanks to its unbelievably low kerb weight. Japanese reliability and low ownership costs are also positives worth noting.
After a week behind the wheel, approached with plenty of pessimism and scepticism (at first), we find the S-Cross Turbo to be a very likeable car. There's actually nothing crucially negative here. Aside from that awkward front end design. We guess the only other criticism is that it sits very close in specification, price and practicality to its sister vehicle, the Vitara. And that is arguably much nicer on the eye and it's available with four-wheel drive.
PROS:
– Excellent real-world economy
– Quiet and refined
– Perfect ride quality
– One of the easiest and carefree cars to drive
– Practical cabin layout
– Turbo engine adds spark, decent performance (for class)

CONS:
– Front-end design – looks like a Chinese imitation?
– Competes with Vitara
As always, if you're thinking about buying a new car don't forget to click here to speak with our car buying specialists.