Italian design. Japanese engineering. What better ingredients could you possibly need for a sexy yet reliable sports car? Welcome to the Abarth 124 Spider.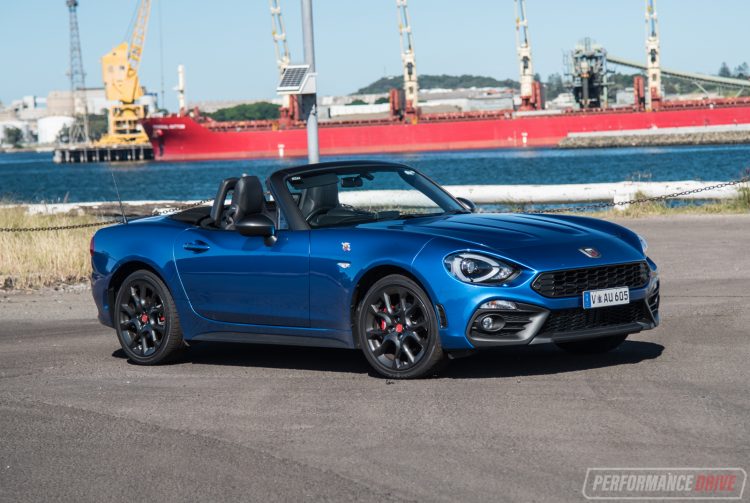 This is the result of Fiat essentially purchasing the rights to use Mazda's latest ND MX-5 platform. The deal saw Fiat borrow most of Mazda's engineering expertise in fun-to-drive roadsters while Mazda could offset some of the development costs. Mazda released its MX-5 first, in 2015, and then Fiat introduced the 124 Spider which is seen as a nod of respect to the Fiat 124 of the Sixties.
Australia doesn't get the Fiat 124, like some other markets around the world. Instead we only get the sportiest version which has had the Abarth magic wand woven over it. Abarth, for those who don't know, is Fiat's performance division – like AMG to Mercedes, HSV to Holden, and Ralliart to Mitsubishi.
Prices start from $41,990 in Australia for the manual Abarth 124 (as tested), and from $43,990 for the six-speed auto. That puts it around $8650 more expensive than the Mazda MX-5 manual starting price. In fairness, it more evenly goes up against the 2.0L MX-5 manual which starts from $34,850. So, is the Italian flair worth the extra money? And does it retain the MX-5's natural fun-loving character?
For this review, we'll go over the differences between the Abarth and the MX-5, while singling out some of the Abarth's main points. Both cars are very similar, and both are built by Mazda in Japan.
2017 Abarth 124 Spider – THE SPECS
Engine: 1.4-litre turbo four-cylinder
Output: 125kW@5500rpm / 250Nm@2500rpm
Transmission: Six-speed manual
Drive type: Rear-wheel drive, limited-slip differential
Wheels: F & R: 17×7.0, 205/45
ANCAP: Not tested (Mazda MX-5 5 stars)
Tare weight: 1100kg
Power-to-weight: 8.8:1 (kg:kW)
Official fuel economy: 6.5L/100km
Economy during test: 8L/100km
Fuel capacity/Type: 45L/95 RON
Power efficiency: 19.23kW:L/100km
0-60km/h: 3.16 seconds*
0-100km/h: 6.81 seconds*
60-110km/h: 4.75 seconds*
1/8 mile: 9.70 seconds at 116.5km/h*
1/4 mile: 15.14 seconds at 153.4km/h*
100-0km/h braking: 2.98 seconds at 37.72 metres*
Decibel at idle: 59*
Peak decibel at 60-100km/h: 89*
Priced from: $41,990
* Figures as tested by PerformanceDrive on the day. Factory claims may be different

2017 Abarth 124 Spider – THE PACKAGE
Chassis, major suspension geometry, and some of the drivetrain are pretty much identical between the two Japanese-made roadsters. The six-speed manual is the same, along with the rear axle, front suspension arms, and most of the underbody are the same as those in the MX-5, along with the 2310mm wheelbase.
Where Abarth (Fiat) has gone its own way is with the body. All body panels use a proprietary design, making the 124 almost unrecognisable as being an MX-5 underneath. All of the hallmark sportscar stuff is there, including a long, elegant bonnet, short front and rear overhangs, and a wide and low stance. It's unbelievably low, actually, measuring just 1233mm from the ground (3mm higher than the MX-5). This means getting in and out can give your leg muscles a workout.
This is probably going to cause a fractious stir with Fiat fans, but just personally, we're not completely settled on the design. It seems very bloated, especially around the wheel arches, leaving the wheels indented from the body. The long and flat bonnet also reminds us of a Dodge from the early 2000s, with a Dodge Viper/Maserati Gran Turismo thing going on at the back. It definitely stands out on the road though and attracts plenty of curious and mostly positive attention.
Inside, it's a fusion of well-built Mazda fixtures, embellished with enticingly exotic details. The instrument cluster is taken from the MX-5, however, the gauge faces are unique with the red-accented tacho sitting large and centred, with a more exciting italicised font used for the digits. There's also some bespoke Abarth leather seats and an exclusive steering wheel, complete with red stitching.
Fortunately, Abarth has kept Mazda's fantastic MZD Connect multimedia interface system. Operation and functionality doesn't come much better in this department. The system is instantly comprehensible thanks to its intuitive menu functionality, while the in-built apps provide up-to-date entertainment capability. Abarth uses a premium nine-speaker Bose stereo system – superior to the standard MX-5 2.0L's six-speaker unit, but identical to the top-spec MX-5 GT – which has no trouble cranking out the tunes, even with the roof down.
Like the latest MX-5, the cabin space and ability to move inside the car is the most injurious element to the interior's overall well-fitted, quality, and impressively-equipped packaging. It's really snug. If you're over six-foot tall, you'll need to bring your own claustrophobia pills. If you're over 6″ 5′, either bring an umbrella or prepare to only drive when the sun is shining, because the roof will need to be down to give your head some freedom.
The larger, inflated body does provide benefits in terms of practicality in the 124, as the boot space is 10L larger than the Mazda's boot, at 140L. It's a deep yet thin opening, capable of taking in the week's shopping for a two-person living situation.
2017 Abarth 124 Spider – THE DRIVE
Based on the exceptional driving foundations of the Mazda MX-5 means the Abarth 124 Spider is automatically entered into the driver's car hall of fame. It's a genuine driver's car, with beautiful balance and sublime seat-of-your-pants engagement, that can be enjoyed by a wide variety of driver types.
Some minor changes are made by Abarth to give it an edgier character. At each axle are Bilstein sports dampers and stiffened stabiliser bars, with unique springs. In our opinion, it's hard to notice the difference compared with the MX-5, especially when driving in normal conditions. We'd say the ride is a bit firmer here though, and at the upper limits of driving attitudes the Abarth seems to feel a little more planted around corners, and less prone to disruption over bumps during cornering. Of course, this means the ride isn't quite as comfortable as the MX-5, in normal conditions.
But we're talking differences that are so fine they don't interfere with the awesome foundations the roadster holds. It feels natural in your hands, turning corners in the mountains like it wants to be there. You can feel what the tyres are doing and how they're coping, and feed in some gentle opposite lock if you get a little too frisky with the throttle from mid-corner. The level of balance makes it a thoroughly enjoyable drive, no matter what skill level driver you are.
Power comes from a Fiat-sourced 'MultiAir' (Fiat's hydraulic variable valve timing) 1.4-litre turbocharged four-cylinder. Yes, it does only produce 7kW more than the non-turbo 2.0L engine in the MX-5, but it's the increase in torque that's quickly detected and appreciated. In the MX-5 2.0L peak torque, all 200Nm of it, is available from 4600rpm. The Abarth's 250Nm is available from 2500rpm. This translates to increased flexibility exiting corners. And leisurely around town, you can rely on the low-down torque to pull you through.
Peak power doesn't specifically feel much different, and in fact flat-out acceleration actually seems a bit slower in the Abarth. We put this down to the optional Monza exhaust fitted on this test car. In our opinion, it's too loud. Too loud for the performance that's served up anyway. It's a case of big bark, small bite. In this area we enjoy the MX-5's 2.0L engine more. It possesses a traditional high-revving character and energetic thrum, making each kilowatt feel like it's been earned as you cast out the revs. In the Abarth, the engine, frankly, sounds hollow and off-putting, like someone is farting into a bucket.
In regards to the measurable performance, we timed 0-100km/h in 6.81 in the Abarth – just a smidge in front of the MX-5 2.0L manual's tested time of 6.94. There should be a bigger gap here but we suspect it's down to the power-to-weight ratios; the Abarth is 95kg heavier than the aforementioned equivalent MX-5. Again though, the 124's flexibility is superior thanks to the turbo and low-end torque available, resulting in a quicker-feeling car in normal conditions and when you're not wringing its neck.
Braking performance is in balance with the engine's performance. Unlike the Mazda, the Abarth, being Italian and flamboyant, comes with Brembo mono-block front brakes with four-piston calipers. Across the 100-0km/h emergency stop we clocked a best of 37.72 metres. This is shorter than 38.81 metres we achieved in the MX-5. Stopping distance alone isn't everything though. If it's repeatable and resists fade, that's just as – or more – important. And in the Abarth you can do countless sprints up and down your favourite mountain road and not have to worry about any of this.
2017 Abarth 124 Spider – THE VIDEO
2017 Abarth 124 Spider – THE VERDICT
Fiat and its go-faster division have done a great job not to tamper too much with the MX-5's legendary and widely-celebrated traits. It's still a fantastically fun car to drive, but with the Italian garnishes it does add a dash of added excitement to the drop-top. Whether it's the better car or not we simply can't reach a concrete conclusion.
We do like the MX-5's natural balance, and freer- and higher-revving non-turbo engine. However, if you want something that's a little left-field and something that will stand out more on the road – possibly detaching itself from the hairdresser's car stereotype in the process – the Abarth 124 fits the bill perfectly.
PROS:
– Fun and playful handling
– Bespoke Abarth enhancements
– Mazda interior quality and MZD Connect
– Unique design, stands out on the road

CONS:
– Very small cabin
– Hollow-sounding exhaust
– MX-5 the better-balanced option
As always, if you're thinking about buying a new car don't forget to click here to speak with our car buying specialists.