Ford has revealed the new, 2019 Ford Mustang Bullitt at the North American International Auto Show in Detroit, featuring unique tuning enhancements and an upgraded engine.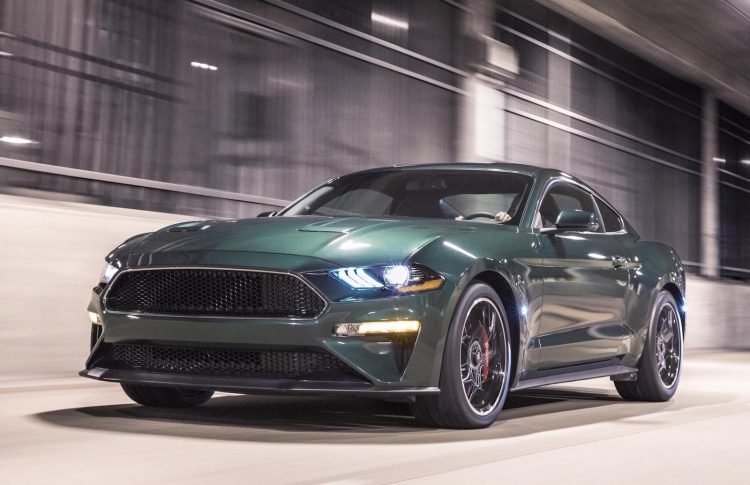 The Mustang Bullitt celebrates the 50th anniversary of Steve McQueen's classic film of the same name. There are a number of enhancements for the exterior, such as 19-inch aluminium wheels in classic 'torque thrust' design, in black, as well as exclusive Shadow Black and Dark Highland Green paint colours and Bullitt badges.
In the engine bay the 5.0-litre naturally aspirated V8 is tuned to deliver "at least 481PS", Ford says. Converted to local speak, that's 354kW, which is a nice jump up from the regular GT's 331kW output (2019 spec). Torque is also increased from 530Nm to 569Nm.
There's no mention of the 0-100km/h time but Ford says it will soar on to a top speed of 262km/h. The performance gains come thanks to an active valve sports exhaust with a retuned burble sound, and a recalibrated engine computer.
Other tasty highlights include a cue ball shift knob inside for the manual transmission, inspired by the classic Mustang from the movie, along with subtle chrome accents around the front grille and windows, a look-a-like racing fuel cap featuring the Bullitt logo, and removed badges and trimmings for a clean style.
The interior gets a 12-inch all-digital instrument cluster which debuted with the 2018-2019 Mustang, set to go on sale in Australia a bit later this year, only it showcases a unique welcome screen. Darrell Behmer, Mustang chief designer, spoke about the iconic model in a statement, saying:
"This new Bullitt is, as Steve McQueen was, effortlessly cool. As a designer, it's my favourite Mustang – devoid of stripes, spoilers and badges. It doesn't need to scream about anything – it's just cool."
The 2019 Mustang Bullitt will go on sale in the US market in the middle of this year. It is set to be built in limited numbers and in left-hand drive only, which rules out a chance for Australia.