Ford Australia has released the first teaser image of the 2015 Ford Falcon. The new model will debut later this year, with the reintroduction of the XR8 performance V8 nameplate.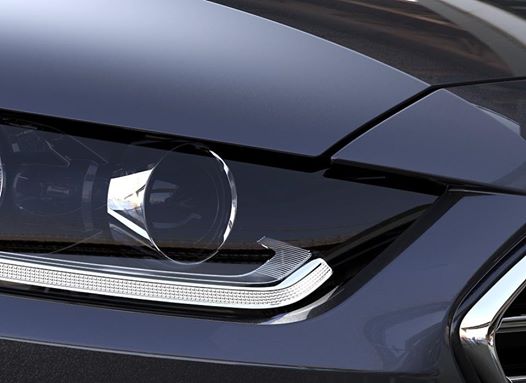 This is the first image of the new model that has been released, following a quick snapshot revealed during the Australian Motor Show in 2012.
Although the image shows only part of the headlight, the new model is set to showcase a more modern design in line with Ford's global portfolio. Expect a hexagonal front grille, chrome detailing, more advanced headlights with LED daytime running lights on some models, and a pronounced upper nose and bonnet lines.
At the back will likely feature a fresher, slightly sharper layout compared with the FG on which the 2015 model will be based.
Underneath it all will be largely the same as the FG, with Control Blade independent rear suspension and virtual pivot link strut front suspension. Damper settings may be revised, however, such details haven't been confirmed.
Although many fans are probably expecting big things from the new model, like what was seen in last year's Holden VF Commodore model launch, the reality is Ford Australia will be closing down manufacturing by 2016. This means the company isn't going to be looking to spend big on an all-new model.
Some things to look forward to though will be interior changes. The 2015 Falcon is expected to come with Ford's Sync infotainment touch-screen interface as used with its international models. The system is a big step on from the current Command interface. The dash and seats are also set to be optimised for comfort and convenience.
Engines are likely to continue on with little change, including the LPG version of the 4.0-litre inline six, and the 2.0-litre EcoBoost four-cylinder which hasn't seemed to catch on with consumers so far.
Along with the new Falcon, Ford will also introduce an updated Territory along the same lines. We can expect similarly modest changes in all areas.
More teasers and previews will be rolled out over the coming months.