A new, bespoke car from Ferrari's One-Off division has emerged and doesn't it look drool-worthy. Meet the Ferrari SP38, a car based on the 488 GTB, but restyled to something arguably more sinister and elegant than its engineering-focused donor.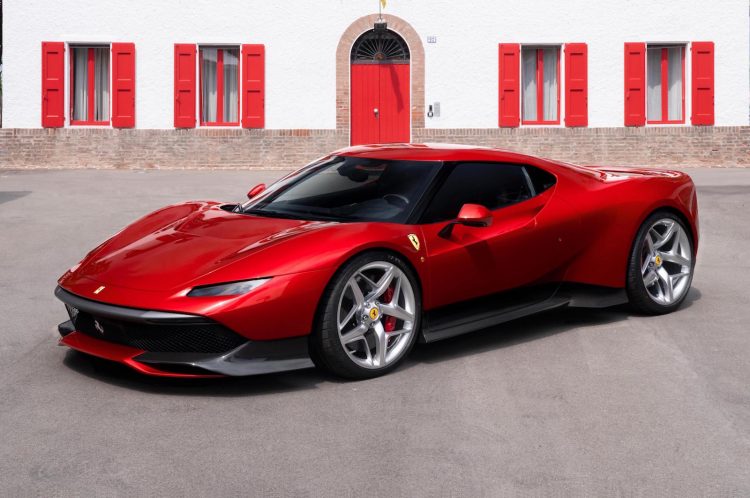 Visually, the SP38 is more wedge-like than its progenitor, with standout features including a blacked-out A-pillar, sharp horizontal headlamps and DRLs, a large grey intake integrated into the front bumper which hides the distinctive air scoop of the 488. The rear end is completely restyled, with three horizontal slits over the engine, a rear-hinged hood and air channels surrounding the taillamps and rear valance. The rear wing has been sculpted to look like a modern interpretation of the F40.
The 488 GTB upon which it is based is a very hardcore vehicle as it is. It uses a 3.9-litre twin-turbo V8 that generates 492kW at a screaming 8000rpm, with a muscular 760Nm available from 3000 to 6750rpm. This power is channelled through a seven-speed dual-clutch gearbox for a 330km/h top speed and a 0-100km/h sprint of 3.0 seconds. While based on the 488 GTB, no word on whether or not the outputs are the same – we'll have to wait for its official unveiling at the Concorso d'Eleganza Villa d'Este on the 26th of May. Speaking about the creation in a statement, Ferrari said:
"The all-new bodywork, in a newly conceived three-layer metallic red, marks a radical departure from the language aesthetic of the donor car. The twin-turbo, twin-intercooler set-up of the award-winning 488 GTB inspired the team to reference the mighty F40 as an icon from which to instruct the project's general direction."
Previous one-off editions include the 458 MM Speciale, the SP12 EC commissioned by Eric Clapton to evoke the 512 Berlinetta Boxer, and the SP275 RW Competizione.