A number of heavily-updated 4×4 utes have been launched this year. To throw a big spanner into the works Toyota has just introduced the 2016 Toyota HiLux range.
You might as well hold onto any of your preconceptions you might have about the Toyota brand, because it doesn't matter how you look at it, more people and more businesses are buying Toyota products over any other brand. And that doesn't just apply for Australia where it is currently almost doubling the sales figures of its nearest competitors, Mazda and Holden, but also in the world.
The new HiLux is a big one. It's an important vehicle because it has some big shoes to fill. It needs to keep the momentum going for Toyota, and for the HiLux – Australia's best-selling ute. Toyota is calling the new model "tougher, more refined" and "more Australian than ever" before. So, is it? And can it fend off the ever-growing and ever-advancing rivals?
We're testing the dual-cab cab-chassis SR 4×4 version with the new 2.8-litre turbo-diesel four-cylinder engine, matched to an equally fresh six-speed manual transmission. Much to our delight, the test car also showcases some of the genuine accessories punters can opt for, out of the 60-plus available for the new model.
The HiLux has always sat at the higher end of the price range in the Australian market. Compared with the previous model, the highest starting price was $53,490 for the dual-cab 3.0 diesel SR5 automatic. For the equivalent today you're looking at $57,990 (excluding on-roads). This body style and engine we have here kicks off from $44,990 for the manual, which is up $4000 over the equivalent 2014-2015 version. However, the new model is better equipped.
2016 Toyota HiLux 2.8 TD – THE SPECS
Engine: 2.8-litre turbo-diesel four-cylinder
Output: 130kW@3400rpm / 420Nm@1400-2600rpm
Transmission: Six-speed manual
Drivetrain: Part-time four-wheel drive, high/low range, locking rear diff
Wheels: F: 17×7.5, 265/65  R: 17×7.5, 265/65
ANCAP: Five stars (scored 34.45 out of 37)
Kerb weight: 1955kg
Power-to-weight: 15:1 (kg:kW)
Official fuel economy: 9.8L/100km
Economy during test: 8.1L/100km
Fuel capacity/Type: 80L/Diesel
Power efficiency: 16kW:L/100km
0-100km/h as tested: 10.2 seconds
Priced from: $44,990
2016 Toyota HiLux 2.8 TD – THE PACKAGE
It's easy to see Toyota is aiming the new HiLux at families and everyday drivers and less so for the hard working yellow-shirt, steel-toe type. The interior design is much fancier than the previous model, mimicking the well-forward and upright dash of the Corolla and RAV4, with lots of textures and sophisticated shapes around the place. Is that a bad thing? Well, it is more liveable in here than before, more comfortable, and perhaps more appealing to look at. You can option for thick rubber matting for the floor, to protect it from muddy boots, and the Workmate variants do come with a full vinyl floor for sheer durability.
Up on the dash Toyota has gone for the stick-on-tablet trend with the touch-screen interface. It can come across as tacky but a lot of manufacturers are doing it at the moment, including Mazda and even Mercedes-Benz. We guess you can't really complain that it looks too modern. The actual interface is a huge improvement over the previous aftermarket-like setup though, in both operation and user-friendliness. On the home screen you just select the application you want and it takes you straight in. Nice big buttons. Clear front. Simple. There are a scattering of quick escape-route buttons around the screen too if you find yourself lost within the menus.
For the SR double cab you get Bluetooth with audio streaming capability, feeding sounds into an okay-sounding six-speaker stereo. It includes Toyota Link and voice recognition technology. A rear-view camera is standard on all body-back models, and optional on chassis/tray versions (as tested). The SR only gets one 12V socket inside while the SR5 gets a 220V socket as well. But there is a drinks cooler in the centre console and a 60/40 split-fold rear seat base in the SR. Air-con and cruise control is also standard for all, along with hill-hold, trailer sway control, headlight levelling, and seven airbags with five-star ANCAP safety. The SR5 adds bonus features like sat-nav, climate control, and digital radio.
Despite the hint of function following form in the suave design, the patterned seats are covered in what feels like a very strong and durable material. The material is scratchy and tough, like what a decent backpack is made from. They are pretty comfortable too, with decent side support and a soft lower cushion absorbing what the heavy-duty suspension doesn't. We find the steering column doesn't offer enough adjustment. There's rake and reach, but not much reach movement. It did take a little while to get settled into a nice driving position. For us, anyway.
Ergonomically, the cabin and controls are clear and within reach, with most functions resting where you would expect them to be. This is typical Toyota, in a good way. Visibility is also good through all angles partly thanks to the high driving position of the 4×4 underpinnings. Toyota has finally fit a one-touch indicator, making busy driving a bit easier too.
As you can probably tell this test vehicle is equipped with a heap of accessories; the Toyota-engineered bull bar with integrated LEDs; the chassis-mounted tow-bar; the 17-inch alloy wheels; the snorkel which feeds directly through the front guard and into the air induction box, are all optional accessories. Even the tray is a Toyota-developed item. Interestingly, the bendable side steps are standard on 4×4 models.
The Toyota tray is excellent. It feels strong and sturdy and uses tough plastic connections for the latches, resulting in no rattles or creaks over bumps at all. Even the latches themselves are well-built and seem like they would stand years of heavy-duty work and opening and closing.
We also like the genuine bull bar as it exposes a huge approach angle. With the tray on the back offering a fantastic departure angle, this is the perfect body and accessories combination for proper off-road driving. Speaking of which, Toyota has finally fit a locking rear differential to the SR and SR5 4×4 variants. More on the off-road performance below.
2016 Toyota HiLux 2.8 TD – THE DRIVE
On the road the HiLux remains one of the better handling 4×4 utes. It's not quite up to the dynamics of the Volkswagen Amarok, as with the previous model, but it stands as a good compromise. It feels solid and predictable, with forgiving steering and a reasonably high lock-to-lock steering ratio which is good for off-roading. Toyota says there are fewer turns lock-to-lock compared with the previous model.
The suspension is jiggly, like in most commercial vehicles, but completely bearable for daily use. Front seat passengers will enjoy a softer ride thanks to the independent setup underneath, with new, thicker dampers. At the back Toyota has fit longer leaf springs mounted at a wider stance to improve ride and handling. Overall, the handling and comfort level seems to present a good balance between being ready to tackle the toughest of real-world off-road situations while offering a pleasant enough ride on the tarmac.
If you're worried about the downsized '1GD-FTV' diesel engine not bringing enough grunt to the table, don't be. Compared with the previous '1KD-FTV' 3.0 TD the new model offers an extra 4kW and a very useable 77Nm more torque (manual). You might as well call it a bigger engine. The compression ratio is lower than the 3.0 (15.6:1 versus 17.9:1) but there is a variable geometry turbocharger for improved response, and a water-cooled exhaust gas recirculation system with a cooler bypass and diesel particulate filter to help not only reduce fuel consumption but also emissions.
There's basically no argument to be had. The 2.8 is the superior and more appealing engine on paper. On the road, it's the same story. It feels noticeably smoother and more refined, and quieter with slightly less clattering heard from outside and inside the cabin. The 2.8 pulls from as low as 1500rpm, just, and offers adequate torque and power for daily conditions. We timed 0-100km/h in 10.2 seconds.
For extra response there is a Power Mode button – and an Eco Mode for efficient driving – which significantly increases throttle response. With Power engaged you only need to touch the throttle to receive almost all of the engine's performance. It doesn't actually add any more power or torque, it is only  there to sharpen up the response. This is a good function to have when you're in boggy sand where you really need to keep the wheels turning and keep the revs relatively high.
So, the engine is definitely more favourable than the old 3.0. Linked up to the six-speed manual there are a few complaints we'd like to express. In our opinion there is a strange spread of ratios. Second is quite high and third gear is quite long making it somewhat tricky to thread through roundabouts, compared with manual rivals. On the highway, sixth gear at 100km/h only requires 1500rpm, which almost seems too low. At the back the differential uses a fairly tall 3.58:1 final drive gear (manual, auto 4.1:1). This does help with fuel economy. On the ADR combined cycle test, fuel consumption is improved from 8.3L/100km to 8.1L/100km for this dual-cab version. We averaged about 9.8L/100km which included lots of off-road driving.
As for off-road driving, the HiLux, again, seems to offer a good balance in its range of expertise. We're not going to say it offers the best off-road performance in terms of segment standards, but it is right up there near the top. Even without the locking rear diff the HiLux has always been a great contender. With the locking diff and a whopping 279mm of ground clearance, it takes a nice big evolutionary step forward, making it more capable than ever before.
During our test we tagged along with some keen 4×4 enthusiasts from the office, most of which had Toyota SUVs, albeit heavily modified. The trusty HiLux was able to keep up in most areas. The ground clearance doesn't compare to lift kits and such though, and the factory tyres, although they do feature moderately aggressive tread pattern, were no match for dedicated hoops.
On the sand the HiLux made progress easier in third gear in low range as opposed to second gear that all of the others used in their vehicles. Suspension travel is okay for a factory vehicle, allowing you to clamber over some pretty rugged terrain while keeping all tyres firmly weighted. In fact, Toyota says rear-wheel articulation is increased to 520mm on both sides (up from 433mm on left and 474mm on right).
The high ground clearance is good but we did scrap the standard side steps a number of times. We think it would be best to either leave them off, or, for pure off-road performance, get some proper metal rails fitted. The approach and departure angles are superb, as mentioned, making it extremely agile in tight technical conditions. Water wading depth is rated at 700mm.
The enthusiasts were quick to point out the HiLux features drum brakes on the rear. It didn't take long for us to figure out why that's a bad thing; they fill up with water and sand, making it very difficult to engage the handbrake. A decent drive on the highway does free it all though. Stopping performance is totally adequate for this type of vehicle nonetheless, thanks to the standard twin-piston caliper brakes on the front clamping 319mm discs (up from 297mm on the predecessor).
Overall, the 2016 HiLux 4×4 is a robust, ready, and highly capable all-terrain machine. It's also more comfortable than ever before when it comes to the on-road stuff, and the engine is noticeably more efficient, more refined, and provides the same if not more grunt, especially lower in the rev range (3.0 TD 343Nm at 3600rpm vs 2.8 TD 420Nm from 1400-2600rpm).
2016 Toyota HiLux 2.8 TD – THE VIDEO
2016 Toyota HiLux 2.8 TD – THE VERDICT
Like with the predecessor we think the reason the HiLux is so popular is because it is such a good all-rounder. It doesn't really excel in any particular area; it's not the best off road or the best on road; it doesn't represent the best value but in saying that the quality is high; and the powertrain is about average in terms of performance and economy.
If this were a points game, the HiLux would do very well, scoring around 8/10 in most areas. Whereas other 4×4 utes on the market might be superior in specific areas, they lose points in others. We think the 2016 HiLux is a natural evolution for the nameplate, and we see no reason why it won't continue the huge sales domination, and carry on the brand and nameplate reputation with pride.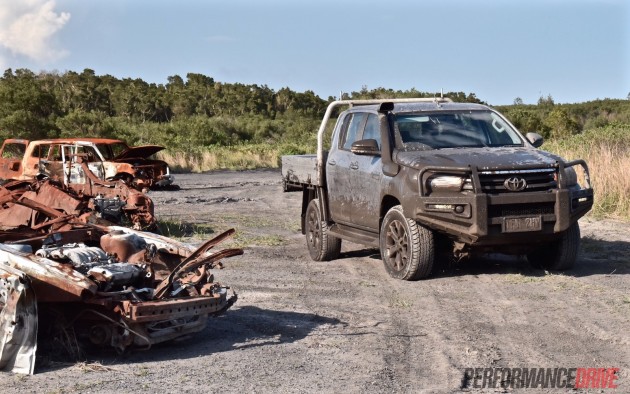 PROS:
– New 2.8 diesel more refined, smoother, quieter, more economical
– Car-like interior, pleasant design
– Standard 7.0in touch-screen for SR
– Off-road ability; 279mm ground clearance, locking diff
– Unbreakable reputation

CONS:
– 2.8 TD trails some rivals for power and torque
– More car-like interior (a bad thing?)
– Odd ratios with new six-speed manual
As always, if you're thinking about buying a new car don't forget to click here to speak with our car buying specialists.