Standing out with a stunning exterior design, the Infiniti FX has to be one of the coolest premium crossovers on the market. It's overflowing with pampering luxuries. It comes with a youthful and refreshing brand image, and it gets on hastily with a powerful V6 engine. It does face strong competition though and sits in the market along side some highly experienced German veterans.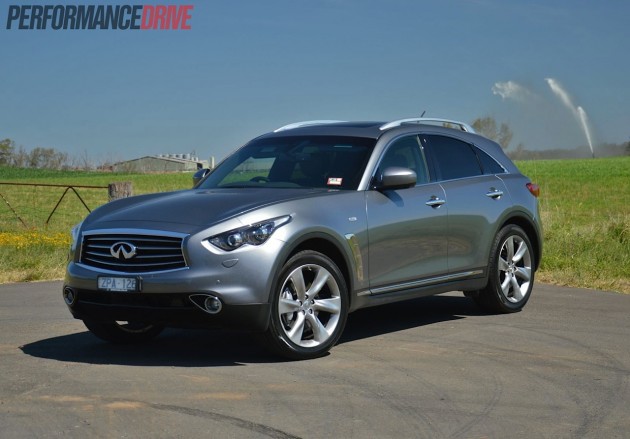 The FX has only been on the market in Australia since September 2012, but it has been on sale overseas since 2008. It's the only properly premium large luxury crossover from Japan.
Although it does have all-wheel drive and some ground clearance, the FX is by no means trying to be a gumboot-wearing mud conqueror. This is more about luxury lifestyle, modern technology, and cutting-edge design.
Three different variant levels are available with three different engine choices; a 3.7-litre naturally aspirated V6 with 235kW/360Nm (FX37 – as tested), a 3.0-litre turbo-diesel with 175kW/550Nm (FX30d), and a storming 5.0-litre V8 with 287kW/500Nm (FX50).
These variants are then split up into three main trim levels, ranging from GT, S, to S Premium. All are backed by a seven-speed automatic transmission with all-wheel drive.
If you're wondering about the exclusivity and prestigious nature of the FX, glancing at the price list will give you an instant indication of what slice of the market it's aiming to tackle. The flagship FX37 S Premium, for example, kicks off at $86,400, while the top-flight FX50 starts at $104,900. At these prices, it's firmly targeted at vehicles like the Audi Q7 and BMW X5.
Infiniti FX37 S Premium – THE SPECS
Engine: 3.7-litre V6
Output: 235kW@7000rpm / 360Nm@5200rpm
Transmission: Seven-speed auto
Drive type: All-wheel drive, auto brake differential
Wheels: F: 21×9.5, 265/45  R: 21×9.5, 265/45
ANCAP: Five stars (scored 33.5 out of 37)
Kerb weight: 1908kg
Power-to-weight: 8.1:1 (kg:kW)
Official fuel economy: 12.1L/100km
Economy during test: 13.9L/100km
Fuel capacity/Type: 90L/95 RON
Power efficiency: 19.4kW:L/100km
0-100km/h as tested: 6.8 seconds
Priced from: $86,400
Infiniti FX37 S Premium – THE PACKAGE
In comparison with the market rivals, the FX comes with an impressive list of standard features and none of those surprisingly expensive options. Simply open the door and you are immediately greeted with a convincing prestige character. From the semi-quilted leather seats to the vast array of buttons and gadgets on the dash and centre console, every aspect is standard and built with high attention to detail and quality.
Speaking of buttons, the interior is almost five years old now and it's the sheer amount of buttons that tends to give away the age. Vehicles these days are more about clean, clutter-free interaction. In the FX, it can be a bit overwhelming. On the contrary it is rather fun just sitting inside and going through all of the functions.
Some of the standout features that you'll enjoy include dual-zone climate control, an awesome 11-speaker premium stereo system with its in-built harddrive, automatic wipers and headlights (with active bending beams), an electric sunroof, electric heated and cooling seats in the front, adaptive damper settings, and a large LCD multimedia interface.
You can use the interface to adjust pretty much all settings. It uses a full colour display and a chrome-plated rotary control toggle which sits just beneath the screen. The graphics are excellent and the full surround camera views are crystal clear, giving you ample confidence to park in those lucky spots.
About the only flaw to the interface is the location of the control knob. We think it would be a lot nicer if it was placed down near the gear selector like what is seen in some of the German rivals – it can become a bit tiring reaching up every time you want to change something.
Comfort was obviously high on the agenda for creators of the FX. Sitting up front in the big leather seats is extremely relaxing. You feel a definite sense of security sitting behind the chunky dash and front bulkhead. The driving position is spot-on as well, and you can lower the seat right down for that sporty, car-like position.
In the back, the seats are probably even nicer than in the front. There's plenty of legroom on board and the entire bench can be reclined for the ultimate in pampered, chauffeur-style luxury. Vents in the back blow soft wafts of air over you like you're being feathered with royalty. It's divine.
The FX can be a bit tricky threading through tight city streets. This is due to the fact that it's 1925mm wide, which is only 15mm narrower than a Nissan Patrol. It's also just under 5000mm in length, and vision through the rear is rather poor, which means the standard surround cameras are more of a necessity than a convenience.
Despite the enormity, cargo space is not particularly good for this segment. With the rear seats upright there's only 410 litres on offer. This is actually less than what's offered in a Holden Cruze hatch (413L). For a vehicle of this size it is not good enough in our opinion. We suspect carving that swoopy, sexy exterior design was a higher priority than practicality during its development.
Infiniti FX37 S Premium – THE DRIVE
Upon first impressions the FX feels very secure and very heavy behind the wheel. There's a bold sense of solidity; perfect for drivers who enjoy a tough, broad-shouldered SUV driving character.
Around town it's planted with no tramlining to contend with, and wonderfully weighted steering that's not too light nor too heavy. Once you get out onto the highway that train-like road-holding translates into rock-solid stability. Even at high speed the FX is entrenched in its lane and never becomes nervous or fidgety cutting through the air.
Weaving the big rig through a series of tight corners is where that solid, secure feeling transforms into a bit of a drawback. It's not as lively or as enthusiastic as most of its similarly priced German competitors. Feedback through the wheel is good but initial tip-in can be uneasy as the mammoth lunges its weight around.
There's no body roll, you don't have to worry about that, and you'll never have to deal with understeer or oversteer. The main concern is the weight. While the German veterans feel much lighter (even though they aren't) around tight bends, they do better to hide their weight. In saying that, the FX prefers long sweepers over the technical tight stuff, and it's here where it shows its true colours.
Road holding and traction is terrific. The clever all-wheel drive system is able to send power to individual wheels for the best grip. Once you're tucked into the apex of a corner, simply apply a liberal dose of throttle and you're rewarded with an enjoyable ride of centrifugal slingshot.
In terms of engine performance, the 3.7-litre V6 is starting to age, being almost six years old now, but it does love to roar and rasp its way to the 7000rpm redline. Up near this rev range is where all the power and torque is located. Up to 360Nm is on offer at 5200rpm, giving you an indication of its rev-happy nature. We wouldn't say it needs more torque but it could do with better on-demand response and low-end pick-up.
Full throttle 0-100km/h comes up in a brisk 6.8 seconds, and from there it just pulls and pulls with huge momentum as the speed builds. It doesn't sound too bad either, particularly from the outside.
The seven-speed auto is a nice unit, however, it doesn't seem perfectly matched to the rev-happy engine. Instead of kicking down gears it prefers to hang around in the higher ones, resulting in a doughy throttle feel. It takes a good prodding of the accelerator to get things really shifting, if you need to overtake, for example.
Putting it in sport mode does help to startle the powertrain and give it a kick in the guts with minimal throttle depression, but overall it seems like it is constantly in an 'eco' mode.
During casual driving the transmission is pleasant and relaxing, and changes smoothly up and down gears. Get a bit more vigorous and start using the paddle shifters and the 'conventional' auto (not a dual-clutch) will respond, offering quick upchanges and reasonably quick downchanges.
One of the standout slices of engineering for the FX, and all Infinitis actually, are the brakes. There are two-piston calipers on the FX that perform brilliantly every time. Even with that big-boy weight, the brakes effortlessly wipe off speed, post-haste. There's good pedal feel with strong bite, and even after repeated abuse they pull up time and time again with face-distorting g-force.
Infiniti FX37 S Premium – THE VIDEO
Infiniti FX37 S Premium – THE VERDICT
If exclusivity is a high priority in your car-buying criteria, the Infiniti brand specialises in this quite specifically, so you're in the right direction here. On top of that, it's a genuine high-end luxury product accompanied by a unique and very exquisite brand persona.
It's not as nice to drive as a BMW X5 and it's not as practical or as accommodating as an Audi Q7, but it's arguably the most attractive of the lot – supported by lots and lots of attention on the road.
Given the choice, we'd go for the more fuel efficient turbo-diesel FX30d. We averaged a fairly steep 13.9L/100km during our test in the V6 FX37. And if you want outright performance, skip the V6 and go straight for the V8 with its 500Nm.
PROS:
– Strong top-end power
– Stunning exterior design
– Impressive list of standard features
– Awesome 11-speaker premium sound
– Pampering comfort in front and rear seats
– Powerful brakes; two-piston front calipers

CONS:
– Road noise
– Feels and is heavy
– Auto transmission needs refinement to match the V6's torque band
– Poor vision through the rear
– Small cargo capacity (410L)
Infiniti FX37 S Premium – THE COMPETITORS
Audi Q7 3.0 TFSI
3.0-litre supercharged V6 – 245kW-440Nm – 10.7L/100km – 2345kg – from $95,700
BMW X5 xDrive35i
3.0-litre turbocharged inline six – 225kW-400Nm – 8.5L/100km – 2030kg – from $106,900
Mercedes-Benz ML 350 BlueTEC
3.5-litre V6 – 225kW-370Nm – 8.9L/100km – 2130kg – from $99,400