If you're after a fire-breathing, front-wheel-tyre-tearing machine, you need to check out the new Peugeot 308 GTi. This is the French company's answer to the otherwise class-benchmarking Volkswagen Golf GTI.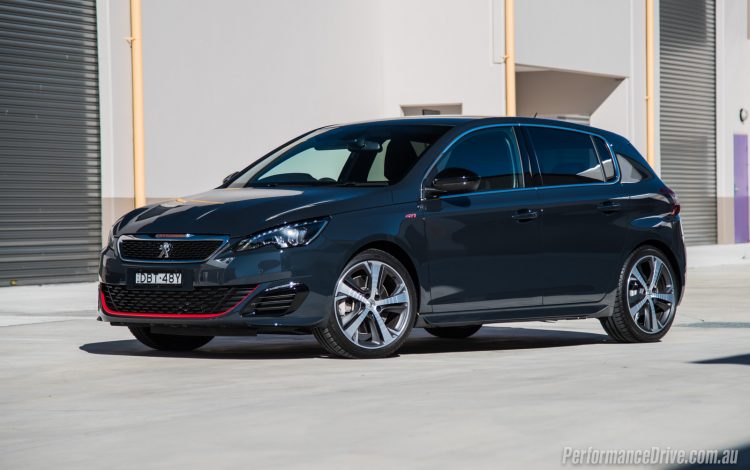 Taking down the Golf GTI from its very high pedestal is no easy task. Volkswagen has been evolving the GTI for 40 years now, which makes it very difficult for rival companies to match VW's constant efforts.
Peugeot is one of the pioneers of the hot hatch though, with the original 205 GTi storming the scene on and off the road back in 1980s. Now, the French company has a new hero hatch on offer. And this time it's a proper hot hatch, unlike the predecessors which did lose focus for a while there.
It's unusual for Australians to be offered big varieties from Euro land, but on this occasion we're offered every spec the 308 GTi comes in. The lineup is broken down into two; the 250 and the 270. Here we're testing the 250 version, which, as you may have guessed, is the less powerful model.
Both come with a 1.6-litre turbo four-cylinder running extremely high boost. The 250 produces 184kW and 330Nm, while the 270 generates 200kW and 330Nm. Unconventionally, in these modern times, both are fixed to a six-speed manual transmission as standard with no auto option. Prices start at $44,990 for the 250 and $49,990 for the 270 (excluding on-road costs).
2016 Peugeot 308 GTi 250 – THE SPECS
Engine: 1.6-litre turbo four-cylinder
Output: 184kW@6000rpm / 330Nm@1900rpm
Transmission: Six-speed manual
Drive type: Front-wheel drive
Wheels: F: 18×8.0, 225/40 R: 18×8.0, 225/40
ANCAP: Five stars (scored 35.82 out of 37)
Tare weight: 1178kg
Power-to-weight: 6.40:1 (kg:kW)
Official fuel economy: 6.0L/100km
Economy during test: 8.0L/100km
Fuel capacity/Type: 53L/95 RON
Power efficiency: 30.66kW:L/100km
0-60km/h: 3.51 seconds
0-100km/h: 6.40 seconds
1/8 mile: 9.70 seconds at 130.3km/h
1/4 mile: 14.64 seconds at 164.3km/h
100-0km/h braking: 3.04 seconds at 40.06 metres
Decibel at idle: 43-45 (Sport mode off/on)
Peak decibel at 60-100km/h: 86-90 (Sport off/on)
Peak stereo decibel: 98
Priced from: $44,990

2016 Peugeot 308 GTi 250 – THE PACKAGE
Essentially, the GTi comes in as the flagship 308. So as you would expect, the standard features count is high. You get a 9.7-inch touch-screen interface with sat-nav, two USB ports and 6.9GB of on-board storage, a rear-view camera, speed-limiting cruise control, dual-zone climate, and sporty seats.
We're not a huge fan of the sports seats. They seem very chunky and do take up a lot of space, all while not really providing that much lateral support. The cushioning, despite being very thick, isn't exactly the softest either. Seating space in the front is good though, with a fairly open and airy atmosphere amplified by a relatively low and unobtrusive centre console.
Rear seat passengers get their own 12V socket, and, like the front, the rear bench is rather large and chunky yet not entirely supportive – like an overfilled beanbag. Legroom and headroom is about on par with vehicles in this segment, although the thickness of the bench can make the cabin environment in the back seem more confined than it is, in our opinion.
Peugeot has infused some of its traditional quirkiness inside, with a high-mounted instrument cluster providing, effectively, a head-up display, along with a tiny sports steering wheel that reminds you of driving simulator machines and computer games. There's also an air-conditioned glove box to keep the cheese on your baguette cool, and some wow-inducing mood lighting setting a classy interior scene at night.

2016 Peugeot 308 GTi 250 – THE DRIVE
For a 1.6 turbo, this little engine really hauls. You could easily mistake it for a 2.0-litre unit in fact, with strong low-end torque available from just 1900rpm. Turbo-lag is kept to a minimum, and if you let the engine go it will freely rev right up to the redline while producing properly exciting acceleration.
The 250 version does miss out on the Torsen limited-slip differential that's offered with the 270 model, and you do notice. Around tight bends with the traction control off the inside wheel does like to spin away a lot of the power. Even in a straight line the 250 struggles to claw the tarmac right through second gear. This is, of course, very exciting, and fortunately there is no annoying tug or pull from the steering wheel, or any impromptu lane-changing torque-steer to deal with.
On a grippy surface the best 0-100km/h we could achieve was 6.40 seconds. This is quick, but we reckon this figure could drop by a few tenths if more traction was available. Peugeot quotes a sprint time of 6.2 seconds with the 250 and 6.0 for the 270 variant.
Gear changes are snappy and smooth with a light clutch action making the throw all the more enjoyable. We like the short and sporty gear ratios too, even though some might not appreciate the high revs out on the freeway. But it means you can pull away from roundabouts in third gear with little hesitation.
Despite missing out on the Alcon performance brakes with 380mm carbon front discs offered with the 270, the 330mm items on the 250 seem well-suited to the car's nature and ability. Stability is very impressive, with the electronic brake distribution maintaining the car's composure no matter how hard you are on them even leading into unsettling off-camber bends.
Speaking of bends, the 308 is already a superb-handling machine. The tiny steering wheel makes you feel like you're in a computer game, and the grip levels make it seem like you're in a computer game too; it's almost impossible to experience understeer when driving a regular line and employing a higher-than-normal level of enthusiasm. In terms of sheer g-forces, we'd say this is on par with or even higher than the Golf GTI class benchmark.
Where the 308 250 does lose a few points is with overall confidence. It doesn't feel as reassuring as the key rival, especially when driving at anything above eight-tenths. Changing directions quickly can upset the balance and your rhythm, and the open diff lets go to all of that wheelspin mentioned earlier. We don't mean to say it's not as enjoyable overall, it's more, if anything. We simply mean it is more difficult to maintain consistency in comparison.
The only area where we think the 308 GTi is flawed is in Sport mode. It shows a boost gauge on the dash (peaking at 2.5 bar/36psi), which is great. An engine output gauge, also great. But not so great is the fake/amplified engine sounds coming through the speakers. Come on, Peugeot. Really? You've won five World Rally Championships. Surely you know a thing or two about creating authentic and purposeful engine sounds and characteristics? Fortunately, the noise emitted from the tailpipe does match that rally pedigree – so at least you don't feel embarrassed when others hear you pass by. As a result, we left the Sport mode off during most of our test drive. Acceleration is not affected in either mode, according to our VBOX.

2016 Peugeot 308 GTi 250 – THE VIDEO
2016 Peugeot 308 GTi 250 – THE VERDICT
Overall, the 308 GTi 250 is a cracking little car. It takes on the hot hatch segment with a distinct French flair that no other carmaker can mimic. It's stylish, inside and out, with a modern and unique interior providing a suave driving experience for all passengers. Just remember to keep that Sport mode switched off.
PROS:
– Confident and planted handling, and sheer cornering grip
– Impressive 1.6; low-end torque, top-end power
– Suave design inside & out
– Impressively packaged, even in 250 form
– Fuel economy

CONS:
– Fake in-cabin engine sound (Sport mode)
– Open diff; lots of inside wheel wheelspin
– Priced $4k above VW Golf GTI benchmark