As if European top-league football players need donations, Audi, Real Madrid's main sponsor, has just given the whole team a nice new Audi each. The company has a habit of donating cars to the team every year.
Most of the team received an Audi Q7 3.0 TDI, which features a 3.0-litre turbo-diesel V6 producing 180kW and 550Nm. In Australia it's priced from $90,500.
Perhaps the star of the team, Cristiano Ronaldo, was handed the best car of them all; a spanking new RS 6 Avant. The RS 6 comes with a 4.0-litre twin-turbo V8 producing 412kW and 700Nm. It's priced from $225,000 in Australia.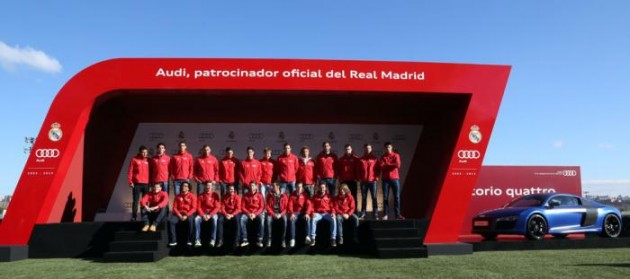 Meanwhile, the team's coach, Carlo Ancelotti, went home with an Audi A8 4.2 TDI. The new model comes with a V8 turbo-diesel producing 283kW and a massive 850Nm.
Audi has been known to show its presence within the sport in really obvious and flamboyant ways. This certainly fits in line with the marketing campaign.
See below for the full team list and corresponding cars:
Carlo Ancelotti: Audi A8 4.2 TDI
Cristiano Ronaldo: Audi RS6 Avant
Sergio Ramos: Audi RS5
Xabi Alonso: Audi S7
Alvaro Arbeloa: Audi SQ5
Karim Benzema: Audi SQ5
Alvaro Morata: Audi SQ5
Casemiro: Audi A7 Sportback 3.0 TDI
Gareth Bale: Audi Q7 3.0 TDI
Iker Casillas: Audi Q7 3.0 TDI
Fabio Coentrao: Audi Q7 3.0 TDI
Angel Di Maria: Audi Q7 3.0 TDI
Sami Khedira: Audi Q7 3.0 TDI
Asier Illarramendi: Audi Q7 3.0 TDI
Isco: Audi Q7 3.0 TDI
Jese: Audi Q7 3.0 TDI
Marcelo: Audi Q7 3.0 TDI
Luca Modric: Audi Q7 3.0 TDI
Nacho: Audi Q7 3.0 TDI
Pepe: Audi Q7 3.0 TDI
Carvajal: Audi Q5 3.0 TDI
Diego Lopez: Audi Q5 3.0 TDI
Rafael Varane: Audi S3 Sportback
Jesus Fernandez: Audi A3 Sportback 2.0 TDI