At last weekend's Summernats 25, just over 90,000 car enthusiasts flocked to Canberra's Exhibition Park to check out some of the finest street machines Australia has to offer, with beers, boobs and burnouts aplenty. There were 1506 entrants this year, giving '25' the highest entrant list since Summernats 10. It wasn't all smooth sailing though.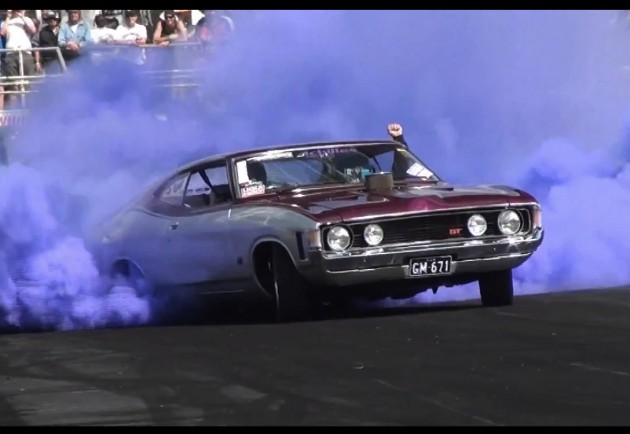 A Summernats festival without incident is like an Aussie barbeque without beer. During the Friday burnout qualifying round, entrant Steve Nogas in his 'NUKINFUTS' V8-powered Holden Gemini was said to have been disqualified due to not following the directions of marshals, who allegedly asked him not to restart his car after it stalled.
Instead of following the officials orders of disqualification, Nogas turned up to the final round on the Sunday to do his burnout regardless. Marshals once again directed him to leave the track (as seen in footage below). Nogas decided to enter the burnout pad anyway to put on a display. In a report outlined on the official Summernats website, Nogas was taken away from the event by security and given a life-ban from Summernats.
However, due to there being no explicit rules on handing out life bans, Summernats organisers later decided to review the case and give Nogas a one-year ban. An official statement read,
"Our own assessment of the rules led us to the opinion there was no explicit statement about life bans for such behaviour. As such, we felt it was only fair to review the decision. We took into account the fact that Steve has since been extremely apologetic about what he did and has accepted complete responsibility for his actions. He has made several public and private statements expressing his regret."
Meanwhile, Nogas also commented, saying,
"What I've done there is totally out of character for me and totally wrong for any entrant to do. I'm deeply sorry for the way I conducted myself."
Video footage of the incident can been seen below. Some have said that both parties could have handled the situation a lot better, with some disagreeing with the way one official kicked Nogas's car, while others were disappointed in Nogas's attitude and disregard for the officials.
Take a look below and tell us what you think.
In more colourful Summernats news, quite literally, one of the biggest names in the burnout business and in Summernats, renowned street machine builder Gary Myers was on hand once again to dazzle the crowd with his wild burnout antics.
This year, driving a Ford XA Falcon Coupe, Myers decided to surprise all by doing one of his impressive burnouts using purple-die tyres. Click play on the video below to see some rear tyres churned into huge bellows of purple smoke thanks to several hunder horsepower.
Apart from one other life-ban that was given after a brawl broke out on Saturday involving security, Summernats co-owner Any Lopez said he was very pleased with how well-behaved the crowd was during the event.
He said it will be back next year, and hopes it will carry on to Summernats 50 in the years to come.
Summernats 25 Grand Champion
Ben Sargent – 1971 Holden HQ Monaro
Summernats 25 Horsepower Hero
Horsepower Hero – Forced Induction
1st – Jake Edwards – 496ci turbo V8 Holden LH Torana – 1584.8hp (1182kW)
2nd – Matt McIntosh – VE Maloo 6.2 Twin Turbo – 601.4hp
3rd – Graham Hards – 355ci supercharged V8 Holden VS Commodore Ute – 540.0hp
Horsepower Hero – Naturally Aspirated
1st – Craig Rose – 565ci Holden HQ Ute – 576.5hp
2nd – Robert Joseski – 572ci V8 Holden HQ Statesman – 512.3hp
3rd – Glenn Phegan – 509ci Holden HJ Premier – 473.9hp
V8 Forced Induction
1st – Peter Karger – 509ci V8 Holden HQ wagon – 933.7hp
2nd – Tony Rohr – 440ci twin-turbo V8 Holden Monaro – 709.9hp
3rd – Murray Kelly – 468ci V8 Holden HT – 618.3hp
V8 Naturally Aspirated
1st – George Geomelos – 6.0-litre V8 Holden VE Commodore Ute – 464.1hp
2nd – Carolyn Tzortzas – 427ci Chevrolet V8 Holden Torana – 458.2hp
3rd – Justin Buhagiar – 6.2-litre V8 Holden VE Commodore Ute – 439.6hp
(More results to come)