In Mercedes-Benz's latest teaser instalment for the 2017 C-Class Cabriolet, the company has, inadvertently or not, revealed the new C 43 AMG sports coupe.
Starting with the cabrio, we get a taunting view of the rear end, showing off the elegant taillights and rear bumper bar. We also get a little look at the fabric roof all folded down and stored away.
Typically, no further details accompany the preview but as previously reported the new model is set to share powertrain options with its hard-top coupe brother. Customers will be offered a range of colour combinations with the new model as well, as highlighted by a prototype spotted last week wearing a striking red roof.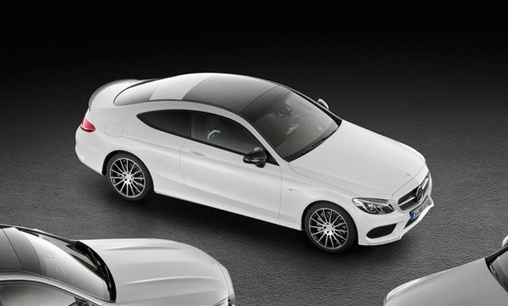 Perhaps the more interesting news to come from the latest teaser is the reveal of the highly-anticipated C 43 AMG. This is set to be a slightly watered down version of the C 63 AMG monster, developed by the AMG Sport sub-brand.
It's expected to come with various sporty enhancements over the regular C-Class coupe, with things like sports suspension, wheels, and brakes, along with a neatly spruced up body and interior.
Power is set to come from a 3.0-litre twin-turbo V6 engine producing about 270kW and 520Nm, which should result in 0-100km/h in around 4.8 seconds or less. It will wear the badge Mercedes-AMG C 43 Coupe.
Both of these vehicles will be fully unveiled at the 2016 Geneva Motor Show starting March 1. A cabrio version of the C 43 is expected to join the lineup later in the year, along with the top C 63 AMG coupe and cabrio.