Mazda has revealed a special track-ready version of the all-new Mazda MX-5 sports car which will be ready to compete in the Global MX-5 Cup racing series in 2016.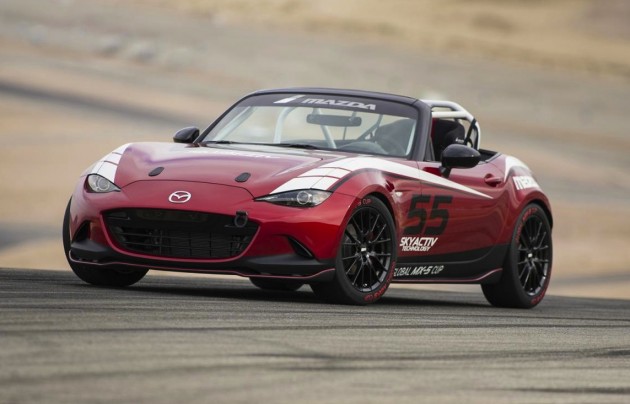 The new MX-5 has only just been revealed and will go on sale in standard road-going form next year. For this racing version, Mazda has equipped the humble sports car with full race preparation and all to identical specification for a highly competitive series.
Starting in 2016, the Mazda Global MX-5 Cup will take place around the world, with all teams using the identical vehicles. At the end of the 2016 season there will be a Global Shootout at Mazda Raceway Laguna Seca in California.
As anyone will tell you that has ever driven an MX-5, the layout is perfect for performance driving and track days. John Doonan, director of motorsports for Mazda North American operation, explains,
"Since the first Mazda MX-5 Miata took the green flag back in 1990, the car has been the ideal platform for both veterans and rookies alike. Because the MX-5 is inherently such a good car to drive, it is an ideal platform to learn basic and advanced race-craft, and this has made the professional MX-5 Cup series very successful to date."
Mazda is yet to announce final specifications and finer details, although, all cars will be powered by a 2.0-litre SkyActiv-G four-cylinder engine. Each car will also get specially developed tyres, suspension, and safety bits and pieces. Full details will be announced next year. What do you think? Certainly looks like fun to us.