Us car journalists are hopping in and out of cars every week. It can make them all seem a bit monotonous sometimes. But every now and then a new model pops up that really lures you in and makes you want to actually buy one. This is how we felt after sampling the new Lexus RX 200t.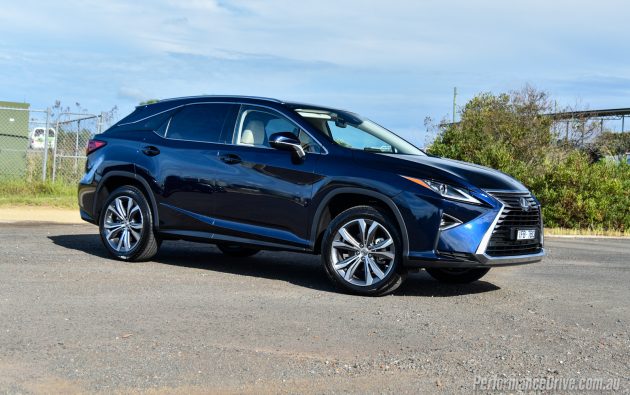 The 2016 RX is Lexus's largest car-like SUV, or crossover as they're called (RX means 'Radiate Crossover'). It's not as heavy-duty as the LandCruiser-based LX, but it is a more thorough package than the RAV4-based NX, offering more cabin space and overall luxury and technology.
Despite looking like a completely new model compared with the predecessor, underneath it all is the same Toyota K platform. It has been drastically revised though, and stretched to accommodate a longer wheelbase (50mm) for more cabin space. Lexus has also made major suspension changes and devised an all-new interior so it matches its latest decor.
Also new is a 2.0-litre turbocharged four-cylinder petrol engine option, giving it the badge '200t'. This comes in as the replacement for the now-superseded front-wheel drive RX 270. A four-cylinder in an large crossover? Before you turn up your nose you should glance over the specs. The old 2.7-litre four-cylinder produced just 138kW and 252Nm, and consumed 9.7L/100km on the combined cycle. This new RX 200t engine produces 175kW and 350Nm, and consumes 8.1L/100km. More power and torque and it uses less fuel. It's hard to argue with that.
The RX 200t is available in just one trim level; the front-wheel drive Luxury. The four-wheel-drive-only RX 350 and RX 450h are available in other guises including with the sporty F Sport package. (We drove the RX 450h F Sport on the back of this test and we will be providing a review for that soon.)
2016 Lexus RX 200t – THE SPECS
Engine: 2.0-litre turbo four-cylinder
Output: 175kW@5600rpm / 350Nm@1650-4000rpm
Transmission: Six-speed auto
Drive type: Front-wheel drive
Wheels: F: 20×8.0, 235/55  R: 20×8.0, 235/55
ANCAP: Five stars
Tare weight: 1950kg
Power-to-weight: 11.1:1 (kg:kW)
Official fuel economy: 8.1L/100km
Economy during test: 9.5L/100km
Fuel capacity/Type: 72L/95 RON
Power efficiency: 21.6kW:L/100km
0-60km/h: 4.01 seconds
0-100km/h: 8.48 seconds
1/8 mile: 10.58 seconds at 116.3km/h
1/4 mile: 16.12 seconds at 143km/h
100-0km/h braking: 3.00 seconds at 39.76 metres
Decibel at idle: 44
Peak decibel at 60-100km/h: 79
Peak stereo decibel: 105
Priced from: $73,000

2016 Lexus RX 200t – THE PACKAGE
Offering just one trim line is Lexus at its best. You aren't bombarded with options at the time of purchase as the vehicle already comes comprehensively packaged, in this case, in 'Luxury' format. For those that want more there are three 'Enhancement Pack' options, which add a sunroof, head-up display, and a kicking 15-speaker stereo.
Even if you tick no options at all the RX 200t is easily one of the most lavish and undoubtedly luxurious offerings in the class, especially if you compare standard packages. The swooping dash and swathes of sumptuous soft leather, to the contrast stitching and fine attention to detail, it all spells prestige and class (except for the cruise control stalk which is the same as the one used on the Corolla). Everything is soft-closing. Even the whisper-quiet power windows slow down near the top for a smoother insertion into the door frame. Just sitting in here, you won't be feeling short-changed, put it that way.
That stretched wheelbase has had an unequivocally positive effect on the cabin space. It is massive in here, especially the rear seat – if you're a hire/VIP car company you should take a closer look at the RX. Paired with the aforementioned prestige the rear seat becomes the perfect place for relaxing transportation. There's a flip-down arm rest complete with its own cup holders, and both doors have deep map pockets and bottle holders. However, it's the sheer legroom that impresses most. The bench is quite wide too and is totally suitable for three adults.
Mind you, front seat passengers hardly miss out on the pampering exuberance. The big power-adjustable, heated and cooled leather-clad chairs are exceptional. We haven't felt leather this soft in a long while, and the padding is supple yet supports you in all of the right areas – we wish our office chairs were this comfortable. We're not a huge fan of the Cadbury Top Deck inspired colour combination on this test car, but it does make the cabin seem friendly and cosy (and delicious?).
If there's one element we don't like about the front-seat experience it's the dash placement. It sits too high and it's very thick, in terms of depth. The windows aren't very tall either, which makes you feel like you're looking out through a letterbox. Okay, so it's not that bad but it can take some getting used to; it makes the front end seem a long way away, which doesn't help when parking.
Playing with all of the controls on the dash can be fun, or stressful if you're not a techy type. Lexus has done a good job on most areas not to be too complex. Most of the buttons are intuitive and easy to reach, but the mouse-style navigator for the infotainment system is frigidity. Clever, yes, but not as functional in the real world as some of the rival systems. You tend to spend more time than you should double checking the screen to make sure the cursor is pointing on the selection you're after.
Lexus offers plenty of entertainment options within the interface, including digital radio as standard, DVD playback, and of course USB and iPod support, and Bluetooth with music streaming capability. Satellite navigation and a rear-view camera are also packaged in as standard, along with a 12-speaker stereo. This test car came with the optional 15-speaker unit, which, according to our decibel gauge, cranked out a bone-jittering 105dB at full volume. The sound quality even at high volume is superb. Lexus sound systems haven't been all that impressive in the past but it seems the company has redressed this.
2016 Lexus RX 200t – THE DRIVE
So the level of luxury is unquestionably high in terms of the cabin environment. What's it like to drive? Very similar, actually. The engine is very quiet, only producing a subdued restless gruff when really pushed. You can hardly hear any road noise or wind noise at all, pairing in suitably with Lexus's high refinement and quality standards.
The predecessor was a bit bland when it came to driving. We remember the steering conveying only the fundamentals and nothing more, with very little engagement. For the new model Lexus has made various changes underneath to make it feel more involving and enthusiastic.
Overall rigidity has been improved thanks to reinforcements between the front suspension towers and the extensive use of high-tensile hot stamped steel, while there has been additional spot welds and special laser-screw welds. A thicker stabiliser bar has been added to the front, and roll stability has been increased by 10 per cent, Lexus says. The suspension and electric steering have also been recalibrated.
On the road it definitely handles more 'active' than the predecessor. There's a bit of body roll and nose dive under brakes, but that's just a sacrifice the engineers had to inject to ensure exceptional ride quality. Compliance over bumps is very good, with no vibrations or steering tug to deal with despite being a powerful front-wheel drive.
Being front-wheel drive its off-road abilities are restricted somewhat. In the real world the RX isn't really designed as a serious off-roader in the first place. In that respect the RX 200t will go as far off road as 4WD RX buyers would dare to go anyway. It offers 200mm of ground clearance like the 4WD RX 350 (RX 450h has 195mm) and it will have no trouble venturing over rugged dirt roads. But it is perhaps not as suitable when it comes to snowy conditions or pulling a boat from a slippery ramp, for example, due to being two-wheel drive.
Engine power feels much more potent than the 0-100km/h time suggests. It gets up and boogies with no problem, with surprisingly abrupt kickdown and overtaking performance. Getting off the line is where things get a little sketchy as the front-wheel drive system tries to manage 175kW. A lot of the weight is thrown to the rear as well, unweighting the front axle. The overall weight itself is also a problem, standing on the scales at a hefty 1950kg.
In the end the best 0-100km/h we could achieve was 8.48 seconds. We think this could be much quicker if it weighed 100-200kg less. Strangely, it doesn't 'feel' that heavy when out and about. It obviously impacts on fuel consumption though as we averaged just under 10L/100km. We feel this should be a bit lower for a 2016 four-cylinder two-wheel drive SUV.

2016 Lexus RX 200t – THE VIDEO
2016 Lexus RX 200t – THE VERDICT
We love Lexus vehicles here at PD, as you can probably tell. It's the brand that we recommend the most. Sure, there's always going to be people out there that try to tarnish the brand by saying its cars are just tarted up Toyotas. But in reality, Toyota produces, statistically, the most reliable and dependable vehicles in the world. Add some luxury, advanced technology and creature comforts to that and you're left with, in our opinion, the smart buyers' vehicle. And that's what the RX 200t is. It is the smartest buy in the segment in our opinion. It might not be the fastest SUV or the one with the flashiest badge, but it's the one you'd actually buy with confidence and want to live with on a long term basis.
PROS:
– Supreme build quality and sense of longevity
– Easy-going drive nature
– Cabin space
– Unique Japanese interior design
– More efficient and more powerful than old RX 270
– Good value for money (in this segment)

CONS:
– Not as quick as 175kW suggests
– Very heavy; 2.0T engine unable to reach its efficiency potential
– Exterior design takes some getting used to?