The Infiniti QX30 concept has made its official debut at the 2015 Geneva Motor Show. It previews a future premium compact SUV for Infiniti, set to be called the QX30.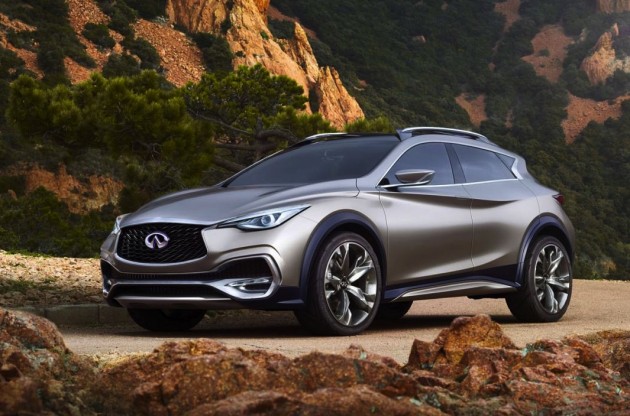 At the moment Infiniti only offers one SUV in its showroom, the QX70. With the SUV classes being among the most popular in the industry, it makes sense for the Nissan-owned brand to want to introduce more examples.
For the concept, designers have been given lots of flexibility in coming up with the style and various components. It features 21-inch alloy wheels, futuristic seats, thick tyres, a low-profile cabin glasshouse, an elevated stance, and Infiniti's latest front end theme with plenty of chrome around the front grille.
Infiniti says that by the end of this decade, Gen X and Gen Y will make up around 80 per cent of car buyers. The company says research has shown these generations are rejecting the traditional notions of premium cars. So to break out from the norm, the QX30 will present the sleek lines of a coupe with the command and road presence of a crossover. Roland Krueger, Infiniti president and CEO, said,
"QX30 Concept foreshadows an entry in the premium compact segment that provides a stylish alternative to the existing offer in this segment. The vehicle embodies our conviction to give customers the freedom to go wherever they want, whenever they want – in a style that turns heads and makes a statement, in a way that expresses their individualized character."
Specific details on the powertrain haven't been released, however, the company says the eventual production version will be offered in a wide range of petrol and diesel options. A likely unit will be the 2.0-litre turbo four-cylinder petrol borrowed from Mercedes-Benz, producing 155kW.
In terms of production, Infiniti says the QX30 is scheduled to hit the scene next year. It's expected to be built at the company's production facility in the UK, along with the Q30 hatch which arrives later this year. The company said,
"The QX30 Concept is the latest in a series of concept vehicles for which Infiniti has announced a definite and clear intent for production."