Some more details are starting to come through on the next-gen Land Rover Defender, which is set to be the most widely capable production off-road vehicle the British company has ever made.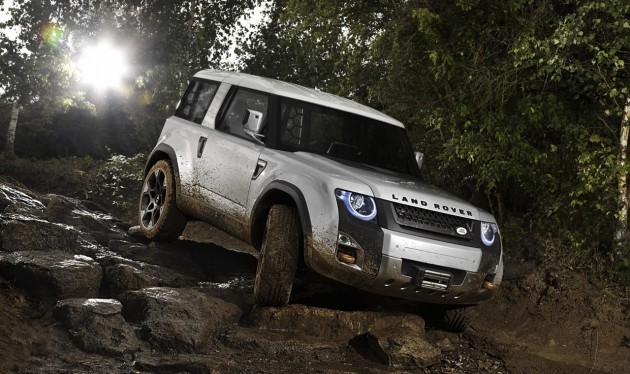 The Defender has always been a rugged and robust vehicle, often relied on by the military and by agricultural workers that spend a lot of time in the country. According to a recent Autocar report, the design for the next model has just been signed off and approved by company executives.
It's understood the new model will look much more modern and more in line with Land Rover's current vehicle lineup. If we take a look at the most recent model to be revealed, the Discovery Sport, we might get some idea.
Land Rover design director Gerry McGovern has previously said the new model will have to "wash its face" and showcase a more desirable design. It will also have to hark back to the original in some way if it wants to keep its loyal fans. The company gave us a hint of what it might look like, back in 2011, with the DC100 concept (above).
Underneath is set to feature a new aluminium monocoque chassis with an aluminium structure, not only to keep weight to a minimum but also to improve chassis stiffness and durability. Being lighter will also help with performance and economy.
As for the engine options, we can expect the company's new Ingenium engine family to make its way under the bonnet. The lineup, in Jaguar vehicles at least, includes a range of four-cylinder petrol and diesel units with outputs spanning from 120kW in diesel form and up to around 177kW in petrol form.
Interestingly, there is also speak of a V6 finding its way into the next Defender. It's unknown how much power might be on offer, however, Jaguar has the 3.0-litre supercharged V6 at hand which starts out with 250kW – wouldn't that be nice?
A concept version of the all-new model is expected to debut some time next year before the production version hits the market in 2016. This should be one to look forward to.
Head over to our Land Rover Defender review for more details on the current model.