The next-generation, 2016 Kia Sportage will be unveiled at the Frankfurt Motor Show next month, giving us a first look at the new mid-size SUV.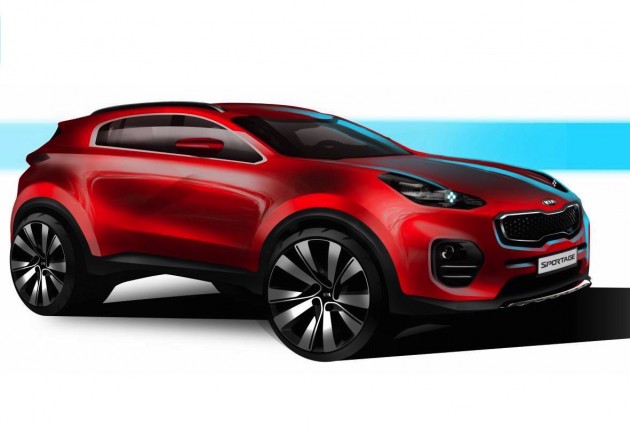 So far only these preview sketches have been revealed, but it looks like Kia is going for a bolder and sportier stance with the new model. Kia says the fourth-gen model will "exude power and agility from every angle".
You can see the company is adopting its latest front grille layout into the new Sportage, along with hexagonal fog light clusters in the front corners, and peeled back headlights which remind us of the headlights on the Porsche Macan SUV.
As for the interior, Kia says the next Sportage will "marry simple, modern style with rich material quality". The company is going as far as saying it will present the most "refined, highest-quality" cabin it has ever put into production.
In the sketch you can clearly see the horizontal layout of the dashboard with a wide-screen interface, with a lower pillar cornering off the driver. There's also a sporty three-spoke steering wheel, and what looks to be a floating centre console armrest.
The new model was designed at the company's European studio in Frankfurt. Kia says it will represent the future face of Kia, which means we can expect more of the showroom range to adopt similar styling down the track.
All will be revealed at the big event on August 15. Stay tuned for plenty of coverage.