Back in 1953, Norman Lewis took a modified Jaguar XK 120 to a world record average top speed of 277km/h over a flying mile strip (1.6km) in Jabbeke, Belgium. Today, Jaguar recreates that record with the new Jaguar F-Type V8 S.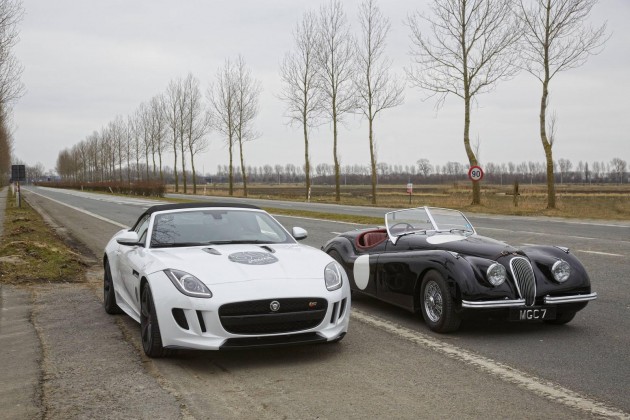 After 60 years, Jaguar returns to the strip in Belgium and easily surpasses the average 1.6km top speed with the sexy new F-Type V8 S. The V8 S comes with a 5.0-litre supercharged V8 producing 364kW of power and 625Nm of torque.
Driven by former Le Mans winner Andy Wallace, the F-Type manages an average speed of just under 289km/h. During the test, the Jag also put down a 0-100km/h time of 4.2 seconds (down from the factory 4.3 seconds), and went from 0-288-0km/h within a two-mile (3.22km) distance.
Adrian Hallmark, Jaguar global brand director, recently spoke about the iconic achievement, saying,
"The original Jabbeke sprint runs marked the start of an exciting chapter in our history. The XK 120 combined seductive design and innovative technologies with incredible sporting performance, as Norman Dewis proved on that famous day in 1953.

"Those core elements of our DNA are embodied in the new Jaguar F-TYPE, and I can think of no more fitting way to pay tribute to the achievement of one of our most famous roadsters than to return to Jabbeke to celebrate the successful test and set a new Jaguar benchmark."
Interestingly, Jaguar says that during the trip over to Belgium, a V8 S achieved an average fuel consumption of 7.9L/100km across the 835km journey. This is quite a good return for a high performance V8 sports car. It also demonstrates the F-Type's excellent grand touring capabilities.
The Jaguar F-Type will arrive in Australia during the third quarter of this year. It will come in three variant levels, including a supercharged V6 (250kW and 280kW) and supercharged V8 (364kW). Prices are yet to be announced.
Click play on the video below for a showcase of the record demonstration.