Volvo recently introduced its new range of Drive-E engines, including – finally – an eight-speed automatic. Here we're putting the XC60 T5 Luxury to the test to see how the new powertrain combination performs.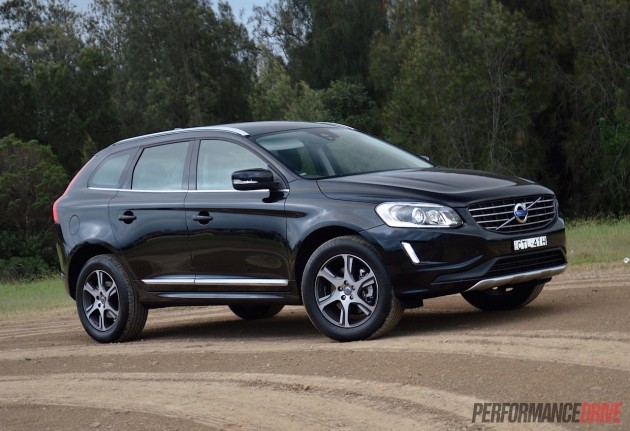 Although an SUV typically features all-wheel drive, many buyers are now wanting the high-riding cabin of an SUV but don't necessarily want the fuel-sucking all-wheel drive running gear. The XC60 T5 caters for that group of buyers by using a front-wheel drive system.
In the engine compartment sits Volvo's new 2.0-litre turbocharged petrol four-cylinder. It develops 180kW and 350Nm, matching the benchmark for a 2.0L turbo in this class. Next to the engine is an equally newfangled eight-speed automatic. Volvo has been a bit behind the game in terms of transmissions in our opinion, so it's good to see it is catching back up.
Prices for the 2WD T5 start at $57,990 for the base model Kinetic, with this Luxury variant kicking off from $62,890. At this price range, it compares well against the equivalent-output petrol rivals, including the Audi Q5 2.0 TFSI (starts from $63,600), the BMW X3 xDrive28i (starts from $73,400), and the new Land Rover Discovery Sport Si4 (starts from $59,000).
2015 Volvo XC60 T5 Luxury – THE SPECS
Engine: 2.0-litre turbo four-cylinder
Output: 180kW@5500rpm / 350Nm@4800rpm
Transmission: Eight-speed auto
Drive type: Front-wheel drive
Wheels: F: 18×7.5, 235/60  R: 18×7.5, 235/60
ANCAP: Five stars (scored 36.53 out of 37)
Tare weight: 1766kg
Power-to-weight: 9.8:1 (kg:kW)
Official fuel economy: 7.0L/100km
Economy during test: 8.2L/100km
Fuel capacity/Type: 70L/95 RON
Power efficiency: 25.7kW:L/100km
0-100km/h as tested: 7.8 seconds
Priced from: $62,990
2015 Volvo XC60 T5 Luxury – THE PACKAGE
The XC60 has been on sale now since 2009, but even by today's standards the interior and overall cabin environment is modern and brimmed with technology – in a traditionally calming Swedish fashion. There's no complicated buttons or awkward shapes protruding out from the dash, like in some rivals. It's all pure and simple.
All of the on-board functions and controls are found on the centre fascia pad. It is a similarly-designed fascia across most of Volvo's current showroom range, which could be seen as a good thing or a bad thing, but it doesn't take away the fact that it offers an elegant flow and comprehensible layout.
Going for the Luxury variant gets you a 7.0-inch LCD interface. There's no touch-screen functionality here. Instead, the system is operable through a push-and-turn metallic knob – one of four making up the corners of the fascia's dash pad. It does take some time to get used to, like most vehicles, however, you can use the various jump-to menu buttons that make up the rest of the dash pad. Volvo has thrown a few handy buttons on there as well if you want to switch off the parking sensors or the forward-collision warning.
The interface allows you to scroll through and change a number of driving controls and safety features, such as the City Safety settings. You can also view the owner's manual in digital form and set the dual-zone climate control. There's satellite navigation, multimedia connectivity, a reasonable eight-speaker stereo, and a rear-view camera as standard.
Unfortunately, the air-con didn't work on this test vehicle. And of course it was a hot week during our drive. With a black vehicle and a mostly black/dark grey leather trim, the cabin became a sweaty sauna in no time – maybe this was Volvo's way of introducing us to its Nordic culture? We've noticed Volvo S60/V60 climate control does tend to struggle with Australia's hot conditions at the best of times.
If you're thinking of buying a Volvo, chances are, you're interested in remaining as alive as technologically possible during your journeys. In the T5 Luxury you get Volvo's City Safety system with collision mitigation (auto braking technology), roll-over stability control, trailer sway control, side-impact protection, whiplash protection, integrated child booster seats in the rear, and full length inflatable curtain airbags (among many others). It's more than enough to pass ANCAP's stringent crash tests at a five-star level.
In terms of cabin space, you aren't really going to be asking for more in here. There's boundless room in the front with a nice high-riding driving position, excellent headroom, and an open and welcoming rear seat space with good visibility and room for your limbs. Cargo space is rated at 495 litres, which puts it behind the key rivals; Audi Q5 (540L), BMW X3 (550L), and Land Rover Discovery Sport (541L [five-seat model]).
2015 Volvo XC60 T5 Luxury – THE DRIVE
First test, the new eight-speed auto. It's a much better unit than the six-speeder that it replaces. With more ratios to divide up the engine's serving of power and torque, the XC60 feels brisker simply with the transmission. You can use the paddle shifters behind the wheel or slot it into sport mode by shifting the lever across and both methods will give you an even sportier driving character.
Next to that, the new 2.0L engine. It's got the right amount of power for the XC60, in terms of hauling its 1766kg weight around. Maximum torque doesn't come in until 4800rpm, which means you do need to rev it to get the maximum out of it. But it feels like it offers most of the 350Nm from much lower revs. The unit doesn't sound too bad, although, it doesn't really sound too appealing either. There is a slight bassy note in some parts of the rev range.
Using the new combo when timed 0-100km/h in 7.8 seconds. Volvo quotes 7.2 seconds. It was a hot week, as mentioned, so on a colder day (perhaps in Sweden where Volvo's time was probably recorded), we have little doubt it could achieve a quicker time than what we recorded. As we said though, the transmission makes it feel swift and zippy through traffic, while being capable of delivering good cruising ability out on the highway.
Volvo does offer the XC60 with an ultra-efficient 2.0-litre turbo-diesel option (D4) that consumes, on the official average, just 4.9L/100km. Even so, this petrol-powered version offers prudent economy. The official average is 7.0L/100km, and during our week in real-world conditions we averaged 8.2L/100km. That's pretty good for a decent-sized SUV.
Where this vehicle is probably going to spend most of its time is in the suburbs, with the odd weekend away. The XC60 is perfectly suited to do exactly that. It is a very easy and relaxing vehicle to drive. There's good visibility, it doesn't feel overwhelmingly large during parking, and there is SUV-like ground clearance so you can venture into Mother Nature's lesser-populated areas with confidence. Volvo has fit some large, 235/60, impact-absorbing tyres on the Luxury, mounted on bespoke XC-engraved 18-inch alloy wheels. These provide plenty of give on dirt roads, resulting in a comfortable ride even on varied terrains.
Speaking of the ride, the XC60 uses a similar platform as the one used on the S60 sedan, which itself uses a modified version of the old Ford Mondeo 'EUCD' platform. This means driving dynamics are creditable for an SUV. The electro-hydraulic (EHPAS) steering is rather dull and emotionless just off centre, but the chassis can handle vigorous turns and bump-ridden bends with relatively little complaint. If you give it the full beans in between corners you will have to adjust the tiller to counter torque-steer, however, overall highway stability seems firm and dedicated.
2015 Volvo XC60 T5 Luxury – THE VIDEO
2015 Volvo XC60 T5 Luxury – THE VERDICT
Volvo XC60 sales have been dropping in recent years in Australia, going from 2179 sales in 2012, to 1742 in 2013, to 1519 last year. And despite being on sale since 2009, the company has been introducing substantial updates to keep the model fresh and competitive.
If you're in the market for a premium SUV of this size, there are some more modern and dynamically more enjoyable driving machines available. But, none of them offer the same relaxed nature, practicality, and unique design as the XC60. If it were our choice, we'd go for the Polestar-tuned 169kW/470Nm D5 version. You get 6.9L/100km economy and an all-wheel drive system.
PROS:
– Cabin practicality and design
– Good real-world performance/economy ratio
– Clever rear seat child booster
– New eight-speed auto
– Advanced safety tech

CONS:
– Driving dynamics lack refinement; old platform, XC60 been around since 2009
– Noticeable torque-steer
– Overwhelmed air-con in hot Aussie climate
2015 Volvo XC60 T5 Luxury – THE COMPETITORS
Audi Q5 2.0 TFSI (AWD only)
2.0-litre turbo four-cylinder – 165kW-350Nm – 7.9L/100km – 1755kg – from $63,600
BMW X3 xDrive28i (AWD only)
2.0-litre turbo four-cylinder – 180kW-350Nm – 7.5L/100km – 1727kg – from $73,400
Land Rover Discovery Sport Si4 2.0T (AWD only)
2.0-litre turbo four-cylinder – 177kW-340Nm – 8.0L/100km – 1700kg – from $59,000