The 2015 Subaru WRX STI has been unveiled at the North American International Auto Show in Detroit. This is the first time the public has been able to get a glimpse of the new performance icon.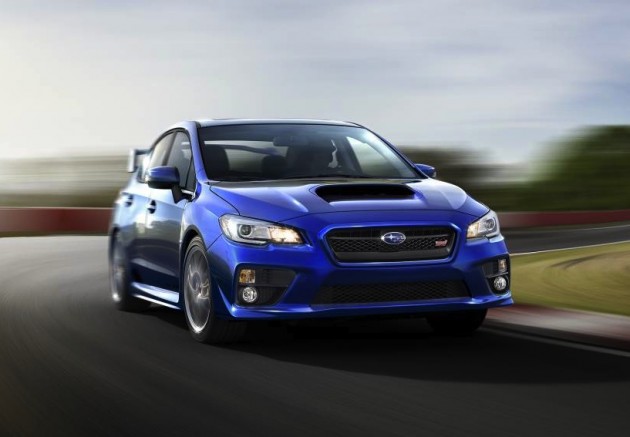 Based on the recently revealed 2015 WRX, the car on display is actually a US-spec version however most of the design and exterior features will be used for international models.
We suppose the first thing you want to know is what engine it comes with? Subaru has decided to stick with the 2.5-litre turbocharged flat four instead of boosting the new 2.0-litre.
In the US-spec version it produces 227kW of power at 6000rpm and 392Nm of torque at 4000rpm. This makes it 6kW more powerful than the outgoing model, however, torque drops from 407Nm.
Countering previous rumours, Subaru is matching the engine up with a six-speed manual transmission. It is a revised unit with multi-mode DCCD controls for the centre differential, while active torque vectoring is also added for the first time.
As for the distinctions, the new STI features a longer wheelbase by 25mm for more rear legroom, the bottom of the A-pillars are extended by 200mm, and the side mirrors are mounted on the doors with a new quarter window added in.
There's also of course a full bodykit with an aggressive front end and front spoiler system, side skirts, and a large rear wing. Subaru says the new body is lighter weight than the outgoing version, although figures haven't been mentioned.
The new model will go on sale in Australia later this year with local specs and prices yet to be announced. See below for some of the specifications.
Major Specifications (U.S. Only)
Body size (Overall length / width / height): 4595 x 1795 x 1475 mm
Wheelbase: 2650 mm
Engine: 2.5-litre turbocharged Horizontally-Opposed Boxer engine
Displacement: 2457 cc
Maximum output: 227 Kilowatts/ 6000 rpm
Maximum torque: 392 Newtonmetres/ 4000 rpm
Transmission: six-speed manual
Tyre size: 245/40 R18
Seating capacity: Five