The hits just keep coming at the 2014 North American International Auto Show in Detroit, with the Nissan Sport Sedan Concept unveiled today. Featuring a sporty four-door design, the sedan concept is a look into Nissan's future and it could even inspire the next-gen Maxima sedan.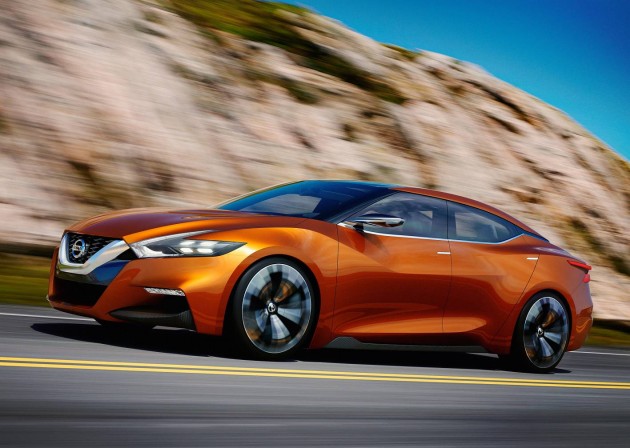 The concept is front-wheel drive and powered by a 3.5-litre V6 engine putting out more than 220kW. Backing up the engine is a sports tuned Xtronic continuously variable transmission (CVT) and what Nissan calls an "innovate suspension layout with performance dampers".
In terms of exterior styling the concept couldn't be more modern, with a low and wide body, low roofline and low ground clearance. The front end features large LED boomerang headlights, a deep fascia and sloped windshield.
The V-shape in the front grille is carried through to the back of the car and the unique floating roof almost gives the impression of a soft-top.
The concept rolls on a chunky set of 21-inch custom alloy wheels and 275/30/R21 rubber. The dimensions come in at 4860mm long, 1912mm wide and 1376mm high with a 2825mm wheelbase.
Nissan senior vice president Shiro Nakamura said the concept was aimed at bringing sedan design to the next level.
"Our new design direction mirrors the strength, power and capabilities of the engineering and innovation that serves as the foundation of every Nissan vehicle.

"Nissan is a brand for people seeking bold and passionate experiences, and who are willing to make choices outside of traditional boundaries. That's why Nissan is committed to breaking new ground in automotive design, as expressed in the stunning new Sport Sedan Concept.
At first glance this is a fantastic car, and our fingers are crossed something similar to the concept will go into production in the future.