The current-gen Lexus GS is one of the better driver's cars in the segment in our opinion. And for the 2015 update, the company has made some tweaks to the structure to improve the driving feel even more. It seems like the perfect combination; hybrid economy with sports car characteristics. Let's take a deeper look.
Lexus Australia announced the 2015 update late last year. Aside from carrying over the same sharp sporty looks, there's been a number features added, with the inclusion of a premium Mark Levison stereo for the F Sport as standard, an updated sat-nav system with red light and speed camera alert functions, while all GS variants get a revised structure for increased chassis stiffness.
The GS is offered in four main variant levels each with their own powertrains, spanning from the GS 250, the 300h, 350, and the 450h. These are then divided up into three trim lines in most cases, ranging from the Luxury, F Sport, to Sports Luxury.
Here we're testing the F Sport version, which promises sporty driving dynamics and visual appeal, along with the economy of a hybrid. Prices start at $77,00 for the base model 250, with this 450h F Sport starting at $112,500 (excluding on-road costs).
2015 Lexus GS 450h F Sport – THE SPECS
Engine: 3.5-litre V6 with electric hybrid assist
Combined output: 254kW
Transmission: CVT auto
Drive type: Rear-wheel drive
Wheels: F: 19×8.0, 235/40  R: 19×9.0, 265/35
ANCAP: Not tested
Kerb weight: 1910kg
Power-to-weight: 7.5:1 (kg:kW)
Official fuel economy: 6.3L/100km
Economy during test: 8.7L/100km
Fuel capacity/Type: 66L/95 RON
Power efficiency: 40.3kW:L/100km
0-100km/h as tested: 6.3 seconds
Priced from: $112,500
2015 Lexus GS 450h F Sport – THE PACKAGE
When the current shape GS was released back in 2012, it was one of the more advanced and certainly the sharpest-dressed sedan in the segment. Taking a look inside the model now, it still presents a contemporary decor.
The dash sits forward to leave plenty of legroom in the front, and it's slightly skewed to the driver for a sporty theme. Although the centre console is high, making you feel cocooned in to some degree, the atmosphere is airy and certainly not claustrophobic. It is one of the more accommodating vehicles in the segment in our opinion.
Of course, being a Lexus, it is filled to the brim with technology and advanced gadgets. Most of it is housed in the on-board multimedia system which uses an 8.0-inch screen or an optional 12.3-inch wide-screen LCD (as tested). The 12.3-inch screen was once the largest in the class, before some of the German rivals eventually caught up. Other standard conveniences include a power blind for the rear windscreen, head-up display with adjustable settings, and multiple driving modes (altering steering, suspension, and rear-wheel steering).
Lexus has decided to stick with the joystick-style controller for the multimedia unit, which is one of the most creative yet complex tools around. Many rivals offer an iDrive-style controller, first offered by BMW. The joystick does take a bit of getting used to, like everything really. Once you get the hang of it and try out the different sensitivity settings, you're soon able to use it like you invented it. It is significantly easier to use than Lexus's touch-pad setup which is installed in some current showroom models.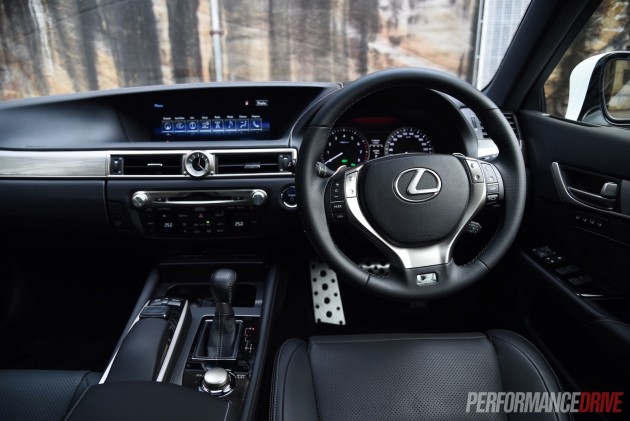 Standard inclusions for the interface are comparatively impressive, with sat-nav, traffic information with speed camera alert, a rear-view camera now with rear cross-traffic alert, digital radio with good reception (some digital radio systems in cars offer pathetic reception), and multi-format media support. Lexus is a bit behind when it comes to apps such as Apple's CarPlay and Google's Android Auto, with no options for these as yet. It does offer its ENFORM system though with mobile-based internet connectivity.
The optional 17-speaker stereo system produces excellent bass and clarity, once you fiddle with the settings, however, we still think Mark Levison units are a touch behind in terms of high-end standards. Some of the market rivals are offered with sensational units from Bang & Olufsen Automotive and Harman Kardon. Funnily enough all three brands fall under the Harman International Industries umbrella.
Cabin space is particularly impressive for this class, with ample headroom in the front even with the standard sunroof, and loads of legroom and headroom for rear passengers. All seats are trimmed in breathable perforated soft leather, with side support adjustment for the driver, and a smattering of brushed aluminium trimmings for a touch of class.
Boot space is rated at 451 litres, according to the Lexus Australia website. It is quite deep but it doesn't stretch that far length-wise. Compared with the sedan rivals such as the Audi A6 (530L), BMW 5 Series (520L), and Jaguar XF (500L), the GS 450h is below average. However, some leeway is due as it is one of only two hybrid variants available in the class. The non-hybrid GS offers 520 litres.
2015 Lexus GS 450h F Sport – THE DRIVE
Lexus has made some improvements in terms of the engineering of the GS. With the help of higher rigidity glass, new adhesives, and a re-engineered A-pillar section, the GS is now more agile and precise than ever. Not that the 2012-2013 model lacked in driving enjoyment.
Around the bends the GS 450h F Sport is a real treat to pilot. It feels confident and very planted at all times, with the sports suspension soaking up mid-corner bumps perhaps better than any other large eco-focused sedan on sale. It really is a joy to stream down a mountain route.
The variable gear-ratio electric power steering is very pure and provides direct feedback. It is an electric system but you wouldn't know it after a short drive. Through your hands it loads up in tighter corners and when under high g-force, like a proper sports sedan, and then becomes easy and relaxing out on the freeway. The rear-wheel steering system helps it glide around corners too. It remains a great driver's car in that sense.
As for the hybrid system, Lexus doesn't currently offer a diesel luxury sedan like all of its rivals. Instead, the Japanese brand concentrates and perhaps is the leader of hybrid technology in this domain. We're still not convinced that hybrids are as economical in practical terms though.
During our week with this car we averaged around 8.7L/100km, which included a mix of driving conditions and a drive to Newcastle and back (about 500km round trip) on the freeway. It seems the electric motors are great for bringing the GS up to 40km/h or so, just off the mark, but from there the big and otherwise thirsty V6 engine churns away pretty much like a normal petrol sedan.
The combined output of both the V6 and electric motor is rated at 254kW. That's a strong figure for this class, making it one of the more powerful higher-spec models. Power efficiency is also extremely high, offering 40.3kW per official L/100km. Flat out off the mark we timed 0-100km/h in 6.3 seconds. We thought it was going to be a bit quicker due to the power output, but the kerb weight of 1910kg does come with consequences.
With a continuously variable transmission, the torque spread is quite wide, or at least it feels wide. This means you only need to lean on the throttle in order to overtake or jump up to highway speeds. Unfortunately, it also means you have to listen to the whirring and forever-hunting soundtrack of the V6 engine as the CVT constantly tries to stay in the rev range sweet spot.
You can flick the gear lever over into a sporty manual mode, but like all CVTs that we've ever tested, it never really becomes a 'manual' mode. You can flick the paddles as much as you like but it'll never give you the satisfaction of a dual-clutch or even a well-sorted torque-convertor-style transmission. For that reason, we think it's best to drive this particular version as a luxury car. For pure sportiness, you need the GS 350 that comes with a nice eight-speed auto, less weight, and almost as much power (233kW). Lexus does offer the F Sport package with the GS 350 too.
For the GS 450h, we think you're better off going for the Sports Luxury pack and relishing in the smooth comfort and quietness of the hybrid system. In other words, the hybrid and CVT does sap the performance appeal we think.
2015 Lexus GS 450h F Sport – THE VIDEO
2015 Lexus GS 450h F Sport – THE VERDICT
If you're after an enjoyable yet luxurious driver's sedan, the GS 450h F Sport is a superb machine. In F Sport guise it is one of the sharpest-looking offerings in the class. But as mentioned in the drive section above, we think you're better off with the Sports Luxury package as it is more consistent with the theme of the car.
PROS:
– Build quality and refinement
– Suspension tune
– Sharp-looking F Sport exterior
– Big list of standard features
– Outstanding brakes (four-piston front)
– Segment-shaking handling; only car in class with rear-wheel steering

CONS:
– CVT auto takes away the performance appeal of the F Sport
– Not as fuel efficient as 'hybrid' suggests