It saddens us to say this but reviewing the 2016 HSV GTS GEN-F2 will probably be the last time we test an Australian V8 sedan with over 400kW. Let's go over it one last time to help mourn the upcoming loss.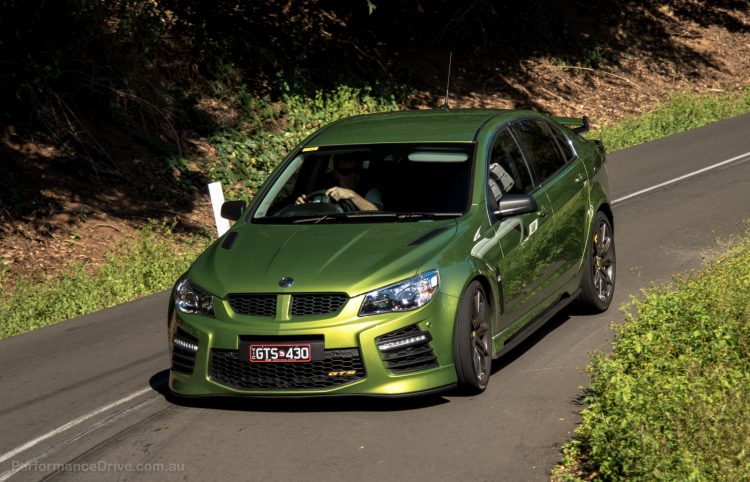 There are plenty of rumours floating around surrounding the idea of a last hurrah model being in the works. Most clues point to a 'GTS-R', of sorts, with the hint made only stronger by the discovery of a patent application late last year, registered by GM (Holden).
For now, the 2016 HSV GTS remains as the most powerful Australian-made production vehicle. As a bonus, the GTS is not a special edition – even though its days are numbered. The 2016 model carries over the same 6.2-litre Chevrolet-sourced LSA supercharged V8, producing a tarmac-tearing 430kW and 740Nm. This test example is hooked up to a six-speed manual transmission, which excites us a lot. Buyers can opt for a six-speed auto as well. Prices for the GTS start at $95,990 (excluding on-roads).
2016 HSV GTS GEN-F2 – THE SPECS
Engine: 6.2-litre supercharged V8
Output: 430kW@6150rpm / 740Nm@3850rpm
Transmission: Six-speed manual
Drive type: Rear-wheel drive, torque-vectoring
Wheels: F: 20×8.5, 255/35  R: 20×9.5, 275/35
ANCAP: Five stars (VF scored 35.06 out of 37)
Tare weight: 1841kg
Power-to-weight: 4.28:1 (kg:kW)
Official fuel economy: 15.3L/100km
Economy during test: 17L/100km
Fuel capacity/Type: 71L/95 RON
Power efficiency: 28.1kW:L/100km
0-60km/h: 2.49 seconds
0-100km/h: 4.45 seconds
1/8 mile: 8.33 seconds at 152.4km/h
1/4 mile: 12.53 seconds at 190.7km/h
100-0km/h braking: 2.75 seconds at 35.05 metres
Decibel at idle: 48/55 (Track mode off/on)
Peak decibel at 60-100km/h: 90
Priced from: $95,990

2016 HSV GTS GEN-F2 – THE PACKAGE
So, to start with, what's new for 2016? Most noticeable is the revised bodykit. It now sports horizontal race-like side skirts, in black, along with black bonnet vents (that do go through to the engine bay), along with some new 20-inch "Hyper Dark Stainless" wheels, an updated rear diffuser, and altered front end.
On the inside it's pretty much the same. This means you get a sporty yet slightly luxurious setting. Front passengers are cradled in hugely chunky bucket seats that are wrapped in leather and suede-like Alcantara. As far as we're concerned these are still some of the best sports seats on the market. They provide plenty of support in all areas, and they are comfortable and soft enough for long journeys.
Rear passengers get a similarly-shaped bench with deep contours for the outer passengers, along with the same dual-trim upholstery. Like in the Commodore on which it is based, legroom and headroom are abundant. It's probably a good point that HSV can get away with such substantial front seats due to the sheer size of the cabin.
The 2016 GTS doesn't get Holden's updated MyLink interface featured on other recent models, unfortunately. This older system is showing its age now and exhibits clunkiness, particularly within the music menus and selecting tracks or radio stations. Selection processes seem excessive too, which means you tend to spend more time on the screen than on the road. We also experienced an issue with the climate control; it often blew out heat even when a high temperature wasn't selected.
Overall, the GTS is a well-packaged sports sedan. It comes with sat-nav, a rear-view camera, Bluetooth with music streaming and Pandora, along with a cool HSV "EDI" menu that allows you to watch live output readings, lap timing, and live throttle and brake pressure. There's also a few gauges so you can monitor the engine. We don't feel the interior expresses that this is a $100k vehicle very well, but that changes when you start driving.

2016 HSV GTS GEN-F2 – THE DRIVE
This car is all about the powertrain and mechanical components. Like all modern HSV models, the GTS gets massive eye-popping AP Racing brakes with six-piston calipers on the front. These are some of the best stoppers we've experienced, recording a full-press 100-0km/h stop in just 35 metres. They don't fade either, providing a strong bite with good pedal feel for the entire drive, no matter how heated they (or you) become.
When it comes time to turn, the GTS, again, is one of the best-handling sedans on the market in our opinion. It certainly out-handles the best of its arch rival from the blue oval badge, keeping right up there with the German sports sedans in terms of sheer lateral grip and cornering g-force. Some thanks should be directed towards the torque vectoring differential which sends power to the outside wheel to help pivot the car around corners with throttle application. The 255/35 front and 275/35 rear ContiSportContact 5P tyres obviously do their bit as well.
Even during take off, the GTS does possess an extraordinary level of grip. Once the clutch is fully released and first gear is rolling along, you can nail the throttle right into the carpet and it will slingshot you forward like you're being shot out of a cannon – make sure your head is already resting on the headrest when you do this. Redline comes up quicker than you anticipate and it's already time to change into second gear. If you do this aggressively you will experience a degree of wheelspin. But even if you do, it's supported by a similar slingshot feeling as you swing past the 100km/h mark in no time.
The Eaton supercharger runs at around 9psi, which gives you some indication of the engine's natural performance even without a supercharger. With it though you get instant throttle response and an immediate and intense reaction in acceleration. To keep temperatures under control the LSA comes with its own oil cooler and water-to-air intercooler.
This is a very masculine engine. It rumbles and grunts like a wild animal, and the clutch pedal has a lot of feeling to it, allowing you to pick the grab and apply heel-and-toe downchanges with ease. It's the sheer power and torque that puts a grin on your face though – or one of these :O on the faces of any passengers. You need to be prepared if you're planning to hammer it up through the first few gears. You and your internal organs will experience staggering rearward pressure as the external scenery fast turns into a vague blur. What a machine.
As for the numbers? Using our usual VBox Sport we recorded a best 0-100km/h in 4.45 seconds and a best quarter mile in 12.53 seconds at 190km/h. We tried using the standard launch control feature but this didn't produce quicker times. Mind you, it took quite a few attempts (and serious concentration) to achieve the best times here whereas we found the launch control system to be more consistent, if marginally slower.

2016 HSV GTS GEN-F2 – THE VIDEO
2016 HSV GTS GEN-F2 – THE VERDICT
It's difficult to come up with a meaningful conclusion or critique for the GEN-F2 GTS. We want one, and with production coming to an end very soon, you should want one too. We imagine the value of ownership will only appreciate with time, and as we said at the start, it will probably remain as the most powerful V8 production car Australia has ever made. It's also the most dynamically advanced, and cleverest sedan this country has ever made. A reason to buy can't possibly be any more justified.
PROS:
– Enormous cornering grip and handling stability
– Still the most powerful Australian-made production car
– The availability of a six-speed manual
– Buckets seats
– Heart-stopping AP Racing brakes

CONS:
– MyLink falls behind industry benchmarks
– Interior not special enough; similar to Clubsport (and Commodore)
– Bi-modal exhaust can't be manually activated