It's been on sale for around one year now. It hasn't quite caught up to the Porsche 911 – its key rival – in terms of sales. So how does the lightly updated 2015 Jaguar F-Type V6 shape up in more modern times? Is it still the sexiest drop-top on sale?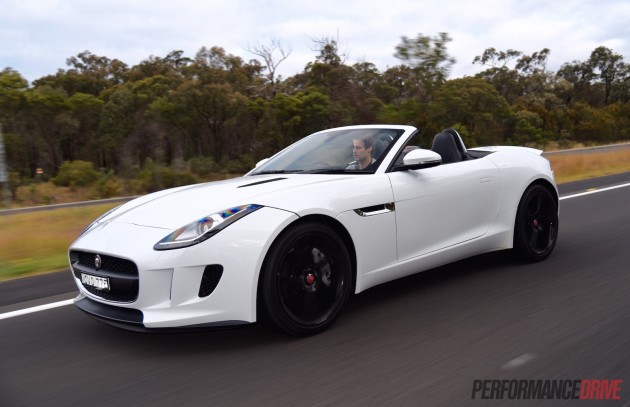 For those that haven't seen it or heard of it, the F-Type is a spiritual successor to the classic sexy E-Type of the '60s – yes, that 'yeah baby, yeah' car featured in Austin Powers films. From some angles, you can see the family genes. From others, it has its own contemporary elements and aggressive characteristics.
Jaguar Australia has just announced the release of more variants for the F-Type, coinciding with the release of the MY2016 lineup. Now there's all-wheel drive options and even a manual transmission available with select engines, and coupe and convertible body layouts.
Here we're testing the base model 3.0-litre supercharged V6 (250kW/450Nm) with the eight-speed automatic, in convertible form. With the increase in variants comes a lower starting price point, kicking off around $20,000 lower than before. The manual coupe with this engine starts at $119,080. This convertible auto retails from $142,780. Compared with the Porsche 911, currently starting from $208,600, the F-Type is a bargain.
So far this year (through July) the Australian arm has sold 101 examples. Although the figure is up on last year's year-to-date sales of 95 for the same period, it does trail behind the Porsche 911 which has gone out to 252 buyers.
2015 Jaguar F-Type V6 – THE SPECS
Engine: 3.0-litre supercharged V6
Output: 250kW@6500rpm / 450Nm@3500-5000rpm
Transmission: Eight-speed auto
Drive type: Rear-wheel drive
Wheels: F: 18×8.5in, 245/45  R: 18×9.5in, 275/40 (optional 20in 'Cyclone' as tested)
ANCAP: Not tested
Kerb weight: 1597kg
Power-to-weight: 6.38:1 (kg:kW)
Official fuel economy: 9.0L/100km
Economy during test: 12.8L/100km
Fuel capacity/Type: 70L/95 RON
Power efficiency: 27.7kW:L/100km
0-100km/h as tested: 5.2 seconds
Priced from: $142,780
2015 Jaguar F-Type V6 – THE PACKAGE
It's definitely a sports car inside. There isn't a lot of room but it brings the perfect amount of intimacy for the driver. The centre fascia is a real work of art in our opinion, slightly skewed with a buttress/passenger hang-on-for-life brace closing off the main controls.
Most of the switchgear has been made to celebrate an occasion. When you turn the climate on, for example, the centre vent rises up from the dash. The temperature controls are pretty cool in themselves too, featuring a window display for your setting. All buttons feel solid and premium, particularly the driving mode toggle switch which looks and feels like it's straight from the set of a James Bond flick.
In terms of standard features, you do get a lot even if you tick no option boxes. A touch-screen interface sits proudly at the top of the dash, incorporating full connectivity (USB/Bluetooth/DVD), sat-nav, and a 10-speaker stereo. Navigating your way around the interface can get a bit clunky if you're deep within a child menu. Jaguar Land Rover has come with an updated system but it is yet to find its way into the F-Type.
There are quite a few modern conveniences that should really come standard. A rear-view camera and front parking sensors will set you back $1750. This is a bit silly we think, especially for something that is not necessarily regarded as a 'luxury' but more of a safety necessity. Jaguar has since thrown in the previously-optional bi-modal sports exhaust for all variants, so that's good to hear.
The standard 18-inch wheels might be a bit small for some buyers' liking. Fortunately, there are a number of 19- and 20-inch items available. This test car shows off the 20-inch 'Cyclone' wheels in a fetching black colour scheme ($6800). These are a great combination with the Polaris white (solid) exterior.
Both the coupe and convertible offer a stunning exterior design. It's hard to pick between the two. However, with the black fabric roof up on this convertible, we think it doesn't look as breathtaking as the coupe. Flip the roof back though, via the electric operation that takes about 12 seconds (operable at speeds up to 50km/h), and you have yourself one of the best-looking cars on the market. It truly is an exquisite piece of machinery to behold. Whether you're in the city or out on the highway, you will receive plenty of head nods and smiles from onlookers. And we guess this is where the F-Type stands above the 911; it's likeable to a wider variety of the general public.
If you're planning on using the car as a weekend tourer, the tiny boot is limiting due to the spare wheel that occupies most of the space. Owners can leave the spare at home and Jaguar will come along with roadside assistance and change the wheel. The service also includes taking your flat tyre and wheel back for a tyre replacement. Even without the spare though the boot is really small.
2015 Jaguar F-Type V6 – THE DRIVE
It's nice to have a great-looking sports car. But, it's even better when the car can match its visual presence with inspiring driving dynamics. The F-Type is an excellent-handling vehicle, blending aesthetics and athleticism into one. It remains confident and reassuring in the bends, with perfectly flat and neutral handling.
Sports suspension is standard and provides a taut and toned ride. For some, the ride will be overly stiff. The more you push it though the more it responds and makes more and more sense. You can dive deep into corners and the car will maintain an extremely high level of stability, even absorbing bumps and undulations on its way around.
Jaguar doesn't offer a limited-slip differential with the base model, although a torque-vectoring system is optional. In most circumstances it is relatively easy to kick the rear end out for a bit of oversteer fun, especially if you use a dab of weight shift and momentum. Around tricky hairpins that unweight the inside rear wheel, you will have to deal with bags of inside wheel wheelspin when the traction/stability control is switched off.
It doesn't matter what you're dealing with in terms of traction, the steering is superb. It provides clear and direct feedback at all times, allowing you to hit every apex and counter moments of drift with pin-sharp response. With the ideal driving position on board, it is very easy to get into the zone and become one with the car. In other words, if you want to go out for a sneaky Sunday morning sprint up the mountain, the F-Type is an incredibly encouraging companion.
As for the engine, the 3.0-litre V6 sounds bloody fantastic. When you fire it up first thing in the morning it produces an almighty growl that sends goosebumps down your spine. It is such an aural delight. The only slight issue is the V6 S uses the same engine only it produces 280kW and 450Nm. Do you notice the difference?
Having driven all engine forms we've come to the conclusion that the 280kW version is the best balance. The V8 is very loud and easily overpowers the rear tyres, while this 250kW version does seem to plateau off higher up in the rev range. If you don't test drive the 280kW model, you won't feel like you're missing out. We timed 0-100km/h in 5.2 seconds. This is a seriously quick time. It gets there with no fuss too. If you do test drive the V6 S though you probably won't want to go back to the 250kW V6.
Overall, the F-Type V6 is a brilliant driver's roadster. All of your senses are stimulated when you drive it. The sound, handling, power, and visual appeal is hard to beat. It's just unfortunate the V6 S is around $30,000 more expensive. If it's any justification, it does come with a proper limited-slip differential and other bits and pieces, and is a better overall driver's machine we think.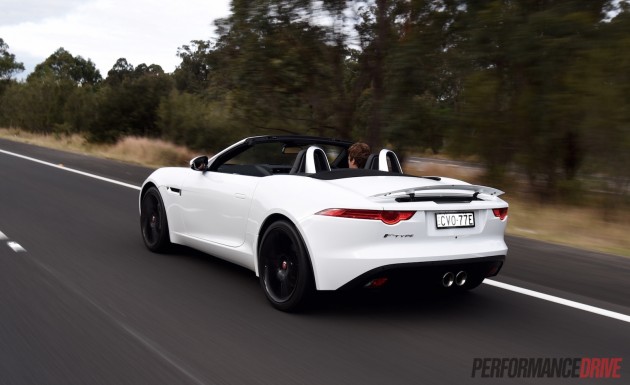 2015 Jaguar F-Type V6 – THE VIDEO
2015 Jaguar F-Type V6 – THE VERDICT
If you're in the market for a high-end sports car – speaking to Porsche 911 buyers – you really need to take one of these for a test drive. It is an unforgettable driving experience. Add to that the huge savings over the competition, things don't get much more convincing. The only thing left to decide is if you need the V6 S or if the regular V6 (as tested) is good for you.
For pure driving enthusiasts, it's the V6 S. For those that simply want a spirited machine that still goes like a stabbed rat and looks amazing while it's at it, this is your car. We'd also recommend checking out the manual coupe, retailing from 'just' $119,080.
PROS:
– Pin-sharp handling
– Best-sounding V6 engine on the market?
– Engine performance, 0-100km/h time
– Stunning design
– Eight-speed auto

CONS:
– Boot space
– Firm seats
– Expensive options