Not to be confused with the tall and boxy first-gen Honda HR-V, the 2015 version is smarter, sportier, and fully prepared to take on the modern and very competitive rivals. So prepared in fact, it's currently the fourth most popular SUV in its class in Australia.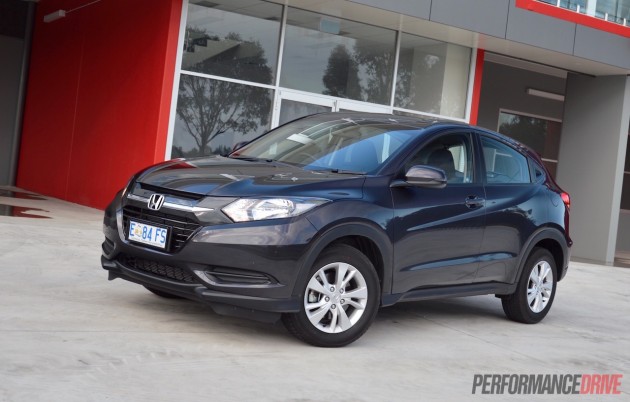 The first version was a mini SUV whereas this latest model is more of a crossover. Underneath the sophisticated and somewhat muscular body is a platform that's not all that dissimilar to the one used on the Jazz. There's more ground clearance, obviously, and the interior is unique.
Buyers have the choice of front-wheel drive and all-wheel drive in overseas markets, but in Australia it only comes in front-wheel drive form. Three variant grades divide the local lineup, spanning from the VTi, the VTi-S, and the VTi-L. All feature a 1.8-litre four-cylinder producing 105kW and 172Nm, matched to a CVT automatic.
Now to the game-cruncher, the price. For the entry VTi model, as we have here, prices are in the cheap and cheerful range, starting at $24,990. Once you get up to the VTi-L though, you'll need to fork out $32,990, which can put you into the next category up in some cases.
2015 Honda HR-V VTi – THE SPECS
Engine: 1.8-litre SOHC four-cylinder
Output: 105kW@6500rpm / 172Nm@4300rpm
Transmission: CVT auto
Drive type: Front-wheel drive
Wheels: F: 16×7.0, 215/60  R: 16×7.0, 215/60
ANCAP: Not tested (Jazz: five stars)
Tare weight: 1328kg
Power-to-weight: 12.6:1 (kg:kW)
Official fuel economy: 6.6L/100km
Economy during test: 7.5L/100km
Fuel capacity/Type: 50L/91 RON
Power efficiency: 15.9kW:L/100km
0-100km/h as tested: 9.2 seconds
Priced from: $24,990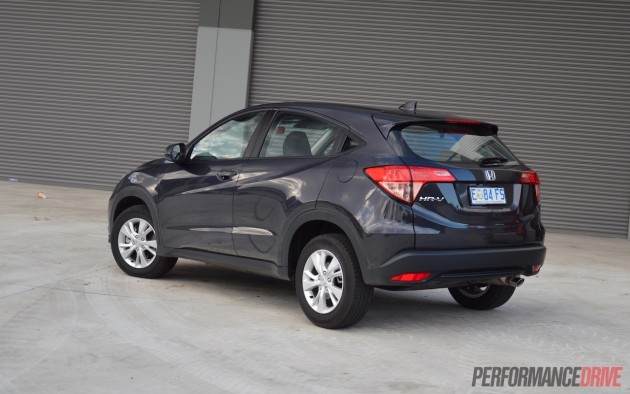 2015 Honda HR-V VTi – THE PACKAGE
In traditional Honda fashion, the interior of the new HR-V is all about practicality and modern function. In equal amounts. The seats are quite basic and comfortable, with decent side support for the front passengers. Headroom and legroom is respectable for this segment too.
Then you glance over to the dash. It's a concoction of futuristic shapes and protrusions, with a clever floating console and hidden shelf underneath. There's also interesting two-layer cup holders that go deep for handy storage. We especially like the climate control module in the lower part of the dash which, when the vehicle is turned off, is mostly a blank face; it lights up when you turn it on like a mobile phone. It's cool.
At the centre stage on the dash all models come with a 7.0-inch touch-screen interface. This kind of setup is now pretty much a prerequisite before any vehicle is even accepted as candidate on any buyer's shortlist. In the Honda, the screen offers large buttons, simple menus and a blend of colours and graphics that are easy on the eye.
All models come with comprehensive connectivity with Bluetooth, USB and even HDMI support. Honda almost always does a great job with car stereos and it's the same here. All variants get a terrific six-speaker sound system. As far as six-speaker systems go, this one gives off good bass and clarity.
For the rear passengers there's actually lots of space to move about and place your legs. The floor is relatively flat meaning the middles-seat rider isn't necessarily the unlucky one, and there's pockets in the backs of the front seats and a cute little storage pocket at the base of the centre console. Headroom is acceptable despite the sloping exterior roofline thanks to neat cutaways in the ceiling.
Ambitiously calling them 'Magic Seats', Honda has already set a bit of a precedent before you actually get in and use them. Fortunately, they are interesting but we wouldn't call it magic. Magic Seats is basically Honda's marketing term for offering a sliding function for the entire rear bench. It means you can slide the bench back – or just one outer seat – or slide it forward to open up more space in the cargo area. The outer seat can also be flipped up exposing a perfect spot to carry tall items such as a plant or mega-sized garden gnome. Cargo space is about average for the segment, with 437 litres expandable to 1032 litres. (Mitsubishi ASX: 393L/1143L, Nissan QASHQAI: 420L/1585L, Mazda CX-3: 264L/1174L.)
Overall, it's a likeable place to be sitting in the HR-V. The materials have a distinct robust quality about them, potentially indicating its acceptability of the wear and tear of a growing family, and it's all user-friendly. In this market segment, it walks the perfect fine line of offering an intelligent use of space, clever but not over-the-top instrumentation, all held together with durable materials.
2015 Honda HR-V VTi – THE DRIVE
If you're after a small SUV because you want a high-riding position with a good clear view around you, you've come to the right segment. There are many propositions available at the moment, all presenting exactly what you want. The HR-V, in our opinion, is one of the more car-like options.
The seating position is higher than in a hatch, but the dash and high windowsills submerge you in to some degree. It's a vehicle that you almost sit-in as opposed to sit-on like other SUVs. For driving enthusiasts the HR-V will go down extremely well. You can lower the seat and really hunker down. For others, the seat can be raised to provide a mild perched up position.
Driving dynamics have always been high priority with Honda vehicles, and when you first drive the HR-V you can feel the heritage. The steering has a nice weight about it and the ride is supple yet responsive enough to give you an understanding of how the chassis is handling.
Around corners there is a positive eagerness to jump in and stay committed. It's obviously no sports car but it does handle quite impressively for a mini SUV. Road holding is superb and body roll is kept to a minimum. If we had any criticism to the handling it'd be the dampers seem a bit weak and on the soft side; along country roads, especially with a full load on board, the body tends to bounce between undulations.
In terms of performance, the 1.8-litre four-cylinder loves to rev. In fact, it a can be a bit too hyperactive if you just want a quiet drive to work. There's adequate power for the fairly low 1328kg tare weight, but, in typical Honda nature, the power is high up in the rev range; 105kW at 6500rpm. Peak torque of 172Nm is also decent for the vehicle's weight, providing good mid-range pull up long hills. But again, you will have to get used to hearing the engine singing away.
We don't normally praise CVT automatic transmissions but we have to admit, engineers are improving them. The CVT here is rather good. It lifts/holds the engine revs to make the most of the power and torque range. It actually behaves a little bit like a turbocharger. Or, at least it feels like it has a turbocharger; there's a surprisingly mid-range heave that comes in and pulls the HR-V along we you need it.
Off the mark it is a little slow. It's one of those vehicles that struggles across 0-40km/h, but then it picks up beyond that. Flat out we timed 0-100km/h in 9.2 seconds. Compared with the five-speed manual Mitsubishi ASX we tested a few months ago, which managed the sprint in 9.3 seconds, the Honda offers reasonable performance for a CVT-equipped vehicle.
2015 Honda HR-V VTi – THE VIDEO
2015 Honda HR-V VTi – THE VERDICT
Overall, this is a great little SUV. We like the interior and the practical 'Magic' seats. We also like the consistent design philosophy which is applied inside and out, giving the Honda its own unique presence in the popular segment. As for the handling dynamics, the HR-V carries on the brand's tradition with pride. It's a quality driving experience for what it is.
If you're in the market for a small SUV, the HR-V is a highly recommended product. It seems buyers are thinking the same thing too; so far this year the local arm has sold 2122 examples, putting it in fourth place in the segment behind the Hyudain ix35 (4836), the Mitsubishi ASX (3161) and Nissan QASHQAI (3160).
PROS:
– Nice design, inside and out
– Clever and practical interior
– Handling dynamics
– Fuel economy
– Good value VTi/base variant

CONS:
– Noisy engine, likes to rev
– Bouncy suspension on poor roads
– Slow-speed acceleration
2015 Honda HR-V VTi – THE COMPETITORS
Hyundai ix35 (FWD – manual)
2.0-litre four-cylinder – 122kW-205Nm – 8.2L/100km – 1470kg – from $26,990
Mazda CX-3 Neo (FWD – manual)
2.0-litre four-cylinder – 109kW-192Nm – 6.3L/100km – 1165kg (tare) – from $19,990
Mitsubishi ASX LS (FWD – manual)
2.0-litre four-cylinder – 110kW-197Nm – 7.6L/100km – 1285kg (tare) – from $24,990
Nissan QASHQAI ST (FWD – manual)
2.0-litre four-cylinder – 106kW-200Nm – 7.7L/100km – 1372kg (tare) – from $25,850
Skoda Yeti (FWD – manual)
1.2-litre turbo four-cylinder – 77kW-175Nm – 6.0L/100km – 1380kg – from $23,490