Holden has entered the super hatch segment and now holds the current record for offering the most powerful front-wheel drive on the local market. Introducing the 2015 Holden Astra VXR.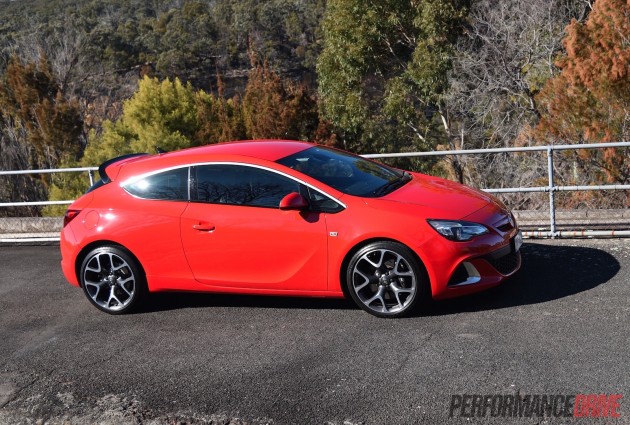 You might recognise the curvacious hatch from a couple of years ago. And you'd be correct for assuming it to be a re-launch of a old-ish car. This is the Holden-badged version of the Opel Astra OPC. But from a performance car enthusiast's point of view, it gives the Opel another chance at showing what it's made of. Because let's face it, Opel Australia simply did not give itself enough time to establish a footprint in the Aussie market.
The base Astra is an already attractive package, and now in VXR guise there are some sporty styling cues thrown in, resulting in a sharper and more aggressive proposition. The little VXR looks staunch, low to the ground, and focused from every angle, and it is, in our opinion, one of the better-looking vehicles in the segment despite its age.
It does come with the same 2.0-litre turbocharged four-cylinder engine as the Opel, whooshing out 206kW and 400Nm, however, the starting price has dropped to a very respectable $39,990. When Opel launched the OPC, it retailed from $42,990. Like the Opel, the Holden version is only available with a six-speed manual transmission.
2015 Holden Astra VXR – THE SPECS
Engine: 2.0-litre turbo four-cylinder
Output: 206kW@5300rpm / 400Nm@2400-4800rpm
Transmission: Six-speed manual
Drive type: Front-wheel drive, LSD
Wheels: F: 20×8.5, 245/35  R: 20×8.5, 245/35
ANCAP: Five stars (scored 33.35 out of 37)
Tare weight: 1510kg
Power-to-weight: 7.3:1 (kg:kW)
Official fuel economy: 8.0L/100km
Economy during test: 10.8L/100km
Fuel capacity/Type: 56L/98 RON
Power efficiency: 25.7kW:L/100km
0-100km/h as tested: 6.0 seconds
Priced from: $39,990
2015 Holden Astra VXR – THE PACKAGE
Inside, you immediately notice the Recaro bucket seats. These were designed specifically for this car. There's also VXR embossing, as well as a badge on the steering wheel and gear lever. Other than that the cockpit is the same as the Astra GTC. That's by no means a bad thing though, because the VXR receives all the luxuries of the GTC Sport too, with some extras to boot.
It is a very well-equipped vehicle for just below $40k, coming with some luxuries as standard that other manufacturers will make you tick some boxes and hand over extra dollars for. The VXR gets eight-way adjustable Recaro racing seats, automatic everything, perforated Nappa leather upholstery, dual-zone climate control, parking sensors, stop/start, daytime running lights, six airbags, sat-nav, and Bluetooth connectivity with USB support.
The 7.0-inch MyLink infotainment system is carried on from the GTC and most of Holden's range, and remains an ergonomic disaster. Put quite simply, there's too many buttons, no touch-screen functionality, and it looks dated, especially in comparison to its European rivals.
Sitting in the back of the Astra, you're cocooned between the sloping rear roofline and the enormous bucket seats in front of you. But overall it's satisfactory for space, and there's no major problem with headroom even for taller passengers. There's even handles in the openings of the seats that passengers can grab to avoid being thrown around if the driver gets a bit frisky in the corners. The process of getting in and out of a three-door car can sometimes be as graceful as riding a bull after a bottle of tequila. With the Astra's large doors though, taller passengers won't have too much of an issue.
The rear sloping roofline, while looking great from the outside, does impede on the rearward visibility for the driver. The rear view is limited due to a small rear windshield, and the bulky rear pillars don't help, making tight conditions a bit troublesome. A rear-view camera is, unfortunately, absent. At this price bracket the absence is a detrimental point for the car as an overall package.
While you may think designers have favoured style over practicality, the VXR remains an Astra at heart and is reasonably practical. There's an array of cubbyholes and storage spots for items large and small, with deep dual-level cup holders in the centre console, a 380-litre boot, and 60:40 split-fold rear seats to open up more space.
2015 Holden Astra VXR – THE DRIVE
GM has thrown everything but the kitchen sink at the VXR to create a man's hot hatch. Let's not forget the VXR was developed and fine-tuned on the infamous Nurburgring circuit for more than 10,000km to ensure it can live up to huge demands.
Around town and on less-than-perfect roads, the VXR doesn't let you forget for one second that its underpinnings are exclusively performance-focused. The ride is right up on the upper echelon of firm to uncomfortable, but if you are in the market for a smooth and comfortable Astra, there are two other variants that are more forgiving.
The VXR's softest and most gentle 'Eco' mode is satisfactory for nipping around town and navigating some bumpy B-road conditions, however, there is a noticeable difference in the stiffness of the chassis and dampers over the Astra GTC Sport.
Pushing the VXR in Eco mode at speed is like going to a steakhouse and ordering a salad. The steering is too light and offers too little feedback; the same can be said for the throttle response and calibration of the suspension. Around town though there's no doubt it's the mode you'll want to be in.
'Sport' mode throws in a handful of spice, stiffening the dampers, throttle response and adding more weight to the steering. There's a noticeable difference in the calibration of the dampers when hitting sport mode, and it makes the Astra really firm.
When you really want to let loose, the 'VXR' mode turns all of the above to 11, and, most importantly, makes the dials glow a menacing red. The electronic dampers, designed by Sachs, firm up to a level better suited for the track, while the steering becomes beautifully weighted and full of feedback.
When you do pass the 3000rpm mark, you quickly realise why this thing has Recaro bucket seats to hold you in place. When that massive turbo is all spooled up to 21psi, you take off like a jet. And the noise from the engine makes it seem like you're piloting one.
This is a polarising point of the VXR; the noise. While there is a lot of it for a little 2.0-litre four-cylinder, it sounds very… distinctive. The noise at peak power is unique to the VXR and fills the cabin with a jet-engine-like whooshing noise. Although this may turn some purists off, it's sure to get another portion of the car-buying demographic weak at the knees.
The VXR will rocket from 0-100km/h in 6.0 seconds, as tested. Despite its chunky kerb weight (1543kg), the engineers have done a commendable job at hiding it. It feels powerful and energetic. The peak torque figure of 400Nm floods in between 2400rpm and 4800rpm, and you'll hit peak power at 5300rpm. Through the gears it builds speed like a very serious sports car.
If there's one over-riding compliment we have, it's the level of grip the VXR produces from those 20-inch alloys wrapped in 245/35ZR Michelin Pilot Super Sport tyres. With over 200kW going through the front wheels, you might expect flat-out acceleration off the mark to be nothing more than a cloud of tyre smoke. That's not the case. It actually requires a lot of revs and jolting clutch movements before any chirping is heard.
The six-speed manual transmission in urban conditions can prove a little doughey. The speeds between gears might be too widely spread for some. But who are we kidding, in a world dominated by automatics and dual-clutch transmissions, we'll keep the minor complaints to ourselves and instead thank GM for offering the VXR with a manual.
The VXR has some seriously tough competitors, and those competitors all have very intelligent systems at the front axle. Ford has the RevoKnuckle, Renault, the PerfoHub, and the Astra VXR has GM's HiPerStrut suspension system. This has been designed to improve traction and handling through enabling the front wheels to turn, free of the suspension strut. This, in combination with a mechanical limited-slip differential from Drexler Motorsport, gives the VXR a set of dynamic abilities right on par with some of its toughest competitors.
On a tight road at moderate to high speeds the VXR feels like it's nailed to the road. It can carry an almost intimidating level of pace through a bend. We say intimidating because when you really push the VXR it can become a bit unstuck at the rear, and there is some torque-steer and mid-corner kickback from the steering when really going for it.
In VXR mode we were able to record more than 1.2 G through the bends, and for a front wheel drive car, the way the VXR is able to pivot from left to right while remaining controllable is a big feat of engineering on the part of Holden… or Vauxhall… or Opel… Look, whomever we have to thank, we will.
When a corner is approaching and it's time to step on the anchors, the VXR is equipped with 355mm front and 315mm rear cross-drilled Brembo brakes that are a big step up on the brakes installed on the GTC Sport. There is strong initial bite, followed by, and we're not sure if it is a problem isolated to this press car, a dead spot midway through braking. When really stepped on however the Brembos bring the VXR to a rapid stop, with some evidence of squirming, but nothing uncontrollable.
The VXR does struggle against the competition when it comes to economy. Official ADR figures state a combined cycle of 8L/100km, whereas our figures were less than impressive. The best we could attain in the VXR on the freeway was 7.8L/100km. If your daily commute involves a bit of stop/start and low speed driving, the VXR proves insanely thirsty. On an urban cycle for example we couldn't get the figures into single digits, returning around 12L/100km. GM has installed stop/start technology for fuel savings, but really, that is the equivalent of trying to extinguish a bushfire with a tinnie of VB.
2015 Holden Astra VXR – THE VIDEO
2015 Holden Astra VXR – THE VERDICT
Sure, in a few tangible and measurable ways its rivals like the Golf R have an upper hand, but there's a certain appeal to the Astra VXR that we're sure already has and will continue to click with a certain type of buyer. The Astra VXR doesn't take itself too seriously, and that is something to admire and is sure to attract some attention. Its age isn't showing in design, but it is in the area of efficiency. Overall though it remains an impressively-engineered offering. We're keen to see what GM will come up with next for a successor.
PROS:
– Sizzling pace
– Attractive styling
– Dynamic handling
– Most powerful FWD on sale
– Super hatch performance at hot hatch price

CONS:
– Poor fuel economy
– Doughey response; long gearing, low peak power rpm
– Fussy MyLink infotainment system
– Poor rear vision and no rear camera