Porsche is set to introduce the cracking new Porsche 911 GT3 RS later this year. And if the already-mind-blowing regular 991 GT3 is anything to go by, the RS will be out of this world.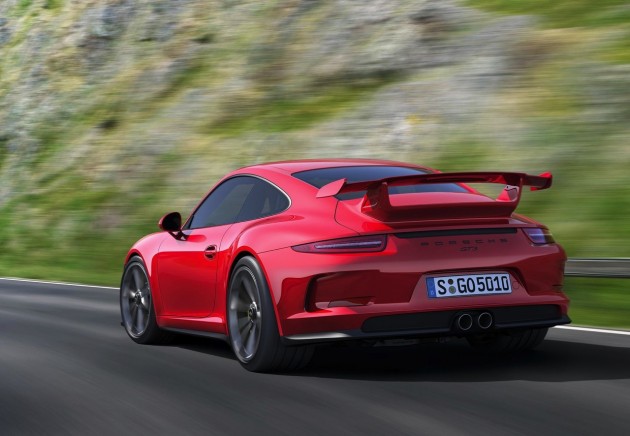 The German sports car manufacturer is apparently well into the testing stages of the new RS, with a number of prototypes already being put through their paces by company test driver Walter Rohrl.
According to a recent Autoweek report in the UK, the new RS will come with a comprehensive aerodynamics kit which is set to increase downforce by up to 50 per cent over the regular 991 GT3.
As you could imagine, this is going to involve lots of little wings and vast underbody work to help guide air over and suck air from under the car. Most of the body panels and features will be made from super-lightweight material as well to keep weight to an absolute minimum.
Interestingly, the RS is set to come with a wider body than the regular GT3, accommodating a wider front and rear track. With increased width the car will be more stable around corners.
Armed with these performance revisions, the engine is also expected to receive some mild tweaking to boost power to around the 370kW mark.
One element that has been under fire lately, causing a lot of controversy, is the transmission. The regular GT3 made a switch to a dual-clutch auto with the 991, and the RS is highly likely to adopt the same unit.
Although it might potentially upset the fans, there's been a whole heap of evidence that proves the PDK dual-clutch auto makes the car significantly quicker compared with a manual setup.
In terms of performance on the tarmac, 0-100km/h is set to come up slightly quicker than the 3.5-second GT3 time. The GT3's Nurburgring lap time of 7:25 will also drop.
Some official details from Porsche are tipped to be released next month, before it hits the market during the second half of this year. This is going to be one mother of a performance car to look forward to.