The 2012 Lexus IS F was created to tackle the likes of the Mercedes-Benz C 63 AMG and, more specifically, the BMW M3. Think of it as a Lexus IS 250 on steroids.
2012 LEXUS IS F – PROS AND CONS
PROS:
Lexus build quality and technology
Excellent V8 performance and sound
Superb eight-speed auto changes up almost instantly. Rev-matched downchanges send goosebumps down your spine
Rock solid handling also quite agile
CONS:
Dash design is starting to age
Suspension is fairly stiff – apparent when driving on less-than-perfect roads
Only two seats in the back (due to chunkier differential over the normal IS)
2012 LEXUS IS F – OVERVIEW
Lexus is all about being at the forefront of quality and reliability standards. It's a brand that has taken out many awards and customer satisfaction surveys in the past, especially in the US where Lexus originated.
For years its vehicles have been renowned for offering utmost levels of luxury, with just as much technology and reliability. Being a brand owned by Toyota, one of the biggest manufacturers in the world, it's easy to see how all this is possible.
The IS F was launched in Australia in 2008. It was an all-new step for Lexus, and showed it wasn't a one-dimensional brand, blending track-honed performance and credibility, with its traditional refinement and prestige.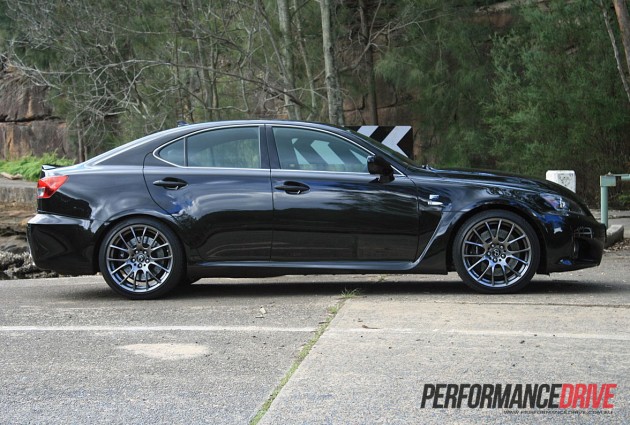 The 2012 model is the most complete version of the IS F yet, with revised suspension, new mesh-style lightweight BBS alloy wheels, a new instrument cluster with a central tacho, daytime running LEDs, and the introduction of a 'Sport' button on the steering wheel. It also gets a mechanical limited-slip differential – swapped from the previous electronic type – and a more user-friendly traction and stability control program.
The latest model still features the awesome 5.0-litre naturally aspirated V8 engine, producing 311kW of power and 505Nm of torque. It also gets the brilliant eight-speed Sports Shift automatic transmission.
The main question is; is it all up to the standards of the German rivals?
The three big-hitters – Audi, BMW, and Mercedes-Benz – have been building luxury sedans for decades, performance versions too, it's just what they do. For Lexus to come along and even attempt to take them on, it's a brave step, and one that deserves huge respect.
2012 LEXUS IS F – QUICK SPIN AND TRACK TEST VIDEO
2012 LEXUS IS F – ACCOMMODATION AND EQUIPMENT
Sitting in the IS F is like walking around in a black trench coat; you feel like a very important person. Especially when the car is in black (although, a white one would look interesting as well, with the shadow wheels).
One of our larger staffers found the cabin to be slightly on the small side, however, it is full of fruit. It's not only the performance version of the IS range, it's also the top-of-the-line, which means it comes with everything, and everything is fitted as standard.
There's sports bucket seats featuring large side bolsters, with discreet blue stitching. They offer excellent support, keeping you snug and stationary at all times. The blue highlights are carried over to the lower rim of the steering wheel, and match the 'F' badges which can be found throughout the car.
There is only two seats in the back, with the middle seat being replaced by an 'F' panel/table. The seat is removed due to a large differential tunnel invading middle seat legroom. The tunnel contains a more heavy duty diff setup over the normal IS.
As for the standard kit, there's a central multimedia touch screen interface which does pretty much everything, including display the rear-view camera. Buttons surround the screen for quick jumps into various menus, such as the audio system, and satellite navigation controls.
The stereo is a Mark Levinson item with 14 speakers, with Bluetooth and USB/iPod connectivity. It's a kicking unit with great clarity and lots of oomph when you crank it up.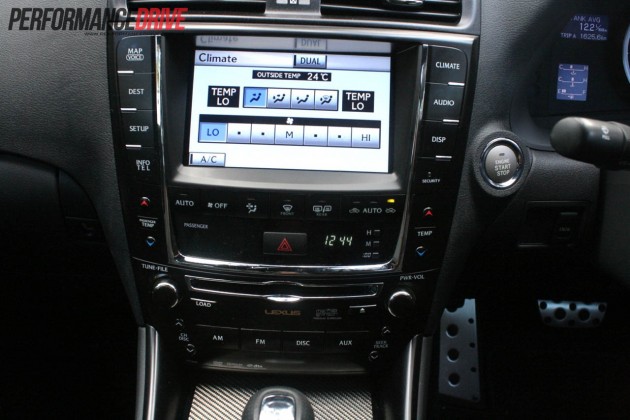 Other features include all the usual top-line luxuries, such as electrically adjustable front seats and steering wheel adjustment, automatic wipers and headlights (Bi-Xenon), a special Lexus toolkit and first aid kit in the boot, while on the outside there's a number of clues hinting towards its performance potential.
Lexus has decided to go with the understated look, similar to the Audi RS 4 and BMW M3, with a neat bodykit, rear lip spoiler, and a meaty front bumper bar with integrated intakes. At the back there's also a set of four stacked exhaust tips – we can confirm these are connected up; the 2008-2009 model was criticised due to the tips not actually blending into the exhaust pipes.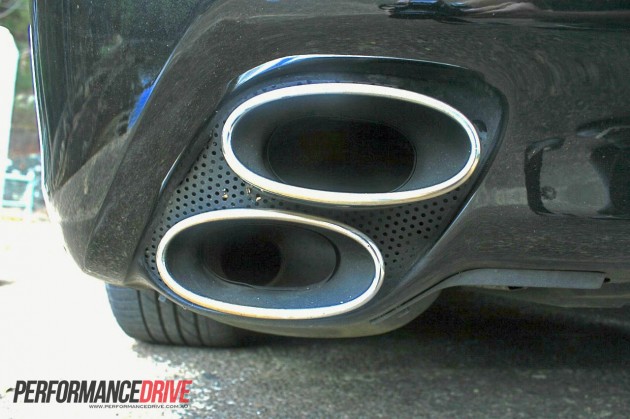 2012 LEXUS IS F – DESIGN AND SAFETY
The IS F's design is starting to age a bit now, with the next-gen IS model well into the development stages. Even so, it still looks very intimidating and special in the flesh. There's a bulging bonnet and long vertical vents behind the front wheels letting you know this is not your average IS, while the new 19-inch alloys give the IS F more of a racer look than the previous sword-like items too.
As for safety, there's lots of it. With eight airbags on board including front and rear side curtain airbags, traction and stability control, pre-tensioner front seat belts with force limiters, it's only natural ANCAP has given the IS the full five stars. In 2005, the IS scored 33.4 out of 37 in ANCAP's stringent tests.
One of the standout safety features is the radar-guided cruise control. The technology is engaged whenever the cruise control is turned on. Basically, it's able to read how far away the car is in front, and automatically adjust to its speed. The system brakes the car itself, providing a safe distance.
We found the system to work very well, even providing fairly heavy braking if the vehicle in front brakes, or if a vehicle cuts into your lane. It also picks up motorbikes and vehicles that are several hundred metres ahead. The system lets you know when it has registered a vehicle in front via a little display next to the tacho.
Without being too daring, we left the car to its own devices while trailling a vehicle up to a red light. We can safely say it will not apply the brakes to a dead stop, but it does give off an abrupt warning buzzer well before handing the car and the braking back over to you.
It's a great technology as it doesn't take full control away from the driver, but it provides a constant safe distance between you and the car in front while out on the freeway. This sort of technology is not yet standard on some of its rivals.
2012 LEXUS IS F – ON THE ROAD
As soon as you drive the IS F there's an explicit feeling of solidness. The steering is well weighted, and very smooth and direct. When you begin to move off, you instantly understand this is not your average medium sedan. The engine burbles around like a boss, and has an intimidating yet subtle quality about it.
The suspension has been revised for the latest model, with revamped dampers and spring rates. It is slightly softer compared with the 2008-2009 model, however, it is still quite firm. We personally didn't find it all that worrying, but for those in the market for a more soothing ride, it might be something to check out for yourself.
During our week with the car, we were completely used to the suspension – if you've ever owned a modified vehicle with coilovers or anything like that, then the ride certainly won't be a problem.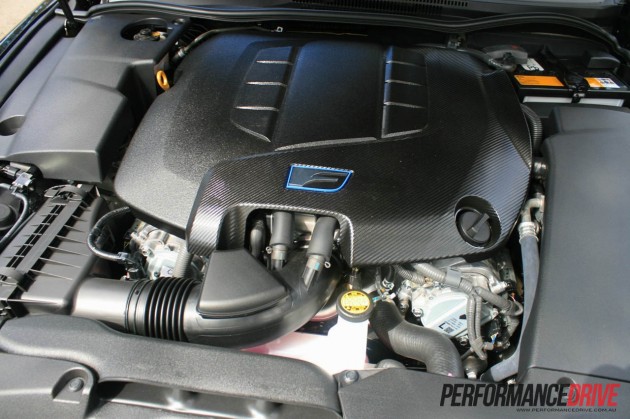 The engine isn't really the heart of the IS F. This is a good thing. If you take the engine out of a Ferrari 458, you're left with a stunning work of art, a great handling chassis, and a vehicle that's packed with technology.
With the IS F, it's an exciting moment just being inside. But when you hear that V8 rumbling away, it only heightens the experience, especially when the throttle is pushed. It sounds very metallic, with a harmonious V8 growl. It kind of sounds like a high-revving Honda VTEC engine, only with eight cylinders firing away. It revs pretty high for a V8 too, reaching maximum power at 6600rpm, and redlining 200rpm later.
The engine was developed in part by Yamaha. Yamaha helped design the variable intake manifold and the cylinder heads. The engine also gets a forged crankshaft, cam lobes, and conrods, as well as titanium intake valves.
That's all great, but what is a 'variable intake' you might be asking. Well, above around 3500rpm a second stage intake opens up providing more air and a superb belching V8 snarl.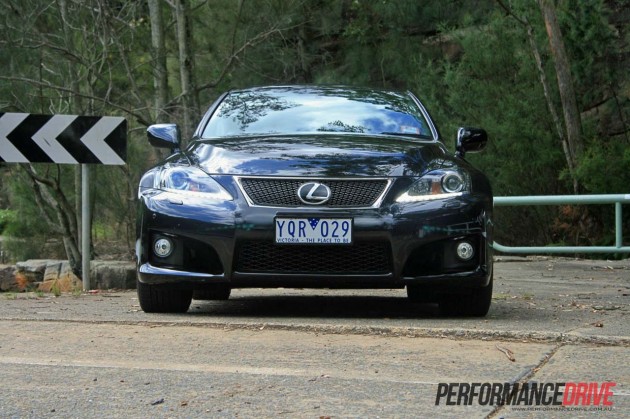 Out on the road, the engine and the eight-speed transmission work very well together. Without the Sport mode engaged, the transmission is smooth and behaves like a well-sorted auto.
Push the Sport button, or flick the gear lever over into manual mode, and the transmission turns into a finely tuned sequential. The changes aren't violent, but they are very quick. Lexus says it's capable of changing gear in just 0.1 of a second. This is extremely fast for a gearbox that doesn't feature dual-clutch technology.
Downchanges are the party piece however. At the flick of the left paddle behind the steering wheel, the engine blips to match the speed, giving off a tantalizing spike in revs, while the next gear down is slotted in. All in just 0.3 seconds. Driving a finely tuned V8 using a function like this is something we should all experience at some point in our lives. It's addictively exciting.
2012 LEXUS IS F – ON THE TRACK
While the IS F does feel kind of heavy and solid on its feet when trundling about in town, weighing in at 1700kg, it's surprisingly light and agile on the track, here at Marulan Driving Train Centre. It changes direction well, and becomes very enthusiastic when pushed. The only time you notice the weight is when you're going through slower speed stuff; it prefers faster sweepers than very tight hairpins, for instance. That's not to say it isn't capable, it simply favours the faster stuff.
The brakes are happy to wipe off speeds, repeatedly, while the chassis remains extremely solid during high speed braking and turning. It feels like it's on rails, and it's no wonder; the IS F was developed on the Fuji Speedway in Japan. If you push it a little on corner exit, the rear end will step out in a satisfying and easy to control manner if you want it to.
We feel the IS F could be turned into a cracking track day weapon quite easily, with some moderate weight reduction. The IS chassis is already a naturally dynamic piece of work. With the sports suspension, uprated brakes, and that hulk of an engine in the F, it's a pure-breed track machine.
2012 LEXUS IS F – VERDICT
In a way, the Lexus IS F isn't as complete, dynamically, as the M3, or as brutally fast as the much more powerful 358kW C 63 AMG (with optional Performance Pack), but we have to remember the Lexus steps into the market at around $25,000 less than its rivals – starting at $126,800.
We think most importantly though, the Lexus IS F has its own personality. It's got the pedigree of Toyota Motorsport – a division which has played a major influential role in all forms of international motorsport over the years, including Formula One – while it's also filled with technology and advanced features typical of Lexus. And you just know it's going to last.
If you're in the market for a subtle luxury performance sedan, we give the IS F our high recommendation. It provides a proper exciting feeling while inside, reminding you that you are in something really special. At the same time it's something a little different to the usual M3s and C 63 AMGs you see around.
And let's face it, unless you actually plan on racing at the track every weekend, who cares that it may be fractionally slower or slightly less dynamic at the very limit than its rivals? Take one for a test drive, it's a unique car that won't disappoint.
2012 LEXUS IS F – THE COMPETITORS
BMW M3 sedan – 4.0-litre V8, 309kW/400Nm – 1680kg (auto) – $149,000
The car that started it all in terms of performance understated sedans. Terrific in every way. The current M3 has been around now since 2007, and will likely be the last V8 version. The new M3 is due in 2014.

Mercedes-Benz C 63 AMG – 6.2-litre V8, 336kW/600Nm – 1682kg – $152,800
The mightiest of them all, the C 63 AMG is available with either 336kW in standard trim, or a stonking 358kW when optioned with the Performance Pack. It also outclasses the rivals for torque, but it is the least fuel efficient out of the current trio.

Upcoming Audi RS 4 Avant –  coming to Australia early-2013
2012 LEXUS IS F – SPECIFICATIONS
MODEL
2012 Lexus IS F
ENGINE
5.0-litre V8 petrol with VVT-iE variable valve timing, direct injection, and a variable intake manifold
ENGINE SIZE  / COMPRESSION RATIO
4969cc / 11.8:1
BORE X STROKE
94mm x 89.5mm
POWER
311kW@6600rpm, 505Nm@5200rpm
POWER TO WEIGHT RATIO
5.47: 1 (kg:kW)
KERB WEIGHT
1700kg
HEIGHT / WIDTH / LENGTH
1415mm / 1815mm / 4660mm
DRIVETRAIN
Eight-speed Sports Direct Shift automatic transmission, LSD, rear-wheel drive
BRAKES
F: 360mm ventilated and cross-drilled discs
R: 345mm ventilated and cross-drilled discs
WHEELS / TYRES
Front: 19×8-inch BBS alloy, 225/40 R19
Rear: 19×9-inch BBS alloy, 255/35 R19
FUEL TANK CAPACITY
64 litres
FUEL TYPE
Premium 95 or higher
FUEL CONSUMPTION
Tested average: 12.1L/100km
Official average: 11.4L/100km
PERFORMANCE
0-100km/h: 4.9 seconds (tested)
PRICED FROM
$126,800
WARRANTY
Four-year/100,000km