Ford Asia Pacific has released quite a revealing teaser video of the upcoming 2015 Ford Ranger heavy-duty ute. We get a good glimpse at the fresh shape which showcases the company's latest design language.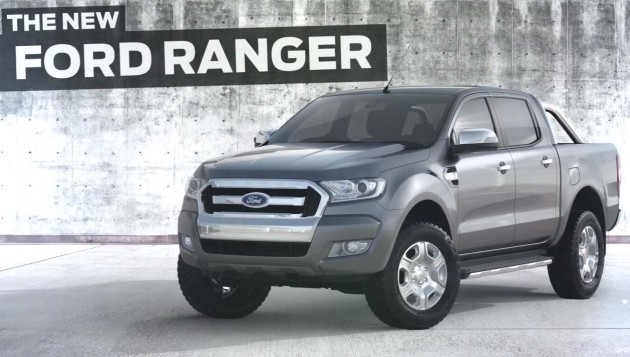 Looking at the front end you can clearly see the next version gets an updated grille dominated by chrome, as well as some new headlights that appear to be taken from the Ford Everest SUV, of which shares the same underpinnings. Most of the cabin's glasshouse area and structural design seems pretty much identical to the current version.
In terms of mechanical and component updates, the 2015 Ranger is expected to carry over a similar engine lineup, including potentially a tweaked 2.2-litre turbo-diesel engine which will be introduced in the Everest. It gets a new turbocharger and some transmission revisions for the six-speed auto.
For the passengers, we can expect Ford's latest SYNC 2 user interface to be installed with various gadgets and applications embedded within. The new model is also set to come with radar-guided cruise control, auto parking functions, and lane departure assistance. Needless to say, it will be the most advanced model yet.
The ute segment in Australia accounts for around 15.7 per cent of overall passenger vehicle sales (according to stats so far this year), which means there is a lot of competition all fighting for the attention of buyers. For Ford, the local company has sold 22,539 examples of the Ranger 4×2 and 4×4, placing it in second place behind the Toyota HiLux (31,876).
Ford Australia will introduce a fleet of new models over the next 12 months, including the updated Falcon and Territory, the new Kuga with its 176kW 2.0L option, the all-new Territory-replacing Edge, the seven-seat Everest, the new Focus and Focus ST, and of course the 2015 Mustang. The Ranger will become another new product for the local showroom during the middle of 2015. Click play below to see the preview.
If you're interested in buying a new, current model Ford Ranger be sure to get a quote through PerformanceDrive's online car buying service here. We can find the lowest price for you and beat the dealers.