Some new renderings have surfaced online previewing what could be the new 2015 Ford Mustang. The next-generation model is set leave the retro fastback styling, making way for a more modern and sweeping design.
The next-gen Mustang, falling under the company's 'One Ford' philosophy, will go on sale in many markets throughout the world. This is expected to include Australia.
As previously reported, the new model is set to be much more modern than the current version, offering sleeker and more fluidic lines, and an overall design inspired by the Ford Evos concept (below).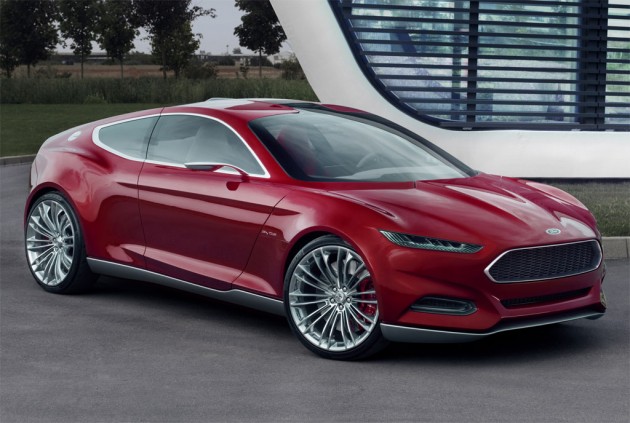 (Ford Evos concept)
In blending the Evos concept to the Mustang's traditional profile, these renderings – first published by Inside Line – could be pretty close to the mark. There's a more slimline front end with a sharper lower chin, while the big pronounced central grille carries the Mustang heritage.
Specific details on its engine are yet to be revealed, however, it will come with at least one V8 engine option, in the GT 500. A new fuel efficient EcoBoost V6 turbo is reportedly on its way for the entry-level variants.
Other major changes are said to include a new independent rear suspension (IRS) layout. Ever since the beginning the Mustang has showcased live axle rear suspension, which is great for huge V8 torque and straight line speed and acceleration. The IRS layout will likely be developed to increase its appeal and adaptability in various international markets.
Ford is expected to unveil a concept version of the 2015 Ford Mustang within the next couple of years, before finally launching the new model in 2014. Stay tuned for plenty more updates.