Ford has revealed the new 2013 Ford Cobra Jet drag package based on the Ford Mustang. The Jet comes complete with all the hardware and running gear you need to blitz it down the quarter mile.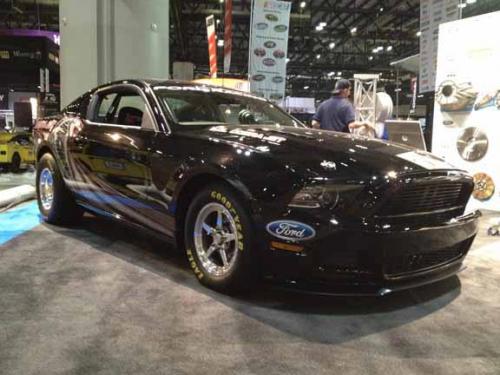 The 2013 Cobra Jet is on show at the Performance Racing Industry Show in Florida, USA, showing its muscular body and fat and skinny rear and front tyre combination. It was also showing off a supercharged V8 engine.
There are number of engine options for the 2013 Ford Cobra Jet, Ford offers both a naturally aspirated and supercharged version of the 5.0-litre V8 engine. Specific power outputs haven't been mentioned.
Starting with the naturally aspirated Coyote V8, Ford offers a Cobra Jet induction system, CNC-ported heads, high-lift cams, and low-drag accessory drive, all of which are said to boost performance significantly over the standard setup. Ford also offers a Ford Racing/Whipple 10-rib, 2.9-liter supercharger kit, with CNC-port-matched manifold and heads for more serious drag racing enthusiasts.
Both versions have been set up to comply with NHRA Stock and Super Stock quarter mile racing categories, and come with a full roll cage and safety system. They also feature electric power steering, to reduce engine loads, and a lightened body.
Other areas where the 2013 Ford Cobra Jet Mustang has evolved from the current model is the suspension geometry. It has been revised to improve 0-60ft times, while there's also a new brake pedal feel. George Goddu, business manager of Ford Racing Performance Group, recently said,
"The 2008 Cobra Jet was a great car. It did everything we wanted it to do. We're really proud of that car, but we have spent the last three years improving each offering of the Cobra Jet and we are always trying to make the next one better."
Just 50 examples 2013 Ford Cobra Jet Mustang will be made, with prices starting at US$85,490 for the naturally aspirated version and $92,990 for the supercharged pack. The vehicles will be available in the US market. Orders are being taken now, with deliveries taking place mid-2012.
We'd love to see a grudge match between this and the Chevrolet Camaro COPO drag racing special.