Mazda will unveil the all-new CX-4 crossover SUV at the upcoming Beijing Motor Show, inspired by the KOERU concept revealed last year.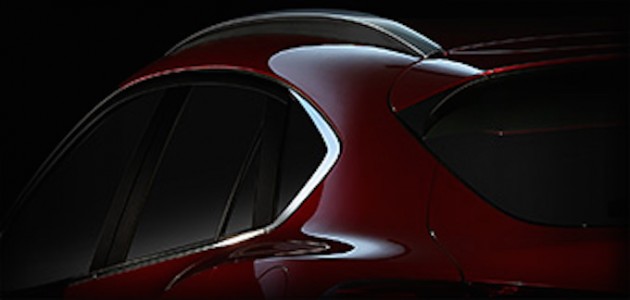 The CX-4 is set to be Mazda's take on the ever-popular sporty SUV segment, blending coupe-like styling and personality with jumped-up hatch underpinnings.
As far as we know the CX-4 will slot in between the existing CX-3 and CX-5, offering a more sporty layout. Overall dimensions are expected to sit tightly between these two as well.
Mazda hasn't revealed much at this stage except for this teaser image. It gives us a sneak peek of the swooping roofline, tidy rear hatch, and spoiler up top. There's also roof rails and the traditional kinked D-pillars. In a statement, Mazda said:
"The CX-4 is the latest addition to Mazda's new-generation lineup of models… With a striking presence that sets it apart from other SUVs, the functionality modern users expect and Jinba-ittai driving thanks to Sustainable Zoom-Zoom, this is new type of crossover SUV designed to help customers live more creative lives."
Powertrain options are likely to be taken from the current crop of SkyActiv four-cylinder units featured in existing models, such as the 2.0- and 2.5-litre units seen in the Mazda3 and CX-5. A diesel unit might also be introduced for some markets.
All of the details will be announced at the vehicle's debut taking place at the opening of the Beijing show on April 25. Stay tuned for updates.