A new performance accessory pack for the 2015 Ford Mustang has been revealed, called the Mustang RTR. The sports version has been partly developed by RTR and drift ace Vaughn Gittin Jr.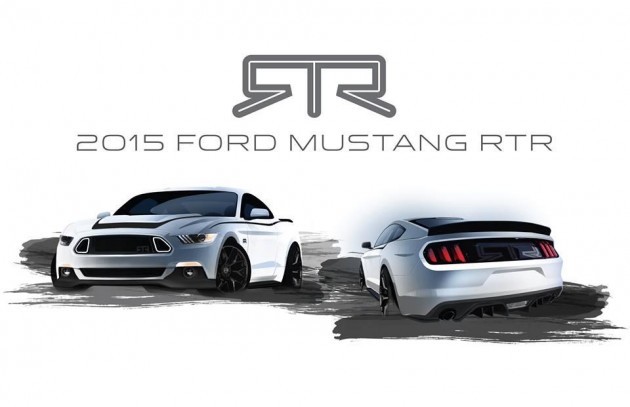 Think of it as like a Mopar edition of a Dogde or Chrysler, or a HDT version of the Holden Commodore. The RTR special edition will be available as a brand new package from selected dealerships in the US.
As you can see by the teaser shots, the 2015 Mustang RTR will come with a number of body trimming enhancements, including a black lip spoiler at the back, a racy diffuser underneath, a new grille at the front in black, a black bonnet bulge, and some dark alloy wheels.
The extent of the under-bonnet tweaks are not known at this stage, however, the package will be available for the 2.3-litre turbocharged EcoBoost version and the 5.0-litre V8 GT model. In standard form the 2.3 produces 231kW while the flagship GT offers up 324kW. Both of these models will be sold in Australia.
Interior mods are also likely, potentially including some unique sports seats, badges, and details such as the gear lever and pedals. Vaughn Gittin Jr. spoke about the special edition in a statement, saying,
"Ford's Mustang team has done an incredible job with the new 2015 Ford Mustang. The RTR team and I are pumped to work with such an incredible platform for RTR builds.

"Without a question, the performance and overall presence of the new Mustang RTR will impress and keep a smile on our customers' faces whether cruising the streets or getting crazy on the track. I cannot take delivery of mine soon enough!"
The package will be available from the beginning of 2015. Most of the parts and accessories will be available separately through Mustang RTR and Ford Racing as well.