It takes a long time to make a name for yourself, as Lexus will tell you. The brand was created in 1989 with an audacious goal by Toyota to capture the prestige market dominated by BMW and Mercedes-Benz at the time, and build the 'world's best car'.
The car which kicked it all off, the LS 400, was quieter, more aerodynamic, lighter and faster than its contemporaries and won car-of-the-year awards the world over. Still, although it has divested itself from Toyota's image, Lexus doesn't enjoy the kind of sales success of Mercedes-Benz and BMW. It certainly has its own, strong following though, and it's cars like the 2016 GS 350 F Sport that have helped carve out a sporty, distinctly Japanese identity which justifies a premium price tag.
Hyundai had its LS 400 moment in 2014 with the local launch of the Genesis sedan (called the Hyundai Genesis in Australia). Also a daring and audacious move into uncharted territory for a brand which used to be mocked for poor quality cars and low drive-away prices. Hyundai is no longer a running joke and keeps other carmakers up at night with its ongoing sales success story. As for the car, the Genesis is a well-rounded, rear-wheel drive BMW 5 Series rival for 3 Series money with 7 Series room.
It is a compelling effort that will next year move from Hyundai's statement car into a separate Genesis-branded models, as Lexus is to Toyota and Infiniti is to Nissan.
Gathered before you we have the 2016 GS 350 F Sport priced from $95,600 and the 2016 Hyundai Genesis Ultimate coming in at $82,000 (before on-roads).
The Genesis can be had for $60,000 if you don't fancy the panroamic roof, 19-inch wheels with grippier 275/35 rear tyres , head-up display and a few active safety and luxury features including power seat bolsters. Apparently the Hyundai badge is a delete option, but why would you when it gives the car an underdog status?
This comparison will be a good indication of how much progress Hyundai has made against an established player like Lexus. Ideally it would have been better to compare the GS 350 Sports Luxury, priced from $107,330, but this wasn't possible at the time of testing.
2016 Hyundai Genesis vs Lexus GS 350: THE SPECS
| | 2016 Hyundai Genesis | Lexus GS 350 |
| --- | --- | --- |
| Engine | 3.8-litre V6 | 3.5-litre V6 |
| Output | 232kW@6000rpm / 397Nm@5000rpm | 233kW@6400rpm / 378Nm@4800rpm |
| Transmission | Eight-speed auto | Eight-speed auto |
| Drive type | Rear-wheel drive | Rear-wheel drive, rear-wheel steer |
| Wheels | F: 19×8.5, 245/40 R: 19×9.0, 275/35 | F: 19×8.0, 235/40 R: 19×9.0, 265/35 |
| ANCAP | Five stars (scored 36.88 out of 37) | Not tested |
| Tare weight | 1995kg | 1745kg |
| Power-to-weight | 8.59:1 (kg:kW) | 7.48:1 (kg:kW) |
| Official fuel economy | 11.2L/100km | 9.3L/100km |
| Economy during test | 15L/100km | 13L/100km |
| Fuel capacity/type | 77L/91 RON | 66L/95 RON |
| Power efficiency | 20.7kW:L/100km | 25.0kW:L/100km |
| 0-60km/h | 3.50 seconds* | 3.25 seconds* |
| 0-100km/h | 6.98 seconds* | 6.64 seconds* |
| 60-110km/h | – | – |
| 1/8 mile | 9.89 seconds at 126.2km/h* | 9.69 seconds at 126.3km/h* |
| 1/4 mile | 15.18 seconds at 154.6km/h* | 14.74 seconds at 158.8km/h* |
| Max acceleration | – | – |
| 100-0km/h braking | 3.06 seconds at 38.65 metres* | 3.02 seconds at 39.38 metres* |
| Max deceleration | – | – |
| Decibel at idle | 37* | 44* |
| Peak decibel at 60-100km/h | 76* | 82* |
| Priced from | $82,000 | $95,600 |
* Figures as tested by PerformanceDrive on the day. Factory claims may be different
PROS & CONS
2016 Hyundai Genesis
Lexus GS 350
Pros
– Value for money, big standard equipment list
– Comfortable and quiet
– Cabin space
– Free servicing
– Up-market design
– Imposing appearance, full LED headlights
– Interior quality/luxury
– Adjustable F Sport seats/suspension/driving modes
– Amazing audio system
– Dynamic handling, rear-wheel steering
– Engine sound and performance
Cons
– Thirsty
– Heavy
– Sensory and Ultimate packs pricey
– Dated touch-screen media system
– Remote touch system can be fiddly
– Tighter rear seat space (compared with Genesis)
– A lot more expensive than Genesis
2016 Hyundai Genesis vs Lexus GS 350: THE PACKAGE
COMFORT/ PRESENTATION
Starting with the Genesis, you sit ensconced in a very neat, logical interior that has become the template for Hyundai's newer interior designs. Its slightly dated 9.2-inch touch-screen incorporates satellite navigation, audio and user information, while most other functions can be accessed via an array of knobs and buttons. Standouts include a square analogue clock as well as liberal swathings of imitation woodgrain, aluminium and piped-leather seats. It's hard not to be impressed by the way the Genesis panoramic roof moves, the blinds on the rear windows and the multitude of adjustments available on the front seats.
It's sitting in the rear that offers the most rewards, though. The left rear passenger can move the front passenger seat forward from the centre panel in the back, and commandier the audio system. The amount of space on offer from all seats, particularly the rear, is absolutely delightful. Despite a wheelbase that is only 1mm longer than a Holden Caprice, the Genesis feels a lot roomier.
An advantage it has over the Lexus is a power opening/closing boot, but on a hot day it was welcome they both had power rear blinds. The Lexus's interior is also a sumptuous place to behold, with a more sporting flair that betrays the difference in philosophy from the Korean rival. A three-spoke steering wheel sits before a neat and simple TFT dash, similar to the LF-A supercar.
One cool feature is the material between the seats and the centre console so you don't lose any coins or other items down there. Both vehicles feature adjustable head-up display, with the Lexus adding a range of display options including a sports theme. The Lexus's unit tends to be a bit sharper and thus easier to read in our opinion.
In terms of refinement, both are as exemplary as you could expect, with the GS's firmer suspension not quite as magic-carpet as the Hyundai's softer setup. Both cars give an impression of solidity and incredible build quality, attention to detail with the exception of Lexus' ill-fitting cup holder cover and some of Hyundai's typical grey plastics.
The Genesis's slightly more comfortable seats, rear seat controls and additional stretching space give it the edge in this round. It should be mentioned that the GS Sports Luxury does come with comfort-oriented seats and a similar control panel for the rear passengers. The F Sport does feature adaptive suspension with variable modes but even in the softest setting it can't match the supple Genesis.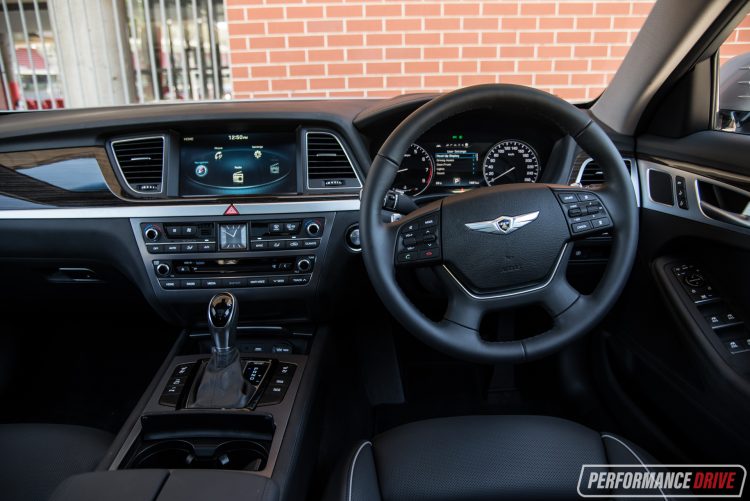 ENTERTAINMENT
Both vehicles here are 17-speaker auditoriums with the Hyundai utilising a Lexicon system, with Lexus going for its famed Mark Levinson marque. Tested with a variety of different music genres, the Genesis impressed, with outstanding clarity, crisp definition and powerful bass across all amplitudes. It is a top-quality high-end system, no doubt.
The Lexus system is the best this tester has ever experienced, though. Amplitude separation and the attenuation of unwanted sounds is in another realm. The sub-woofers and tweeters just have a way of hitting the depths of your ear with pulses of euphoria. This may have something to do with the audio engineers being consulted early in the vehicle development process.
Hyundai uses a touch-screen to access multi-media, while the Lexus uses an infuriating Remote Touch mouse that is overly sensitive and distracting to use, although you can adjust the sensitivity and feedback. Left-hand drive Geneses have a rotary controller like BMW's iDrive but for Australia we get a pretty basic arrangement. The sooner Lexus switches the GS to the touch-pad like the IS and RC have, the better, we think. Despite those ergonomic foibles, the eargasmic Mark Levinson sound system grants victory to the Lexus in this category.
One annoyance common to each is how the volume blasts you from the previous headbanging session, rather than defaulting to a lower setting. This can literally be painful at times.
COST OF OWNERSHIP
One advantage Lexus has always had is maintenance costs compared with European rivals, which have a notorious reputation for expensive parts. While this is still true, the Genesis comes with a five-year/75,000km free servicing program. This is a revelation for a machine of this calibre. This is offset, though, by the sheer thirst of the thing. Quoted at 11.2L/100km, the Genesis seldom sat below 15 during our time with it and 10 when cruising, so it is thirsty. The Lexus, meanwhile, claims 9.3L/100km, with a marginally better 13L average around town that improves drastically on the freeway, making it the more efficient of the pair.
The Lexus also offers two hybrid models for even better economy, but the Hyundai's servicing schedule and $15,000 price advantage gives it a narrow edge here.
SAFETY
Both cars are extremely safe with the Genesis awarded one of the highest ratings ANCAP has ever handed out (36.88 out of 37). ANCAP hasn't tested the current GS but award five stars to the previous model. Both offer responsive brakes and many active safety features such as lane-departure warning, forward-collision alert and blind-spot monitoring. The Genesis has a forward mounted camera and surround view to make it easier to avoid objects while parking, while both have a reverse camera and sensors throughout.
The US-spec Genesis also has lane keep assist, yet another feature RHD markets miss out on. With both cars scoring exceptionally high here, this round is a tie.
2016 Hyundai Genesis vs Lexus GS 350: THE DRIVE
At 1745kg to 1995kg, the Lexus is some 250kg lighter than the Hyundai. Both are powered by naturally aspirated V6 engines. The Hyundai's 3.8-litre 'Lambda II' V6 makes 232kW of grunt and 397Nm of torque. The Lexus's 3.5-litre 2GR-FSE V6 makes 233kW and 378Nm of torque. Both are exceptionally smooth, responsive and pleasing to the ear. The Hyundai emits a nice tone but is subdued all the way to the redline. Both have eight-speed automatics with paddle shifters.
The Lexus, particularly in Sport +, has the best note of any V6 we've heard in a long while. A throaty, full-bodied roar fills the cabin as revs climb, to a fruity, zingy staccato shrill at 6500rpm. It is eminently more engaging and begs you to downshift with its rev-matching paddles. It's an almost V8 level of drama – perhaps Holden should drive one of these while calibrating the next "Commodore" engine note.
The Genesis is effortless and painstakingly isolated from the real world. It is a serene long distance tourer, with beautifully weighted steering, excellent brake response and good grip levels most of the time.
When the road becomes tight and technical however, the Genesis alter-ego, Boaty McBoatface, emerges, with the car leaning and heaving on its outside tyres. It's a good thing you can't turn off the stability control in this car, and while it has a sporty flair up to about 8/10ths, it's not a car that caters to your inner lunatic. As we found out during some spirited driving around Mount Panorama in Bathurst.
The Lexus, on the other hand, feels every bit the 250kg lighter. It's tighter, responds quicker to steering inputs and is the driver's choice by far. The steering is faithful and feelsome, and the body is very rigid, meaning you can generate passenger-frightening levels of lateral g through the bends. Agility in the technical stuff is also noticeably superior in the Lexus, partly thanks to its active rear steering system. If you prefer a more tail-out driving style then you might be left wanting but the chassis's other virtues in the GS are enough to thrill most.
Across the 0-100km/h sprint it comes as no surprise the Lexus is quicker with its lower weight and 1kW advantage. We clocked 6.64 seconds in the GS 350 and 6.98 in the Genesis. The gap widens the further you go too, with the quarter mile coming up in 14.74 seconds in the big L and 15.18 in the big H.
It's the Lexus that rewards the driver the most, it's quicker, and sounds more exciting, and it's at this juncture it starts to pull ahead.
2016 Hyundai Genesis vs Lexus GS 350: VERDICT
While it's true that each car has different priorities, with the Lexus a sporty driver's car and the Hyundai a passenger-oriented long distance cruiser, we must measure them both for what they are at their core: rear-wheel drive sport-luxury sedans.
From an enthusiast's point of view, the Lexus wins with its far more involving chassis, superlative Mark Levinson sound system and lively V6 engine, giving it the chequered flag on this occasion. It is competent enough in every other department to beat the Korean threat, especially if you select the right variant grade for what you need.
The $15,000 gap between the two cars is narrow enough for the Japanese car to win, but if we are talking about the $60,000 opening version of the Genesis, that yawning chasm of a price difference comes into play and changes the outcome.
With its outstanding comfort and accommodation, the Genesis is a thoroughly accomplished and polished performer that has a convincingly upmarket character. It is a car anybody would be proud to own. We just wish the panoramic roof was available as a stand-alone option, not to mention the 313kW V8 version found overseas.
2016 Hyundai Genesis vs Lexus GS 350: VIDEO
As always, if you're thinking about buying a new car don't forget to click here to speak with our car buying specialists.