RML and the Nissan Technology Center for Europe have officially released details and a video of the Nissan Super Juke GT-R concept previewed last week. The Nissan Juke-R concept, as Nissan calls it, features a complete engine and driveline kit from the awesome Nissan GT-R supercar.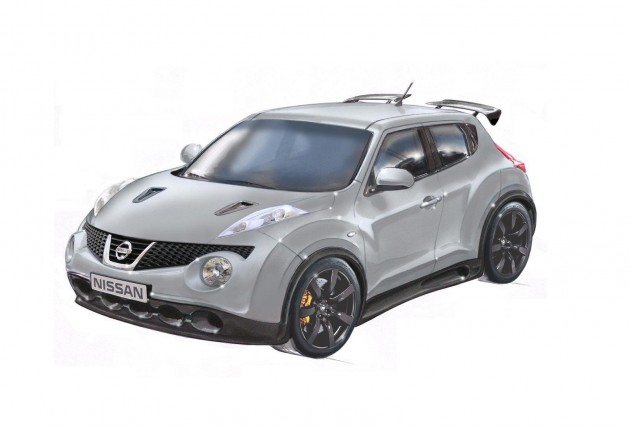 Nissan has announced that the Nissan Juke-R concept is a one-off project being built by RML and Nissan Europe to test the public's reaction regarding a sporty Nissan Juke variant. If the project is well received, which we guess it probably will be, Nissan may introduce a performance variant into the production lineup in the future. It's unlikely a production model will use the exact same specifications as this concept however.
Apart from the engine and driveline, which consists of a 3.8-litre twin-turbo V6 developing 390kW of power hooked up to a sophisticated all-wheel drive system, all lifted from the Nissan GT-R, the Nissan Juke-R also features some very racy exterior revisions over the standard and somewhat innocent Nissan Juke model.
Nissan has given it pumped guards front and rear moulded from new panels, new front and rear bumper bars incorporating a low chin spoiler and a split rear wing and rear diffuser, as well as lightweight forged alloy RAYS 20-inch wheels.
Inside, the Nissan Juke-R features a full FIA-certified roll cage matched with racing bucket seats and a set of five-point harnesses. Paul Willcox, senior vice president, sales and marketing for Nissan Europe, recently said,
"Juke lends itself perfectly to a sports derivative and Juke-R explores that territory. Equally at home on road and track, Juke-R showcases two of the most exciting cars in our range and highlights the technical innovation that drives Nissan. This car will more than live up to the dynamic driving experience we engineer into all our cars."
Click play on the video below for a preview of the creation. Nissan says that testing of the project will be underway in November. We'll be sure to keep you updated with all the details and hopefully track video footage.
What do you think of it? Do you want one?