Some more details of the next-generation 2015 Ford Mustang are coming through, and it looks like it will take a turn for improved economy as opposed to outright performance. The top-spec GT500 may also lose the Shelby nameplate.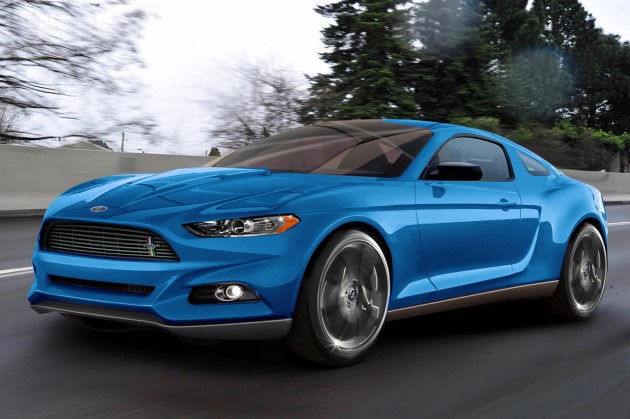 A fresh prototype has been spotted on the street in the US undergoing testing. It's understood the prototype was an all-new version based on a new platform and body, as opposed to the previous versions that have been spotted using a dressed up iteration of the existing layout.
Standout features include a new independent rear suspension layout, which will be a first for the Mustang. The new setup will help the muscle car make better use of the engine's power, as well as corner with much more precision and stability.
According to a recent Road and Track report in the US, the current V6 is likely to be retained, however, a new 2.3-litre EcoBoost four-cylinder is also set to join the lineup. It's possible the EcoBoost will sit above the V6 in the range, sporting around 260kW of power.
As for the V8 models, the GT is expected to keep the 335kW 5.0-litre supercharged 'Coyote' V8, while the high performance GT500 will apparently drop the 'Shelby' name. It's unknown what it will be called. Rumours suggest an 'SVT Cobra' badge might adorn the muscle machine.
With the current GT500 offering a whopping 494kW from its 5.8-litre supercharged V8, reports say the new version will drop the supercharged unit, instead, going for a naturally aspirated V8. The capacity is likely to be beyond 5.8 litres, potentially lining up against the Chev rival; the Camaro Z/28 (7.0-litre V8).
The new model is still a couple of years away, but as previously reported, the new Mustang may make its way to Australian shores. With the departure of the Falcon taking place in 2016, the local arm may seek a large halo model. The Mustang could be the perfect model to slot in.
It's understood the Mustang will be built on a 'global' platform for the first time, which would make it even more accessible to various markets. Ford has previously confirmed the new model will be sold in parts of Europe, and in right-hand drive.
As for the styling, the new model is set to be sleeker, with a lower overall profile. Modern fixtures and fittings are expected, with slimline headlights, a more confined and neater rear end, and a sportier cabin fuselage.
So when can we expect to see it? There's word of a possible concept debuting later in the year, while the 2014 North American Auto Show in Detroit in January seems like a safe bet as well. Production will take place next year.
(Image: rendered speculation only)