The all-new 2016 Chevrolet Spark has been revealed simultaneously at both the 2015 Seoul Motor Show and the New York International Auto Show, following the teaser preview last month. It gives us a glimpse of the next-generation Holden Barina Spark that will arrive next year.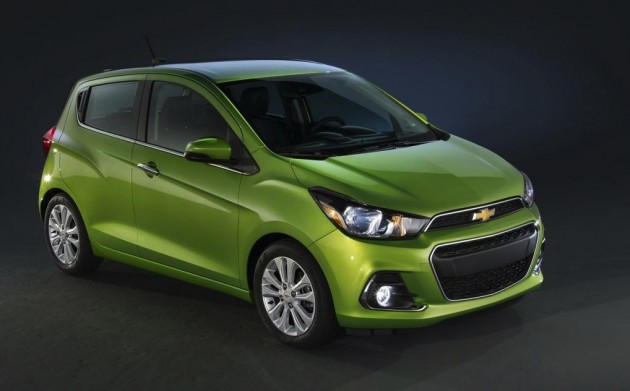 The Spark's fresh appearance is thanks to a slightly longer wheelbase and a slightly lower overall height, as well as thinner pillars. Michael Simcoe, vice president of GMI Design, says the new Spark is a "more efficient package, where the wheels are pushed to the edges of the fenders, the car now has a more substantial, firmly planted presence".
"In short, the Spark has grown up. It retains its youthful flair, but reflects the maturation of the global micro-car market and customers' desire for richly styled and highly contented choices."
Stepping inside the new Spark reveals new materials and a greater attention to detail. New higher-quality fabrics and higher-density seat foam have been introduced to enhance comfort and durability.
The launch of the new Spark in Australia follows on from Holden's announcement of a new vehicle launch program, which will see 24 major new vehicle launches and 36 new powertrain combinations introduced over the next five years.
Peter Keley, Holden executive director of sales, said the completely redesigned car offered customers greater performance, efficiency and refinement, along with new, safety and connectivity features. He said,
"It is very exciting to see the future of Holden's smallest model. It's easy to see why we are so confident the all-new Spark will stand out from the competition and continue to attract a younger set of buyers to the Holden brand."
The all-new Spark is set to be released here in Australia during the first quarter of 2016. It will come with a unique suspension and steering tune to suit local conditions. Pricing and specifications are yet to be finalised.