Audi has unveiled a striking new concept car that will debut at this weekend's Pebble Beach Auto Week event in California. It's called the Audi PB18 e-tron, and it could preview a supercar of the near future.
The company describes the concept as being inspired by the wind tunnel and the race track, while featuring an electric powertrain that benefits from years of Le Mans racing heritage. It was all developed by Audi's Audi Sport GmbH division.
It looks like an outrageous supercar and when you read about the details of the powertrain, it certainly becomes obvious this is a serious machine. Underneath it all, the PB18 e-tron uses three electric motors, with one at the front and two at the rear. The front motor provides up to 150kW, while the rear motors supply 350kW. Combined, the output is rated at 570kW during "boosting" and up to 830Nm.
The motors are powered by a liquid-cooled solid state battery that has a capacity of 95kWh, with a full charge driving range of over 500km under the WLTP cycle. It's designed to be recharged using an 800-volt system, where it can be topped up completely in about 15 minutes.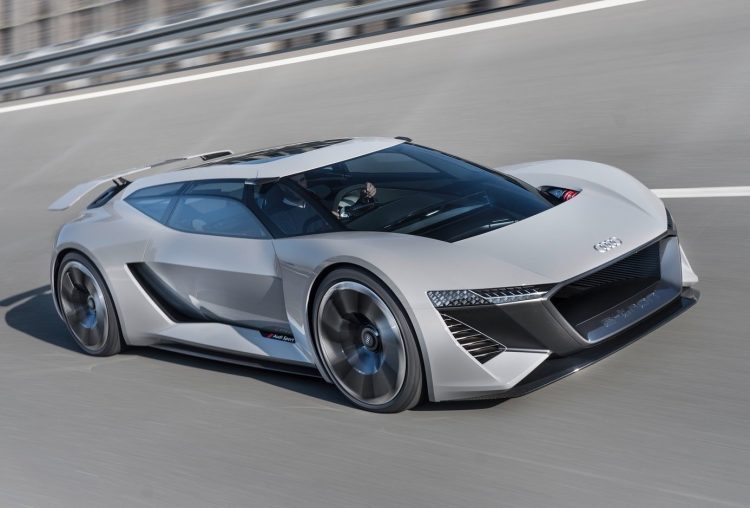 In a vehicle weighing "less than 1550kg" you can begin to imagine the sort of performance potential on offer. Acceleration from 0-100km/h is covered in just over 2.0 seconds, which Audi says is actually pretty similar to a current LMP1 prototype racing car.
All of this power is managed via a special Torque Control Manager which works in tandem with the stability control system. It actively sends power to the front and rear wheels as needed, with torque spread automatically adjusted for optimum stability and dynamics.
As for the design. Well, look at it. It's a stunning thing, from all angles, designed by Audi's Californian studio in Malibu. Highlights include 22-inch wheels front and rear, an adjustable rear wing, with a body made from a mix of aluminium, carbon, and multi-material composites. Overall the concept measures 4.53 metres long, 2.0m wide, and 1.15m tall, using a 2.7m wheelbase.
Audi doesn't specifically say the PB18 e-tron will go into production. However, the company says the concept does present "a radical vision for the high-performance sports car of tomorrow". This suggests elements could be used in a future showroom model.