Mercedes-AMG is readying a hardcore variant of the Porsche 911-battling GT, the AMG GT R, for the Goodwood Festival of Speed later this month.
A video has been dropped, featuring a sharp and discordant soundtrack promising "next level of performance" and a "world premiere" for June 24. The teaser, called Beast of the Green Hell – Night Guard, shows mysterious green tyre marks on the Nurburgring Norschleife's carousel section, arousing curiousity of the track's night guards.
What we can infer is that the car will lie somewhere between the 375kW/650Nm AMG GT S and the naturally aspirated, 6.2-litre M156-powered AMG GT3 racer shown at Geneva.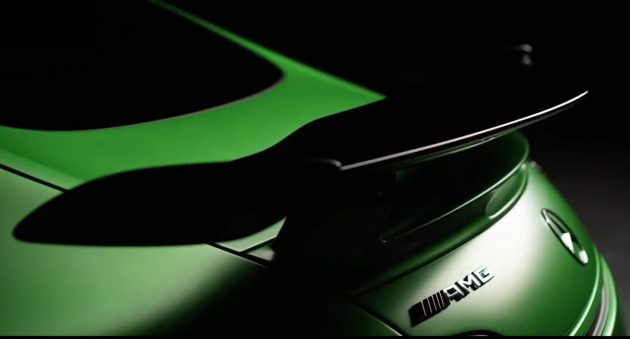 A matte-green finish is evident, as are hungrier front air openings, a fixed carbon fibre rear wing and other body additions. Pumped guards and the vertical-slat grille as on the GT3 and virtual AMG Gran Turismo are possible too.
Inside, yellow seat belts plus stitching with hardcore bucket seats are evident, while there are likely to be other bespoke highlights such as a 'GT R' instrument cluster and special driving mode options.
It's almost a gimme that the GT R will eclipse the GT S's 0-100k/h time of 3.8 seconds and 310km/h terminal velocity. This is sure to be the first in a long line of additional GT-based models, as Mercedes-AMG seeks to create a variant spread which better covers its arch-rival vehicles.