An interesting set of spy images have surfaced online, showing what appears to be, at first, a prototype Lexus IS-F convertible. Unfortunately we don't have access to the images, so we can't show you, but the car is reportedly a not an IS-F 'C' but instead an early prototype of the next-gen 2014 Lexus IS.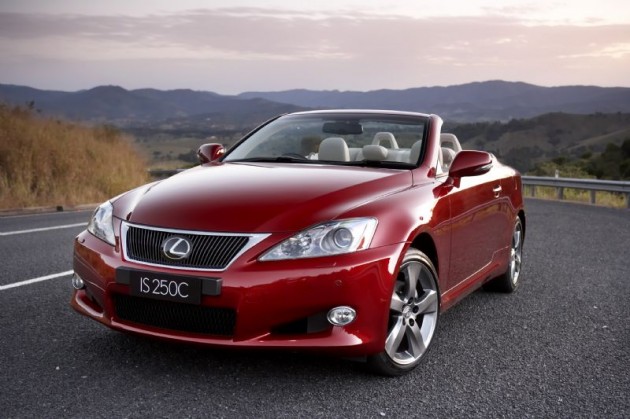 (Regular Lexus IS 250C shown)
This is the first time the mysterious test mule has been spotted. Lexus has not confirmed a convertible version of the IS-F V8, however, it would make sense considering one of the IS-F's major rivals is the BMW M3 – available in coupe, sedan, and convertible form.
In a recent Inside Line report in the US, their spy photographers managed to get underneath the mule – which wears a current IS/IS-F body – to see the suspension layout.
The report says that the car features aluminium control arms and a rear ball joint for either toe adjustment or rear-steer. The setup is said to be similar to what is featured on the new 2012 Lexus GS.
If this is the case, this would help the 2014 Lexus IS shed some kilograms over the current model. Along with other weight reduction measures, the reduced mass will assist in keeping fuel consumption down and keeping overall performance up.
On the other hand, if the prototype is indeed a drop-top version of the high performance IS-F, it could be seen as a bit of a send-off to the current IS-generation. Power would likely come from the same naturally aspirated V8 as seen in the 2012 Lexus IS-F sedan, producing 311kW and 505Nm.