Just a few months after the new 2014 Holden Commodore was revealed, Holden's performance arm has unveiled the new 2014 HSV Gen-F range, including the Gen-F Clubsport and R8, the Maloo, Senator, and GTS. As expected, the new model will come with Chev's 'LSA' supercharged V8 producing 430kW in the new flagship GTS.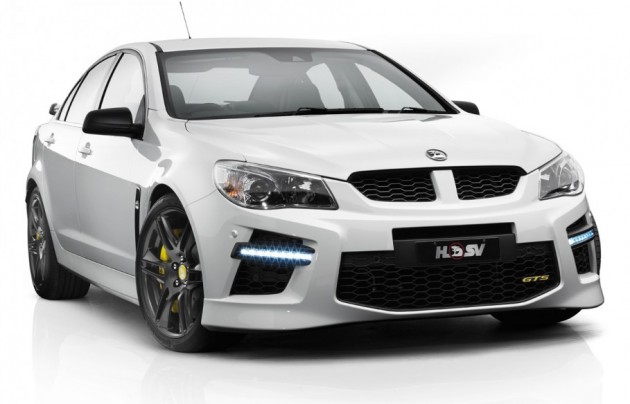 With this much power on tap, the 2014 HSV GTS Gen-F will officially be known as Australia's most powerful production car, easily trumping Ford FPV's effort of 335kW from its supercharged GT Falcon-based range. Performance and acceleration times on the GTS are yet to be announced.
As for the rest of the range, the outgoing lineup of 6.2-litre naturally aspirated Chevrolet V8 engines will remain, with some minor power increases on some models.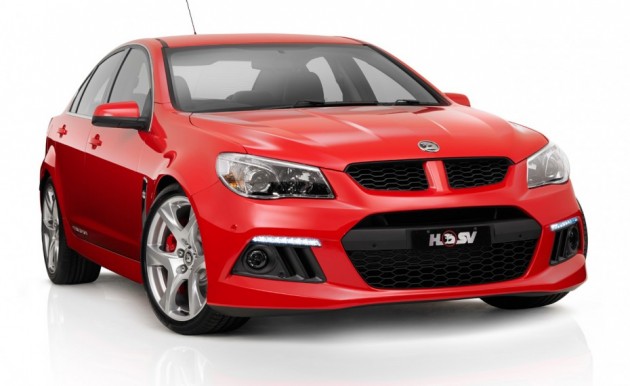 The entry-level 2014 HSV Clubsport will come with the 317kW version of the engine, producing 550Nm of torque. It will be available with the option of a six-speed manual or automatic transmission.
Standard distinguishing features include the least aggressive bodykit of the Commodore-based performance lineup, with mild front and rear spoilers, 20-inch alloy wheels, and quad-outlet exhausts. Holden's new eight-inch MyLink multimedia interface makes its way into the dash, with a soft fabric upholstery.
Moving up to the 2014 HSV Clubsport R8, it comes with a slightly tweaked version of the same engine producing 325kW and 550Nm. It'll be available with a six-speed manual or auto as well.
Highlights include various black items such as sections of the front grille, the rear spoiler, and the set of multi-spoke alloy wheels. The R8 also comes with head-up display, a Bose sound system, an Enhanced Driver Interface, and a bi-modal exhaust system.
Stepping up into the 2014 HSV Senator Signature, it gets a further tweaked version of the 6.2 V8, producing 340kW. It will be available with a six-speed manual or automatic.
Exclusive features include Magnetic Ride Control suspension, stainless forged alloy wheels, chrome side mirror caps, and a subtle yet sinister bodykit with a traditional lip spoiler on the boot.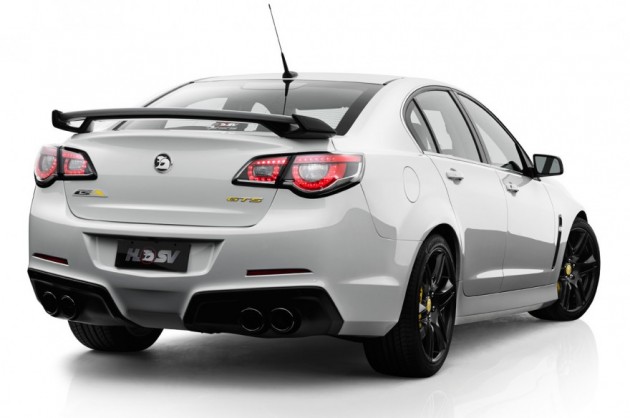 And finally, what we've all been waiting for, the 2014 HSV GTS. As previously reported, it gets one of Chevrolet latest 6.2-litre supercharged V8 engines. It produces an almighty 430kW.
The power is sent through either a six-speed manual 'TR6060' transmission, or a six-speed '6L90E' automatic, both of which are exclusive to the GTS. It also comes with some chassis reinforcements, a cooled 9.9-inch differential, and beefier half shafts feeding power to the rear wheels.
Speaking of the differential, it incorporates a new torque vectoring control system which is capable of braking an inside wheel while also feeding more power to the outside wheel to help pivot the GTS around corners.
Other features include a Performance mode driver setting with Magnetic Ride Control suspension, as well as a bi-modal exhaust system. There's also a muscular bodykit with a large rear spoiler, various black trimmings, yellow six-piston brake calipers clamping 390mm front and 372mm rear discs, and a set of black alloy wheels.
Although the 2014 HSV Grange is part of the mix, much of the details, specifications, and styling is carried over from the current model.
The new range will go on sale in June, aside from the GTS which will hit showrooms in September.
Click play on the promotional video below for more of a lo0k into the new range.