Skoda has released another teaser of the upcoming Superb, this time giving us more of a glimpse of the exterior design with a full exterior sketch.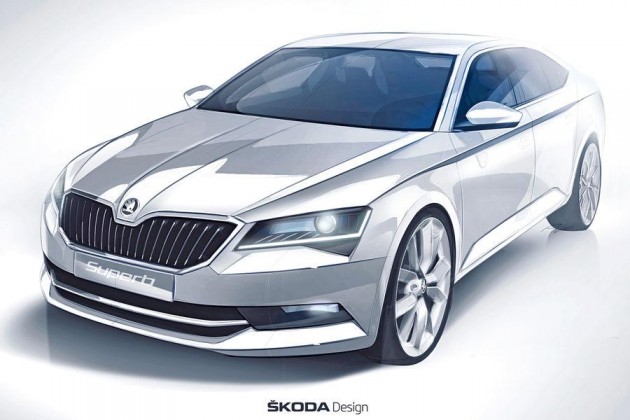 The 2015 Skoda Superb is set to be the company's most advanced model yet, packed with luxury features and advanced technologies to make it the most comfortable, safest, and most efficient Skoda production vehicle ever made.
Specific details are yet to be revealed, however, reports suggest it will come with a variety of engine choices with power outputs starting at 92kW from a 1.4-litre, and up to 191kW from a new 1.8-litre TSI.
Underpinning the new model will be Volkswagen Group's MQB platform, promising qualities from a higher vehicle class for the mid-class segment. Skoda CEO Prof. Dr. h.c. Winfried Vahland recently said,
"The new Skoda Superb is the best Skoda ever. This latest generation of our flagship will appeal to new groups of customers in the business and private sector. The qualities of the Superb emphasize the brand's values and point to the future of Skoda."
As for the design, this sketch shows it will showcase a clear similarity with the VisionC concept from earlier this year. There's a pair of sharp new headlights infused with LEDs, defined body lines with pronounced wheel arches, and a sleek roofline which slopes down at the rear like a sporty four-door coupe shape.
A full unveiling is set to take place at a special event in Prague in February, followed by an international debut at the 2015 Geneva Motor Show in March.