Ford staunchly proves how 'less' is becoming 'more' with the new Ford Fiesta Sport 1.0 EcoBoost. It comes with an industry-leading and award-winning three-cylinder engine, combined with the zippy personality of a sporty hatch.
Don't be too quick to pass harsh judgements to the new 1.0 EcoBoost when you see three cylinders on the spec sheet. With this you get the power of a 'warm' hatch along with one of the most frugal fuel consumptions on offer for a petrol car.
Still not convinced? You might be interested to know this 1.0-litre unit has been awarded the coveted International Engine of the Year award, twice. It produces 92kW of power, which is decent for this segment, and 170Nm of torque, again, quite impressive.
As for the Fiesta, it is the smallest model Ford offers in Australia. The Sport sits mid-level in the model range, above the Ambiente and Trend, and below the thrifty ST. It competes with the likes of the Volkswagen Polo, Holden Barina RS, and Suzuki Swift.
Prices start at $20,525 for the five-speed manual and $22,525 for the dual-clutch 'PowerShift' auto (not including on-roads).
2014 Ford Fiesta Sport 1.0 – THE SPECS
Engine: 1.0-litre turbo three-cylinder
Output: 92kW@6000rpm / 170Nm@1400-4500rpm
Transmission: Six-speed dual-clutch auto
Drive type: Front-wheel drive
Wheels: F: 16×6.0, 195/50  R: 16×6.0, 195/50
ANCAP: Five stars (scored 34.44 out of 37)
Kerb weight: 1127kg
Power-to-weight: 12.25:1 (kg:kW)
Official fuel economy: 5.3L/100km
Economy during test: 6.2L/100km
Fuel capacity/Type: 42L/91 RON
Power efficiency: 17.35kW:L/100km
0-100km/h as tested: 8.4 seconds
Priced from: $22,525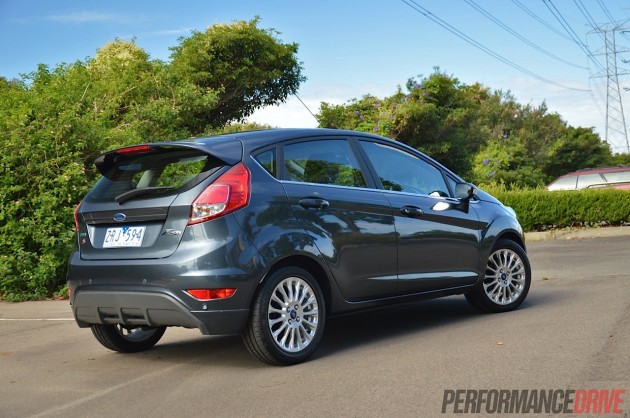 2014 Ford Fiesta Sport 1.0 – THE PACKAGE
As you sit yourself in the Fiesta Sport, you'll instantly notice the now-famously quirky trademark dash layout from Ford. It presents random shapes and protrusions that jump out all around you.
Initially, it takes a little time to get used to. There's plenty of functionality though, with Bluetooth, cruise control, voice recognition, AUX and USB inputs, a multi-multifunction steering wheel (repeat word intended) and a detailed trip computer are all part of the mix.
The Sport interior appearance doesn't differ too dramatically from the Ambiente – for more, you have to opt for the range-topping ST – but you get partial leather bolstered seats that feel comfortable and supportive, a more premium Sony stereo system which produces good quality sounds, and some really cool blue ambient lighting. Externally, you receive 16-inch alloy wheels, chrome trimmings, a rear spoiler, and sports-tuned suspension.
This test car is fitted with the $1000 optional 'Sport Executive Pack', which includes single-zone climate control, rear parking sensors, auto headlights and wipers, and keyless entry with an alarm and push-button start.
There's plenty of plastic about, broken up by a piano black stereo surround, which is also plastic. Disappointingly, where negotiating a comfortable position can be difficult in a small car, you only get a telescopically adjustable steering wheel in the top-spec ST. Even still, the Fiesta offers a nice and natural driving position.
We expect little space and comfort in the back seat from cars in this segment, but Ford challenges low expectations and somehow makes the most of the space. Four adults are surprisingly well accommodated, especially with headroom. The boot is more in line with what you'd expect from this type of vehicle, but with 276 litres, it's not too insufferable.
Regarding exterior design, the 2014 Ford Fiesta is in line with Ford's global theme. It has a bold, hexagonal front grille that resembles the open mouth of a whale shark, skimming through the ocean, while at the back there's some curvy lines that highlight the rear arches, and then a somewhat skinny and tall rear end.
To be able to offer that above-average rear occupant space, the Fiesta's rear stance is more of a minivan shape than a hatch, similar to the early model Mazda2s. The chrome window surrounds on the Sport positively add a hint of elegance.
2014 Ford Fiesta Sport 1.0 – THE DRIVE
Here is where Ford really proves that less is more. When you think '1.0-litre three-cylinder', you think 'when will I have to get out and push?' But with Ford's remarkable technological advancements, it's everything but.
The EcoBoost engine idles eagerly at about 1200rpm to compensate for the firing of only three cylinders, but you hardly notice there is such a small unit powering this hatch. In fact, the hum the engine produces sounds nothing like the revolutions it's actually doing.
Off the mark it's responsive. It'll chirp the front tyres if you're abrupt enough, and the six-speed dual-clutch transmission gets right to work with little delay. There are a few dual-clutch automatics getting around out there that suffer an awful delay in releasing power, especially during hill starts. But thankfully, not here.
We are surprised how energetic this little charmer is right up to 110km/h. The only impediment is when you're cruising and you want to speed up quickly to overtake. You really have to plant the pedal until it believes you're serious.
With that test with four adults squashed in, the engine still battles on enthusiastically and gets the job done. The torque from the EcoBoost turbo provides a wide range of usable revs too, with a strong mid-range. In fact, max torque is available from 1400rpm right out to 4500rpm.
Flat out, we achieved a 0-100km/h time of 8.4 seconds. Comparatively, the Suzuki Swift Sport manages 8.1 seconds with its 100kW 1.6-litre engine, and the Holden Barina RS in 9.3 seconds. But to be fair, this is not the most powerful variant in the Fiesta line-up. The practicality and uniqueness of the engine is where most points are won.
The tones this baby EcoBoost produces are joyful. Echoing nothing close to the sound of a four-cylinder. The three cylinders yield a throaty and tough roar throughout the rev range – a bit like a five-cylinder engine, actually. It's intriguing if nothing else, and it makes you want to drive it more and more to discover all areas of its character.
With the Fiesta's naturally well-sorted chassis, the sports-tuned suspension enhances handling and driving pleasure. It's great fun to throw around in a set of corners, with the nose pointing in on demand. You can shift some weight around if you want to as well and get a bit of a tail slide going to tuck the car into the apex.
We noticed some torque-steer during hard acceleration while cornering, which reiterates its playful personality, and the suspension can be a bit soft if you're a really enthusiastic driver.
The grip is satisfactory from the 16-inch wheels and tyres, though increasing width from 195 to 205mm, like what is featured on the Barina RS, would provide more control and stability.
Compared with a standard hatch, the Fiesta Sport has much more of an active and playful character, especially with a low lock-to-lock electronic power steering system.
Despite the sports suspension the ride is pleasant, thanks to its semi-firm setting. It soaks up bumps and potholes and doesn't send shockwaves through your bones. It's not too bouncy either. If you're in the market for a junior sporty hatch, the Fiesta Sport is setup exactly how you would expect.
Probably the most important aspect of all though is economy. The official fuel economy figure is 4.9L/100km for the five-speed manual and 5.3L/100km for the six-speed auto. Going by these numbers, it is the most economical petrol, non-hybrid package in this segment. Well done to Ford.
Our calculations worked out to be 6.2L/100km during our test which included both suburban and freeway driving, from an automotive writer – a bit of a lead foot.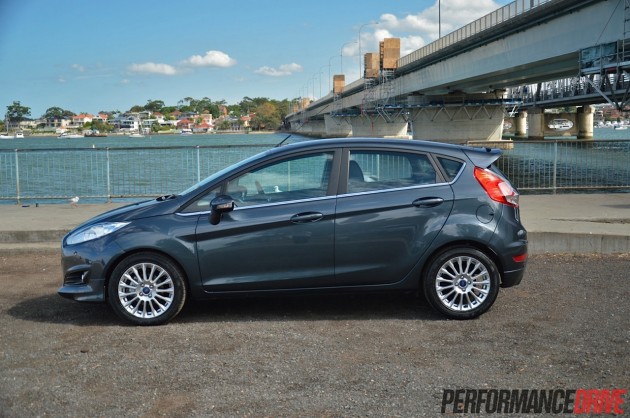 2014 Ford Fiesta Sport 1.0 – THE VIDEO
2014 Ford Fiesta Sport 1.0 – THE VERDICT
With a starting price of $22,525 for this six-speed auto, the Fiesta Sport will be seen as a little pricey – the ST is just a few thousand away. In our opinion, consumers really should score some of if not all of the features from the $1000 'Sport Executive' option pack, as standard.
But the biggest judgers will be potential customers that may be iffy about a new and very small engine. All we can say is, it will defy your assumptions when you drive up a hill with a carload. The performance is on par with its competition and the economy is outstanding. It's a charming and practical engine. It definitely paints a picture of the future for the automotive industry, and clues in why its big brother, the Falcon, has its fate made.
The Fiesta Sport shines brightly with its maximisation of space and comfort, and the hugely fuel efficient motor. If you're not worried about the slight overprice, it is a fun car to drive, and one that everyone can enjoy from all lifestyles.
Join over 20,000 Australian's who use PerformanceDrive's finance partner each month. Compare low interest car loan rates, fast.
PROS:
– Fuel-efficient engine, notwithstanding heaps of power and torque
– Interior space, especially in the rear seat
– Sporty handling with comfy ride
– Gear shifting is smooth and timely

CONS:
– Awkward design elements
– Price is very close to the range-topping Fiesta ST
– Feels a tad top-heavy during sudden directional changes
– Some options should be standard
2014 Ford Fiesta Sport 1.0 – THE COMPETITORS
Holden Barina RS
1.4-litre turbo four-cylinder – 103kW-200Nm – 6.5L/100km – 1249kg – from $23,190 (auto)
Suzuki Swift Sport
1.6-litre four-cylinder – 100kW-160Nm – 6.5L/100km – 1060kg – from $26,490 (CVT auto)